From buying quality produce from local suppliers to cooking nose-to-tail, fine dining has been championing the best ingredients and cooking techniques for decades. And, like many high-end chefs, Michael Caines has always had an affinity for local produce and regional cuisines.
He first fell in love with this way of cooking when working in France in the 1990s – which at the time had a strong focus on regional cuisine that the UK lacked – and then went on to spend more than 21 years at Gidleigh Park, during which time he also set up the Exeter Food & Drink Festival to highlight the best of Devonshire produce.
But there has been a turning point in recent years, where buying and cooking local food has moved from being a trend to a necessity for reasons of biodiversity and sustainable practices. And, as head delegate for Relais & Châteaux, an association of 580 privately-owned luxury hotels and restaurants across the world, Caines is keen to drive sustainable change within the association and in hospitality more widely.
"When David Attenborough put this focus on sustainability, that's when people started to realise it was an individual choice, and as leaders in the industry, we are part of the backbone of making things more sustainable," he says.
Constant commitment
"I'm not one of these campaigners that suddenly stands on a [soap] box, but there's a constant commitment and investment to being more sustainable," says the 2001 Catey Chef of the Year, speaking after a preview dinner celebrating the use of seaweed at his Lympstone Manor property in Devon.
While he doesn't refer to himself as a campaigner, his concerns for the planet and passion to create a more sustainable hospitality industry are clear. At his beloved Lympstone Manor, which opened in April 2017, two years after he got the keys to the building, he has created a luxury hotel with green credentials in a Grade II-listed building.
"When you start off designing a hotel or restaurant, you think how can we design this in the most energy efficient way. And, of course, there are tax breaks on that, so if you put [green] boilers in there's incentives to make your buildings a lot more efficient, but it also makes economic sense – it's a no-brainer." It was at this point that Caines joined Relais & Châteaux. "I did so because I thought it aligned with our ethics. So I signed up to eradicate single-use plastic, getting rid of straws, ear buds and unnecessary items, as well as looking at improvements within our supply chain."
But sustainability is not all plain sailing. Seven years ago, Caines was keen to put solar panels on the roof of the manor, but its Grade-II listing made that impossible at the time. "There is only so much you can do," he says, shrugging his shoulders and pointing at the beautifully decorated walls of Lympstone.
"You do what you can within the limitations of your budget and your property. I can't control things like that, so I have to choose the things that I can control, such as reducing food miles, working with ethical suppliers, reducing packaging, moving to electric vehicles, and improving biodiversity by planting trees and introducing beehives in the grounds."
He adds: "It's a slow process – some things can be done immediately, other things can't, which is why we focus on the food, it's such an instantly gratifying subject matter."
Species selection
Caines is the first to admit he isn't perfect when it comes to sustainability, but one way he believes the industry can make fundamental changes is through food, by cooking with more sustainable ingredients and presenting lesser-known foods to customers in a refined manner to encourage wider adoption.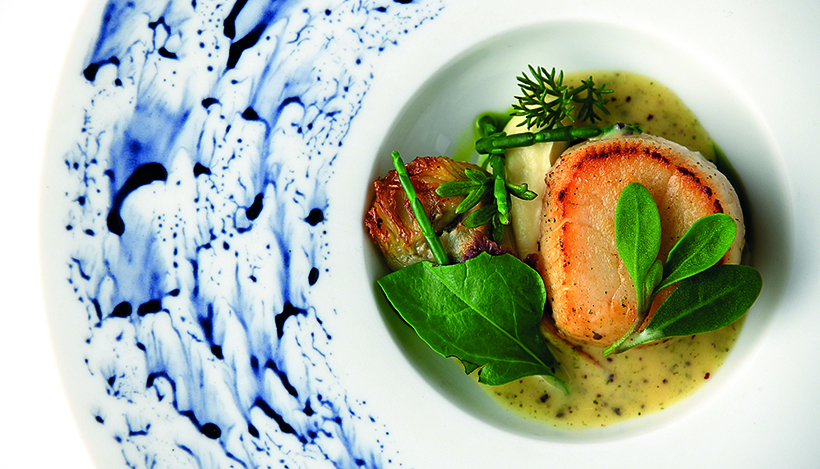 Being so close to the coast in Exmouth, seafood seems like a sensible place to start, and with World Oceans Day on 8 June, he is championing UK seafood and trying to encourage chefs to think about the ingredients they habitually put on menus and to consider opportunities to use lesser-known varieties that may be better for the planet.
"I'm not saying I'm the most green chef ever, and it would be remiss of me not to acknowledge that much has been done elsewhere to champion this cause," he says, referring to the likes of Nathan Outlaw, Raymond Blanc and Rick Stein's efforts to move sustainable fishing up the agenda. "But what we are trying to do at Relais & Châteaux is move that on over the next decade."
He gives the example of fish often seen on Michelin-starred menus, such as Dover sole and turbot. "Dover sole is very expensive, but there are different types of soles, so why choose just Dover? There's got to be more done to highlight the need for biodiversity, to use lesser-known fish, but to also be aware that when you're choosing fish to go on your menu, there are seasons in fish.
"It's about balance and understanding. We're not saying everyone should become vegetarian or stop eating turbot, but that perhaps turbot isn't available all year around so use another fish instead," he says, pointing to brill, which is more affordable and "equally as delicious".
Changing menus
Caines is all too aware that guests coming to spend a significant amount of money at fine-dining restaurants want the very best experience and have certain expectations when it comes to ingredients and dishes on menus. His own 'Taste of the Estuary' seafood tasting menu at Lympstone Manor, for instance, costs £180 per person and currently includes classics such as Lyme Bay scallop ceviche and butter-poached turbot, which will soon be switched out as the season ends for species such as sea bass, brill, bream or red mullet.
"We work with our suppliers and use the Cornwall Good Seafood Guide to check what fish is in season and when to avoid certain species, because there are times of the year when they are reproducing so you don't want to disturb them. Before we put a fish on the menu, we check the guide online. Some species, like lobster, you can get all year round, but it's much more expensive in the winter because the fishermen have to burn more diesel to get out to fish them, so that increases the price from £15/kg in the summer to up to £45/kg in the winter because they're spending more resources and burning more fossil fuels."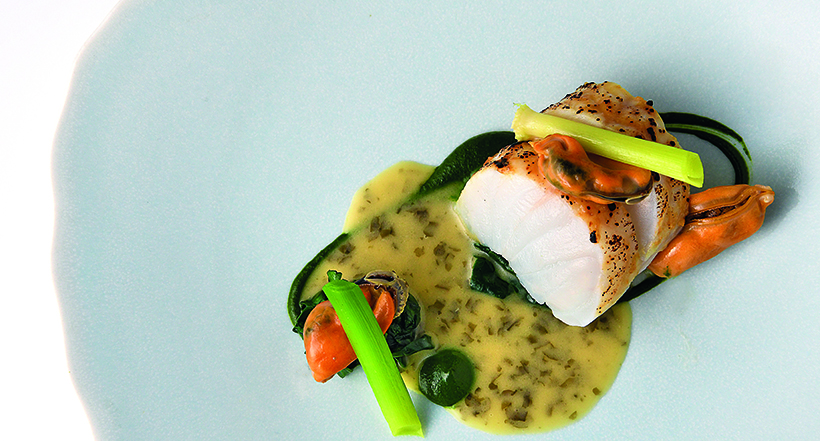 He points to caviar as an example of an ingredient that has changed on menus over the years. As stocks of wild caviar plummeted, restaurants began to use more farmed caviar on menus. "Is the quality any less? No. But it's more sustainable. We need to be aware of the issue, and how can we make this whole experience slightly more balanced."
He believes chefs must play to their strengths and be bold with their choices. "Chefs need to use their skills to turn a lesser-known fish into something amazing," he says, describing the menu he and other Relais & Châteaux chefs have created for World Oceans Day to highlight the sustainable benefits of seaweed, which includes the likes of samphire, nori and sea spaghetti (see panel).
"It's up to individual chefs to say 'I have enough skills and believe in what I do'. And if I'm in a landlocked area like Switzerland, why am I trying to import seafood? Michelin-starred cooking doesn't mean having to put turbot on the menu, but I'm by the sea in Exmouth, so it makes complete sense for my restaurants. "The easiest bit is making personal choices about what you can do in your own business, the hardest bit is how do you create a global movement," he says, describing how many luxury hotels across the UK still have plastic in their rooms. "The challenge is getting everyone to buy into it."
Like many others with concerns for the future of the planet, Caines believes we all have a responsibility to leave this place in a good condition for the next generation.
"I want to take personal responsibility for that," he says, looking out across the grounds of Lympstone Manor, with the Exe Estuary in the distance. "I want to do more and I should do more. But what we're trying to do is get the industry to start understanding what the challenges are, so we can come up with the solutions."
In 2016 Relais & Châteaux signed up its 580 properties across the world (including 31 in the UK and Ireland) to World Unesco's pledge to create an ethical cuisine. As part of this wider pledge, the luxury hotel association is taking part in this year's United Nations World Oceans Day on 8 June, to raise awareness of sustainable seafood and diversifying kitchens to lesser-known fish to increase biodiversity.
As head delegate in the UK for Relais & Châteaux, Caines has teamed up with head chefs from several other properties across the UK & Ireland to create dishes centred around seaweed (below). He describes why seaweed is an untapped culinary ingredient the industry should be using more of.
"Seaweed is one of those products that keeps on giving," says Caines. "It's regenerative, which means if you cultivate it, you encourage more growth – it's a very underused product.
"Seaweed has culinary qualities in terms of gelling agents, but it also has a lot of nutritional and wider health benefits. It's a naturally occurring plant and it's about incorporating that and highlighting its diverse use. Anyone can forage sea plants, but it won't be sustainable if we all go out and forage it – there's a reason samphire is now farmed for us to use.
"There are so many other types, another common seaweed everyone thinks of nori which is used in sushi, but our menu demonstrates many varieties, such as agar agar, which I use in my dessert as a setting agent, as it has properties which means it doesn't melt, so it's good for hot or cold dishes."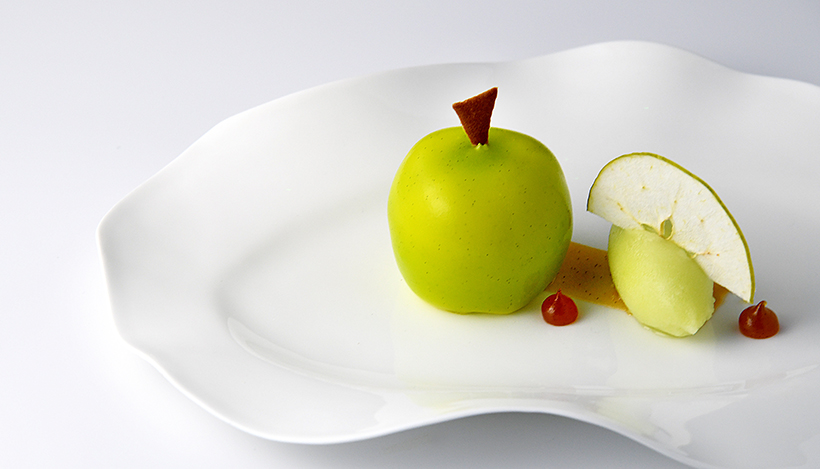 The dishes
Seared scallop (artichoke barigoule and sea vegetables, including samphire), by James Coffey of Park Hotel Kenmare, Kerry
– Available throughout June
Roasted Scottish langoustine tail (pepper dulse beurre blanc, samphire and bergamot gel), by Calum Innes of Airds Hotel and Restaurant, Argyll
– Available mid-April to mid-June
Roasted monkfish (poached Conwy mussels, spinach purée, laverbread (made with nori), beurre blanc), by Gareth Stevenson of Palé Hall, Bala
– Available for the week of World Oceans Day
Fillet of turbot (sea spaghetti, razor clams, Exmoor caviar), by Aaron Patterson of Hambleton Hall, Rutland – Available sporadically from 23 March
Apple mousse (caramelised apple gel with agar agar, green apple sorbet), by Michael Caines of Lympstone Manor, Devon
– Available from autumn until mid to late spring
Types of seaweed
Nori Porphyra spp
Nori is a red algae and is the most consumed seaweed in the world (2,900,000 tonnes cultivated in 2018). Its blade is very thin, transparent and elastic, and it can measure up to 60cm. Nori can be eaten raw, pickled or cooked, and its has a musky, smoky taste. When it is dried, it turns green or black.
Sea spaghetti Himanthalia elongata
Sea spaghetti's smooth strips can reach up to 3m in length. Its harvest is undertaken when the tissues are still tender. It can be eaten like a vegetable: raw, sautéed or steamed.
Dulse Palmaria palmata
Dulse is a red algae that forms dense clumps of about 50cm in diameter. When raw, dulse is firm and crunchy with iodine, hazelnut and shellfish notes. It is also eaten cooked like a vegetable.
Samphire Salicornia europaea
Samphire is not a seaweed, it is a plant found in the intertidal zone of beaches (the tidal zone) or marshes. In spring it forms its first branches and when mature it can reach 30cm. The young shoots can be eaten raw, but the more mature it is, the more bitter samphire becomes. It can then be eaten steamed, boiled or pan-fried.
World Oceans Day menu
In celebration of World Oceans Day on 8 June, six internationally-renowned Relais & Châteaux chefs will come together at Bibendum in London to create a one-off menu honouring sustainable seafood.
Similar to the dishes created by Caines and his fellow chefs at the preview Seaweed Symphony dinner, the seven-course dinner will see the following one- and two-star Michelin chefs showcase seaweed in their dishes, as well as sustainably-caught seafood. A limited number of tickets are available at £325pp from Opentable.
Claude Bosi of Bibendum, UK
Michael Caines of Lympstone Manor, UK
Hrishikesh Desai of HRiSHi at Gilpin
Hotel & Lake House, UK
Alexandre Gauthier of La Grenouillère, France
Aisha Ibrahim of Canlis, US
Nelson Müller of Schote, Germany
Continue reading
You need to be a premium member to view this. Subscribe from just 99p per week.