Melamine is an increasingly popular alternative to china, with the advantage that it can be any colour, printed with any bespoke pattern and it's virtually indestructible
The most intriguing recent advance in tableware has been the progress of a material for plates and bowls which appears at first sight to be conventional ceramic… but isn't.
Rather imaginatively, the Foodservice Equipment Association recently held a Tableware forum at which two trends were highlighted – a predictable one was the increasing use of colour and graphic design in tableware, but the really surprising trend was a general enthusiasm for the rise of melamine.
The idea of resin-based melamine for plates is an old one. The American forces popularised it first, using it right up until it went out of favour when it was found to be unusable in microwaves. In more recent years it has enjoyed a resurgence and original American 1950s melamine tableware is now collectable. Only part of its latest popularity, say trade suppliers, is down to the recent increase in outdoor service, because this time around, melamine has been found acceptable and useful for indoor service too.
"There was a time when melamine crockery was seen as the product for children's parties and picnics, but that's all starting to change," says Rachael Kiss, marketing manager at Alliance Online. "Advances in the design and manufacture of high-end melamine now mean that modern pieces are indistinguishable from fine ceramics in appearance, even to a discerning consumer.
"Many catering brands, such as Steelite, now offer melamine designs that imitate the handcrafted look of authentic stoneware, including a reactive glaze finish or kiln-fired speckle effect. This gives a 'best of both worlds' solution for caterers: the appearance of real ceramics, with the increased durability and lighter weight of melamine. It's quite possible that diners will never even realise they're eating off a melamine plate at all."
No more accidents
The quality of melamine tableware has shot up in recent years, agrees Josh Rammell, marketing manager at Utopia. "Pick up a quality melamine plate and it feels solid, not plastic. Its main advantages are longevity and strength – if you drop a stack of melamine plates en route to the dishwasher, they won't break. Sales of other 'unbreakable' materials, such as plastic, metal and enamel, have also increased.
"It also can be made into a variety of colours and styles and is available in on-trend irregular shapes, with textured surfaces – our Wildwood collection is a range of platters and bowls that combines the appearance of hand-thrown ceramics with the practicality of melamine.
"Our reversible slate/granite platters show a matte slate effect finish to one side and a glossy granite effect to the other; our 'timber' melamine platters have a rustic wood effect on one side with a white glossy effect on the other. Wood and slate are natural products that break and wear more easily, but with melamine this is overcome, so it is a functional and practical solution to food presentation without compromising on style."
There are limits, acknowledges Utopia – the very top fine-dining establishments are likely to always prefer conventional ceramics, but the wider markets of fast-paced hospitality businesses are becoming keen. And because melamine is not to be placed into an oven or microwave, notes Utopia, it is certainly not recommended for oven-to-table service – this is not the product for sizzling skillets.
Pale and interesting
At the same time, Utopia agrees that a noticeable trend among suppliers is the recognition of demand for more interesting colours in tableware, yet rather unexpectedly, Utopia says its next big colour is… white. This is not pure white, says the company. Utopia is offering off-whites and not-quite-whites, and is so convinced that these colours offer a "subtly dramatic" tabletop impact that they have put together a collection of 16 almost-white shades under the range name of Beyond the Pale.
"There's never been a more diverse time for coloured tableware," says Utopia. "From these soft pastels to rich hues, the range available is simply mind-boggling. We have divided our designs into themes: All that Glitters covers metallic finishes, and Back to Nature focuses on earthy, rustic tones. The Look on the Bright Side collection covers bright colours and patterns, and against that, our On the Dark Side theme is of moody, darker tones and organic shapes."
It is not alone in this. At the FEA show, the Thunder Group reported that the dramatic rise in alfresco dining has led to considerable interest in the appearance and appeal of melamine tableware, and while it is another supplier to argue that melamine has the look and feel of ceramic or porcelain, it adds that melamine is now available in decorative patterns that mimic the look of 'real' china.
My melamine
It is possible that the very widest collection of colours and styles in melamine comes from a large manufacturing facility in Coventry, where Melamaster makes both stock and bespoke tableware. It is, says the company, perfectly practical and very popular for an operator to commission bespoke designs to complement their corporate themes and colours.
Dinnerware, bowls, coasters, trays and saucers can all be produced in unique designs. This, says Melamaster, "will help inject that little extra special something… we love receiving new designs. If you want unique dinnerware but struggle to find any that delivers just what you're looking for, then going bespoke with melamine is the answer."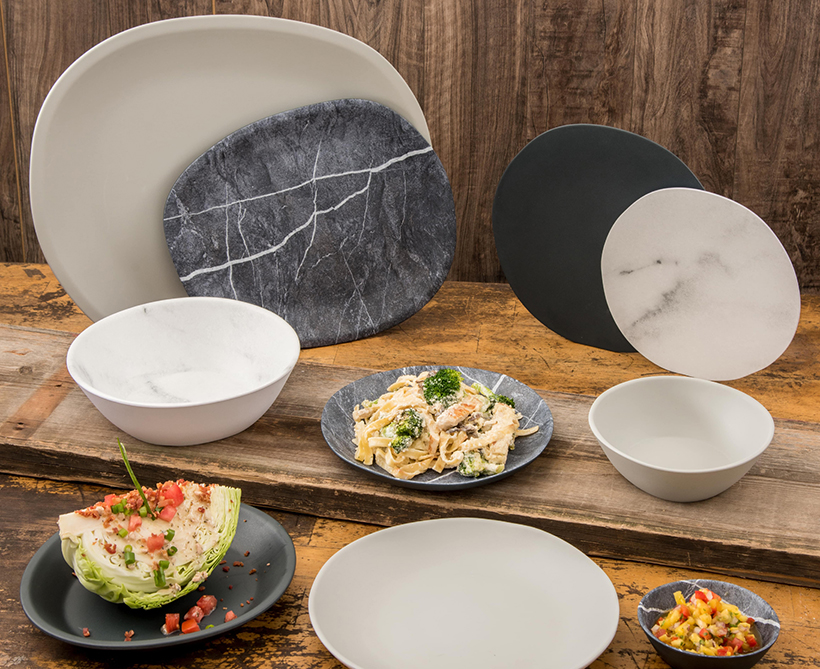 The growing appeal of this product is down to more than simply being 'durable', says Melamaster. Its dinnerware is certainly lighter than china, and its strength comes from a shatter-resistant construction created by combining melamine resin with strengthening materials; in very extreme cases of mistreatment, it could conceivably chip at the edge, says the company, but the unlikely risk of damage is why this material is so popular.
In addition to that, says Melamaster, the material stays cool to the touch when serving hot food, yet at the same time is useful for cold food such as buffets. This is because melamine is a good insulator, so when cold food is placed on it, the plate does not react with any change in surface temperature, so cold food stays cooler for longer.
A further useful practical point, adds Melamaster, is that the material dries faster than standard dinnerware.
Break new ground
At Jestic, brand manager Laura Hariani says that its melamine ranges from Carlisle Foodservice Products will last longer than typical chinaware as it is more resilient, so the operator will suffer less replacements due to breakages.
"Carlisle's melamine tableware has become a popular alternative, sharing a visual and physical likeness to china, yet with far superior practical qualities. The Acacia woodgrain collection incorporates an incredibly realistic finish. The Ridge collection suggests the look and texture of stone includes modern minimalist shapes to give operators a variety of plating options," says Hariani.
At PFR managing director Andy Piggin says the qualities of melamine tableware are now "truly extraordinary", and that the product is "the ultimate canvas for today's modern cuisine". PFR's Unity range offers a "clean, straight-sided and stackable" design in a choice of colourways. He also has unusual melamine 'paper' plates – these are, say PFR, pure white melamine pieces "whimsically designed like paper plates", but more practical for similar use, providing caterers with a more durable and reusable option for outdoor and buffets.
And Table Craft makes very much the same claims for its Pulito range, offering as evidence the fact that its qualities came from trade demand for such a product. Pulito was described at the FEA show as "a chic, heavyweight melamine tableware range that was developed for a customer to duplicate the ceramic products they had been using, which they loved... but which kept breaking".