Want to add new food to your offering? Looking for the latest drinks to hit the market? Here's all the products you need to look out for in October 2022
Customers always have an eye out for new and interesting products. To help you find some new tidbits to add to your offering and pique customers' interest, we've made a list of some of the latest and best products to hit the market. Not to mention the latest kit to help you behind the scenes.
Find the product launches for October 2022 here.
To be considered for new product publication in The Caterer, please send descriptions (200 words max), a high res jpeg image file (over 2MB) and a trade, wholesale or list price to lisa.jenkins@thecaterer.com
Jump to a section:
New food products for October 2022
Made for Drinks Biltong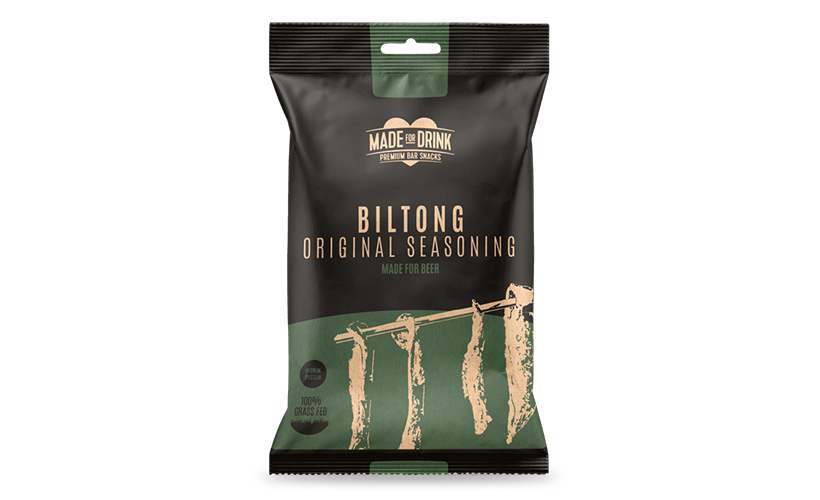 Made for Drinks has launched South African-inspired, beer-friendly biltong, made using 100% grass-fed Irish beef. The snack is made by an Eastern Cape producer who has relocated to Northern Ireland.
Price: £2.95 for a 30g bag
Website: www.madefordrink.com
Lotus Biscoff Cinnabon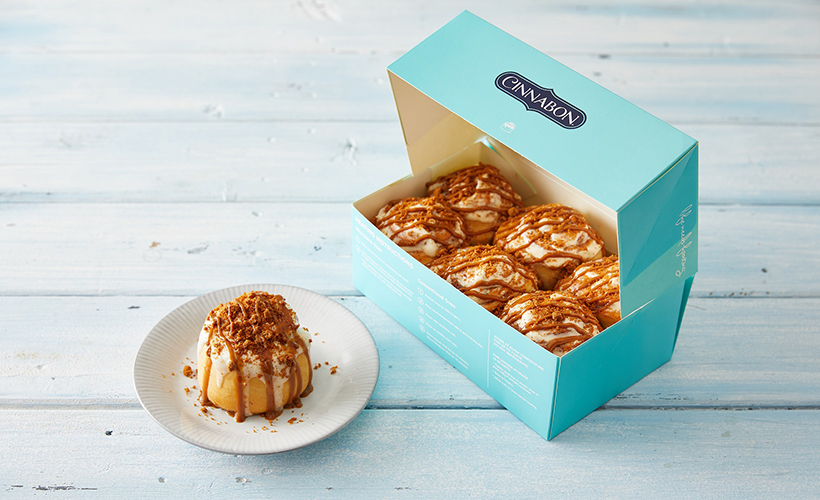 Lotus Bakeries and US bakery giant Cinnabon have announced a partnership to distribute three varieties of cinnamon rolls across 28 Cinnabon counters in the UK. The varieties include the Lotus Biscoff Bon (a Cinnabon roll topped with Lotus Biscoff sauce, Lotus Biscoff crumbs and a Lotus Biscoff biscuit), Lotus Biscoff MiniBon and Lotus Biscoff BonBites (four per pack).
Price: Lotus Biscoff, £3.59, Lotus Biscoff Bon Bites, £3.39
Website: www.lotusbakeries.com
Moroccan Mari Base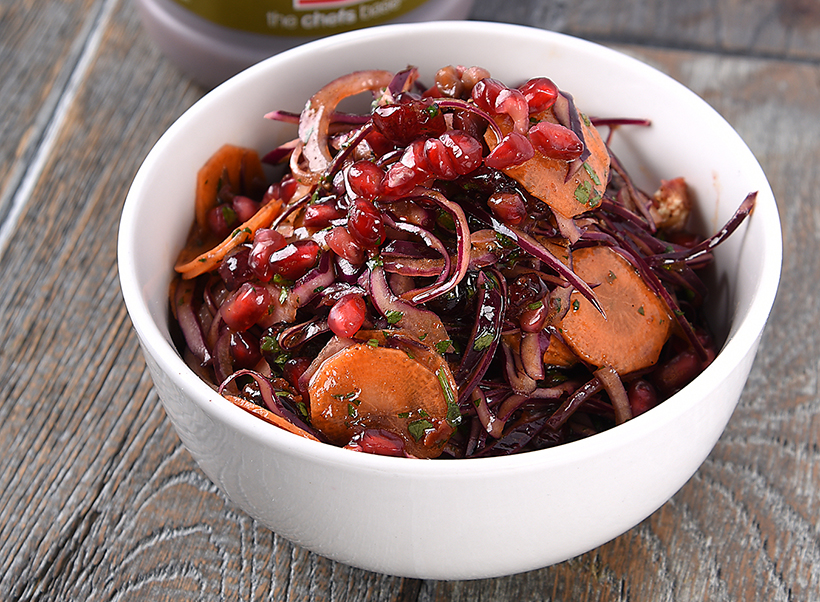 The Moroccan Mari Base from Major provides a warm, aromatic flavour rich in a fusion of spices suitable for use at any stage of the cooking process, in both hot and cold dishes. Available in 1.25 litre pots, the Moroccan Mari Base is gluten- and nut-free, free of artificial additives, colours and preservatives, and suitable for vegetarians.
Price: £25 for 1.25l
Website: www.majorint.com
*Purple Pineapple sandwich fillings**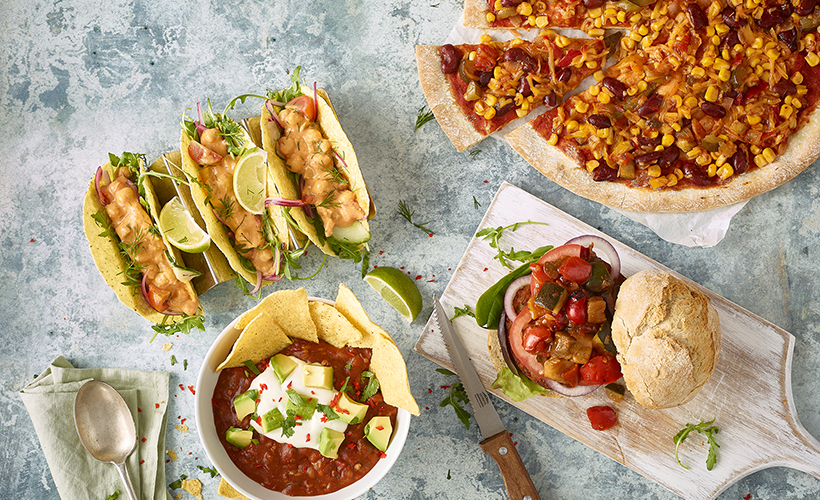 KFF'S Purple Pineapple brand has created a range of more than 70 sandwich fillings, including fish, meat, vegetarian, plant-based and low-fat options. All the fillings are mixed by hand, giving the finished products a homemade appearance. Available in 1kg and 2.5kg containers.
Price: From £10.50-£14 per kg
Website: www.kff.co.uk
Burton & Browne
Burton's Biscuit Co has launched a new artisan-style brand exclusively available to the foodservice channel, Burton & Browne. The range includes a florentine mini pack, a Speculoos mini cookies bag, and four shortbread dunking biscuits.
Price: From 59p to £1.15 per pack
Website: www.burtonsfoodservice.co.uk
Jackfruit fish fillet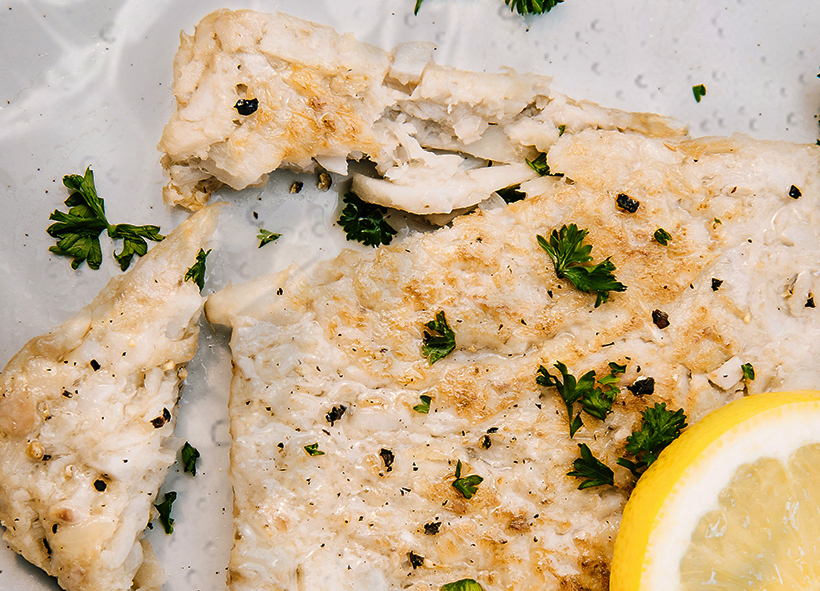 Jack & Bry has released an unbreaded jackfruit 'fish' fillet, distributed by Smales. The plant-based product follows the launch of the group's jackfruit pepperoni, which is stocked by Papa Johns as well as Zizzi, Prezzo and PizzaExpress.
Price: Case of 36 fillets, £36 Website: smales.co.uk
Peter's Yard Sourdough Bites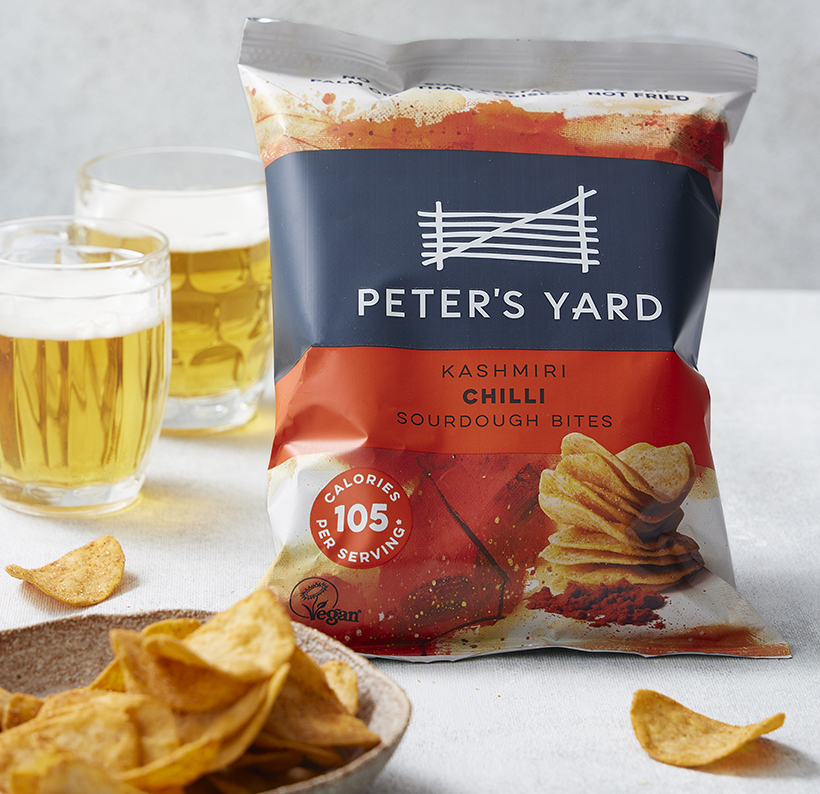 Crispbread and snacks brand Peter's Yard has widened its Sourdough Bites range with a Kashmiri chilli flavour, which is suitable for vegans and compliant with HFSS regulation. The bites are hand-baked and seasoned with ancho and Kashmiri chilli powder, and are made from Shipton Mill flour and British cold-pressed rapeseed oil.
Price: 90g pack, £80p
Website: www.petersyard.com
Central Food frozen quiches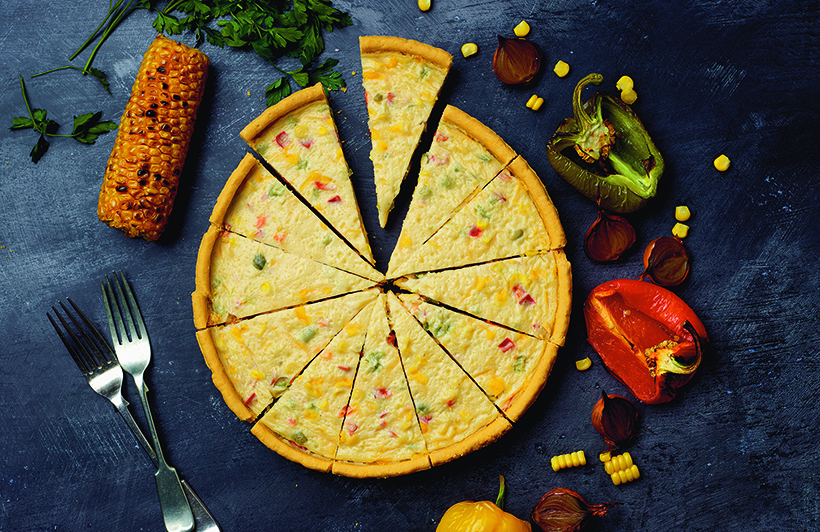 Northamptonshire-based frozen food distributor Central Foods has launched six flavours of its Menuserve frozen quiches, which are available whole or cut into 12 portions. The 11-inch diameter quiches are suitable for vegetarians, apart from the quiche Lorraine, and are made with egg, mature Cheddar cheese and golden shortcrust pastry.
Price One quiche portion, approximately 78p
Website: www.centralfoods.co.uk
Peppadew peppers
Peppadew has launched its vegan whole sweet piquanté peppers for its foodservice range. The peppers can be chopped, stuffed or sprinkled and used in pizzas, pastas, salads and sides.
Price: Case of six 3kg tins, £39.99
Website: peppadewfoodservice.co.uk/sweet-piquante-peppers
New equipment for October 2022
Kiln tableware, Denby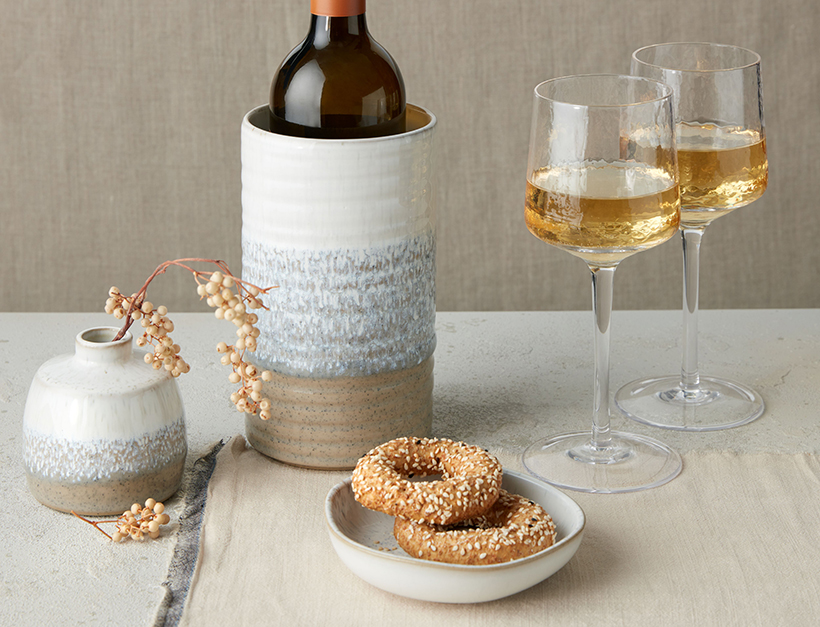 Denby has launched its chalk white and oatmeal Kiln tableware series, which is made of Derbyshire clay. Each piece of artisan pottery has been handcrafted by 20 pairs of hands at Denby's 200-year-old pottery. The collection includes coupe plates, bowls and sharing platters, which have been tested with Denby's 10-year chip warranty.
Price: Plates and bowls, from £10; serving pieces, from £12
Website: www.denbypottery.com/hospitality
Nero 400 Stone Sole Micro Bakery Bread Oven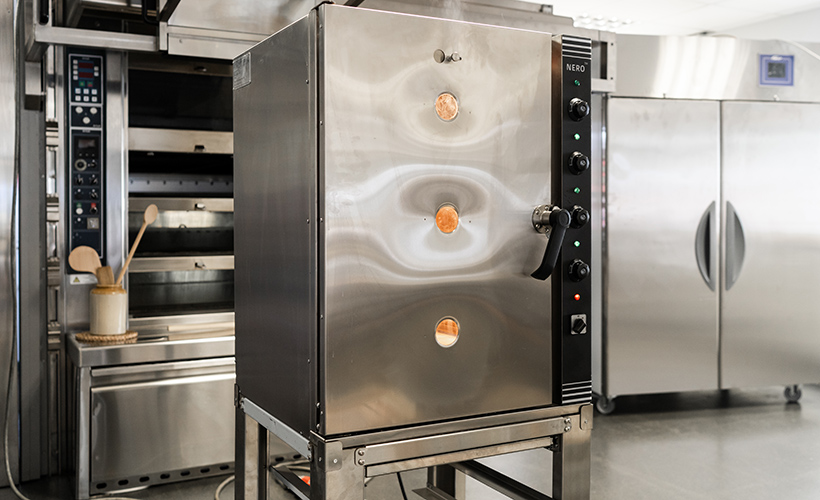 Brook Food and Bakery Equipment has released the stainless steel Nero 400 Stone Sole Micro Bakery Bread Oven. The oven offers three baking levels with a total baking capacity of 12kg, heats up in less than half an hour and has viewing windows for each surface.
Price: £2,995
Website: brookbake.com/nero-bread-oven
Utopia wooden cutlery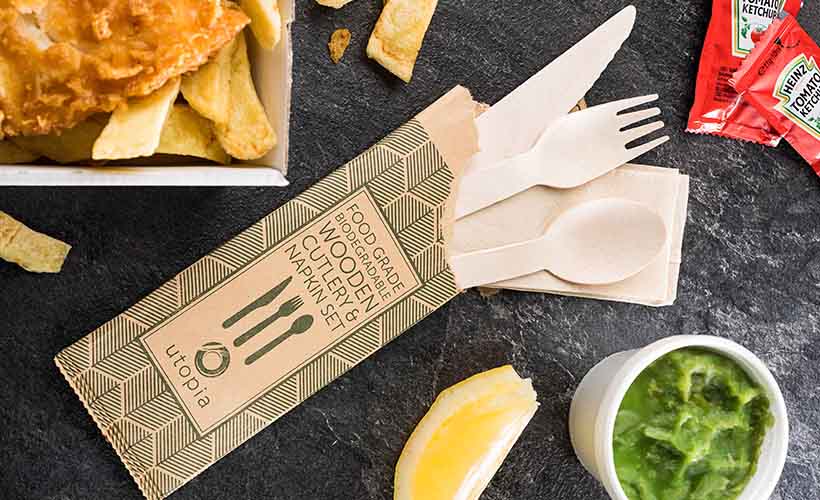 Utopia has launched a range of disposable wooden cutlery made from 100% FSC-certified birch. The wooden knife has a serrated edge for cutting and the set is packaged in recyclable brown paper bags.
Price: Pack of 100, £2.10
Website: www.utopia-tableware.com
Merrychef ConneX16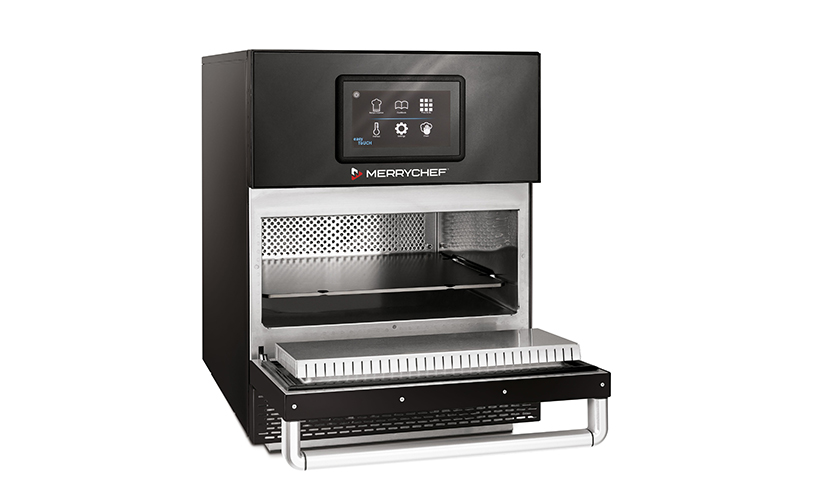 Merrychef has revealed the conneX16 with a large 16-inch cavity in an 18inch-wide footprint. The larger sibling in the conneX range comes fully connected, with a 7-inch high-definition screen and cook times 80% faster than traditional methods.
Website: info.merrychef.com/connex
Livecookintable Hotplates Eco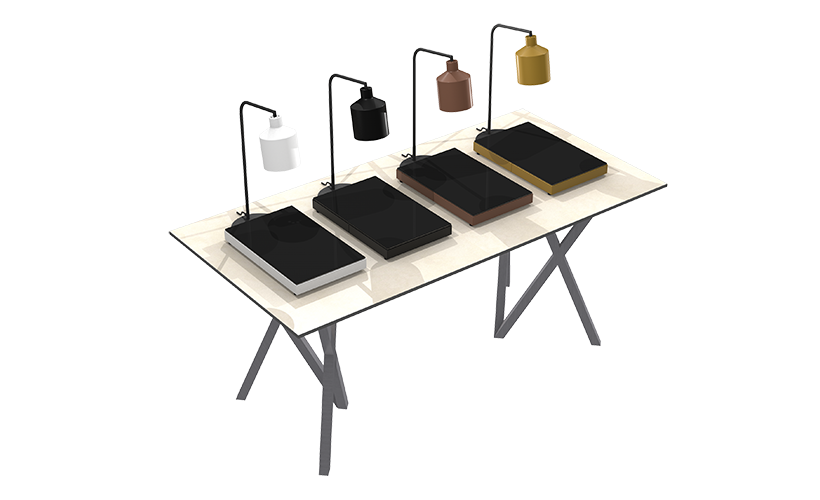 Modular cooking system brand Livecookintable has launched a range of heat lamps and hot plates in a choice of four colours: black matt, white matt, copper metallic and gold-brass metallic. They can be matched to keep food warm on a buffet or used independently. The Hotplates Eco offer temperatures varying from +20°C to +90°C to keep individual portions or small dishes warm during service.
Prices: From £500
Website: www.signature-fse.com