Caterer Thomas Franks has been awarded for its exemplary employee culture. Founder Frank Bothwell and his leadership team talk about attracting, retaining and engaging staff
It's time to put staff security over profit. That is the mantra from Frank Bothwell, founder and chief executive of independent contract caterer Thomas Franks. And he should know because the £50m-turnover company has proved its mettle when it comes to people policies.
While many hospitality employers are struggling to attract staff, the company will have 1,800 employees at the end of last month, up from 1,400 last year. And this year alone it has been shortlisted in The Caterer's Best Places to Work (BPTW) and scooped two Cateys – the Best Employer Award and Foodservice Caterer Award – all thanks to its employee-centric leadership style.
Indeed, it is testament to the inclusive philosophy at Thomas Franks, which has nearly 190 contracts across B&I and education, that Bothwell invites senior managers to our interview, too.
"The business is a legacy business and not for sale – there is long service here, and they know it is their business to run," he says.
The business has been regionalised from the start, which has many benefits. "We have four managing directors – Jon Grima is in Europe [Malta, Ireland and Portugal]; Blain Shepherd has Midlands, North and Scotland; Gavin Young has London and the South; and the fourth managing director is Paul Hurren, best described as a marketing and sales mentor for all of us and he is also on the board."
Crucially, the operations managers who report to the regional managing directors never have responsibility for more than 10 locations. This gives teams closer access to decision-makers and facilitates flexibility and creativity. It also allows for more effective HR support.
Interestingly, in the 2022 BPTW survey several employees praised their "large HR team", but although director of people and training Vicky Freeman terms it "a good-sized team", she believes the perception of it being large is down to this efficient company structure.
"Most of [the HR] team started here as apprentices and so have grown with us and understand the values. They work closely with managers to guide and support them and make sure our values are fed throughout the business," she says.
Grima agrees: "The way HR is run makes it feel bigger because it works with the operations teams and so the managers at each location become an extension of the HR department."
Part of the family
From the start, family values have been central to the business that Bothwell and his wife Emma launched in 2004. But, aware of rising inflation and cost of living problems that many employees now face, they have gone even further.
"We realised in the pandemic that growth and profit were not the most important thing. The most important thing was to use our talent to reach out and ensure employees were safe, looked after and secure.
"To deliver a legacy business for them, we need to put their security over profit. In the next two years [many operators] in the industry will grow, but those firms who want to make a quick buck will find it difficult [unless they] make sure their employees are looked after. More of our profit needs to go in their pay packet. In two years, we believe we will emerge [through this period] as an employer of choice, with recognition for putting people, community and charity at the centre. The pandemic gave us the chance to shake off our shyness about that ambition."
Bold words, you may think, but Bothwell explains that he is keeping the business buoyant while redirecting profit. "We have banned paying dividends as much as we legally can. It needs to go to the bottom line for employees," he says.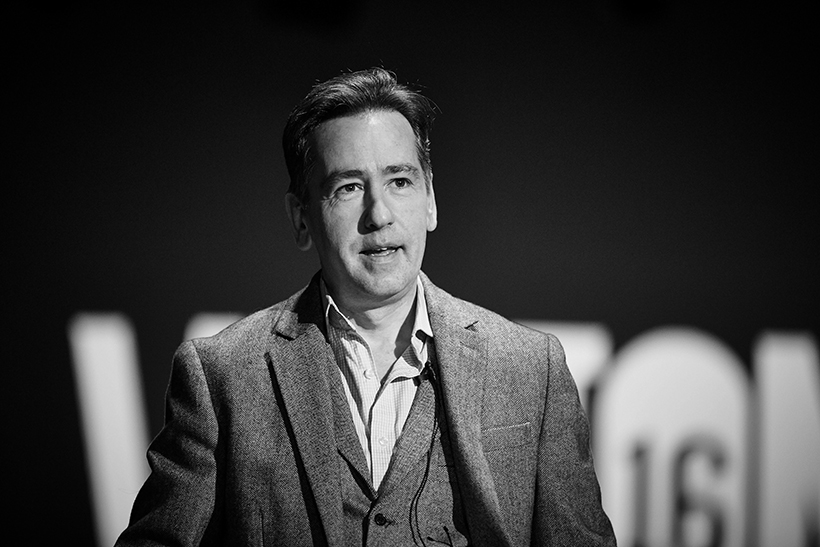 "If you want to be a legacy business, you need to grow and not be ashamed to grow in areas that you are successful in, so we formed a sales team to produce more profit. Our budget started on 1 October and just two-and-a-half years after the pandemic started we will be 10% ahead of our turnover pre-pandemic. We've worked hard to grow and produce profit that will go into those areas that suit our ambitions."
Those ambitions include supporting employees, their families and communities, a policy that strengthened during lockdown. The Thomas Franks Foundation, founded by the Bothwells in 2019 and run through a board of trustees, set up Feeding Communities, with employees volunteering to provide more than 1.5 million meals to those in need. The initiative is credited with helping to preserve the mental health of the team during the pandemic and it has now become embedded with the appointment of a head of feeding communities and a charity advisor.
But how does that improve the business? Freeman expands: "People who work in hospitality don't do it because it's easy; they do it because they like looking after people. And if those are their values, we need to reflect those values back. That is why we engaged with communities because it reflected their values back and they were encouraged to take part in that."
Community values
Another ongoing initiative is Feet Up Fridays, which provides meals to unpaid carers and has been extended to company employees who may be struggling with issues outside of work. "The important thing is that it is an opportunity for those of us who deliver the meals to sit down and talk to people, because it gives us the chance to pick up on issues, say loneliness, that may not be spoken about," says Freeman.
The company has further stepped up its support of employee wellbeing with the launch of a Mental Health Academy. A cohort of 18 leaders are undertaking the first level for mental health in leadership apprenticeships. "It is about how we respond to day-to-day issues and manage and support people," says Freeman. "So, if there is an issue with performance, we look at why. Alongside that, we are training people at all levels in mental health first aid with support from charity Burnt Chef Project. We are also training everyone on-the-job and at induction because how we treat our people is key for us."
All this is supplemented by inspirational talks from four mental health ambassadors - former England Rugby player Heather Fisher; athlete Josh Quigley; Ocean Race swimmer Louis Armstrong; and motorcycle racer Matthew Van Der Poel. "These four were brought in during the pandemic at some expense to the business," says Bothwell. "But there is no cost on a life."
If all that isn't enough, he has also appointed a director of nutrition and wellbeing and – in response to employee support for the company to achieve BCorp recognition – a sustainability manager.
Staff engagement is measured in a number of ways. The 2022 BPTW survey has been useful, with three-quarters of respondents giving a score of 10 in response to the statement "I am proud to work here". Gaining silver in Investors in People has also been a helpful tool.
The HR team also conduct surveys to tap into how new-starters are settling in. Freeman adds: "Our appraisal process is more of a check-in where the dialogue is focused on what we could do better and how we could help them to do their job better – almost they are appraising us. We have lots of ways to check in and see how we are doing."
Key to success
According to Shepherd, job satisfaction and guided career development are key reasons why Thomas Franks attracts and retains employees. He should know. He is not only the longest serving employee, with 14 years under his belt, he's also the youngest managing director, having been trained up as a chef before learning about other aspects of the business. As managing director, he looks after 70 locations, with two regional directors, 10 operations managers, three development chefs and so on. "The support team is immense – and that makes us so different," he says.
Bothwell is passionate about developing people and having seen the 50% reduction in pupils going into hospitality is aware of the need to attract and train youngsters.
"We don't need people to come in with a degree. We want to be a home for people who want to be taught skills and have a career – that is part of the legacy business – it goes above profit – these individuals will think 'now we are a home for the next 10 years or so'."
He talks to young people about their aspirations and rewards enthusiasm. He recently spotted a LinkedIn post from a mother whose 14-year-old son wants to be a chef, but the cost of insuring him to work with professional kitchen equipment meant he was struggling to find a placement. Keen to harness talent, Bothwell secured insurance to allow the youngster to gain experience in one of his sites under supervision.
"If that leads to him becoming the next Jon, Gavin or Blain, my job is done," says Bothwell. "It just takes a few £1,000 for knives, equipment and accommodation and you will inspire the next generation. Our 14-year-old trainee is an example of how we can attract talent. And word will spread."
Shepherd, who has benefited first-hand, adds: "The structure at Thomas Franks allows us to pass on our development to others and that is how we attract young people. We are modern-day managing directors, very hands-on. People see me in the business and think 'I could grow with Thomas Franks'."
The managers also empower their teams, as Bothwell explains: "On our board we have people in their early 30s and we want to know what they think. We need to listen to those future leaders as they will drive our business. We have nine development chefs, mostly in their early 30s, and if these guys speak, we listen. They are there to ensure our food is of the highest standard and on-trend. That is critical for us. They are as much part of driving force as anything else."
And to facilitate his chefs' creative flexibility, the company uses local suppliers rather than the centralised giants.
"We have 600 suppliers for just under 200 clients and that attracts chefs because they get more chance to personalise menus," he says.
Managers are encouraged to be entrepreneurial, too. "The business is theirs to run with clear guidelines on quality and customer service," says Bothwell.
"At headquarters we have graphic designers, legal resources, HR, marketing, and so on and that allows us to exceed at a greater speed because their focus should be on quality of food and customer service."
"We do get things wrong, but we learn from it. There can't be a culture of fear; we know we will make mistakes. That is very important for me to say that."
Arguably, being people-centric requires investment, but Bothwell has no problem with that because the business is growing. Young, Grima and Shepherd are being developed into the chief executives of the future.
"My wish is that they start to find their own replacements," he says.
On the spot
Quick questions to Jon Grima, managing director for Europe, who oversees 20 B&I contracts and education sites in Malta and Portugal
What keeps you loyal to Thomas Franks?
"What excited me as a head chef when I started eight years ago were the fresh food concepts and the freedom to express ourselves. Thomas Franks stand out for me because having worked in the RAF and a hotel before this, it offers the freedom to be creative and the values we stick to in offering 98% fresh food. It makes us different and gives chefs satisfaction. No chef wants to work to spec sheets. This freedom allows chefs like me to develop into a senior role."
Why does Frank Bothwell's leadership style work?
"Frank has always given me the chance to be what I want to be. He helps you grow the business because news travels fast. What makes it stand out from a client perspective is what we offer – food and the fact we care for our people. Frank cared for me in the way I now care for my staff in Europe and give them the chance to be who they want to be – it is self-perpetuating."
Is the structure different in Malta and Portugal?
"It's the same. There are 10 locations for each manager and a development chef for each 10 locations and that allows me to be proactive, which makes it look as if I work harder than I do."
Will you use technology to streamline HR as the company expands?
"As we grow, we understand that technology helps and are in the process of selecting an HR online platform provider to give employees a hub they can go to and a direct link to Vicky and her team. Technology is here, and we will be tapping into that."
Quick facts
Turnover: £50m
117 schools in the UK
49 B&I sites in the UK
20 school and B&I sites in Malta and Portugal
Continue reading
You need to be a premium member to view this. Subscribe from just 99p per week.