The roaring success of the Stafford London has seen its chief operating officer Stuart Procter win two big awards. Here's how he inspires excellence through busy times
The Stafford London has emerged from the pandemic – when occupancy slumped to 11% – stronger than ever. Today occupancy at the hotel is consistently close to 100%, its restaurant and bars are buzzing and a nearly full complement of staff is enjoying a boost to salaries and better working conditions than ever before.
The success of the five-red-AA-star, 106-bedroom hotel has resulted in Stuart Procter being awarded two accolades in recent weeks: the Independent Hotelier of the Year award from the Independent Hotel Show and the Preferred Hospitality Leadership Award for Europe in recognition of "best-in-class hospitality experiences".
Procter says he puts his double achievement down to surrounding himself with "the best individuals and innovative people in the business, who deliver day in and day out".
Meanwhile, his personal involvement in all elements of the Stafford Collection, of which the 110-year-old Stafford London is just one of three components, is second to none. "I personally always do what I promise for clients, travel advisors and my team, I am on-hand 24 hours per day, seven days per week."
Game changer
The five years since Procter last spoke to The Caterer in depth have been exceptionally busy for the hotelier. Back in 2017, he was in the midst of injecting a new lease of life into the Stafford with the creation of a new restaurant, having returned two years earlier to the hotel from a five-year stint away creating the Hotel and Café Football concepts. While he had enjoyed the experience of setting up new businesses in conjunction with former Manchester United football stars Gary Neville and Ryan Giggs, he was eager to return to his family in Surrey and the luxury hotel sector.
The 32-seat Game Bird restaurant was launched at the Stafford in early 2017 in a bid to bring in a younger and more diverse clientele. From its outset, the all-day eaterie and bar created a lively sense of fun that has permeated the hotel. Combined with the American Bar, a traditional space that has long been a popular cocktail destination, and the courtyard, which for a central London hotel offers a unique eating and drinking space, the Stafford now has an enviable food and beverage package to match the hotel's top-notch bedrooms, all recently upgraded following a full refurbishment.
"The Game Bird has been a game changer for the hotel," says Procter. "It received the best reviews from the outset from the likes of Jay Rayner and Giles Coren, which automatically turned on the lights."
The increase in food and beverage business has had "a huge impact" on the overall revenue of the hotel, says Procter. Although he will not reveal the hotel's current total revenue, he confirms that it has grown by 40% since 2017, with profit increasing by 100%. According to the annual report lodged at Companies House for BHL Global, parent company of the Stafford, turnover of the hotel was £23.6m in 2019 when occupancy was 77% and average room rate was £428. The huge pent-up demand for bookings following the pandemic has driven the current average room rate to an all-time high. Bookings from North America, accounting for 65% of all business, has been strong for some time – ahead of any additional benefits that are likely to come along as a result of the collapse in the value of sterling.
Collection perfection
For Procter, the biggest change to his role has come about as a result of the creation of the Stafford Collection. This stemmed from the acquisition in 2019 by Britannia Hospitality (now renamed BHL Global) of Northcote, the four-red-AA-star, 26-bedroom hotel in Langho, Lancashire, for £4.45m and the creation later that year of Norma, a 60-seat Sicilian restaurant on Charlotte Street, London. The expansion of the business resulted in Procter moving from his position as general manager of the Stafford to chief operating officer of the Stafford Collection.
"My base is very much at the Stafford," says Procter. "I'm supported by a very strong and talented management team, headed by hotel manager Camille Fleuriet, who has come through the ranks since she joined us as a receptionist in 2014. When I'm away – I usually go to Northcote a couple of times a month – I'm very confident and comfortable with the team in charge."
The acquisition of Northcote has, of course, reunited Procter with his one-time mentor Craig Bancroft, the hotel's general manager. Has there been any awkwardness in the one-time apprentice becoming the boss? "Not at all," says Procter. "It's amazing, Craig has always been there in my life. He is a wonderful man, he taught me a lot when I was young and now we've got mutual respect.
"We work and communicate extremely well together. There are no egos, it is about getting the job done as best we possibly can. Northcote has never been more successful. My skills set is very different from his and combined we make a really good team."
Procter highlights his strength as being focused on maximising the profitability of the hotel through selling and marketing the bedrooms and food and beverage areas, while Bancroft is "the most fabulous mine host, one of the best in the world" as well as having a love and knowledge of food and beverage like no-one else. "Northcote was grown as a restaurant with rooms; previously, the focus was never on the bedrooms. But, for me, the focus should always be on selling the bedrooms first and then F&B second."
However, Procter recognises that while the numbers are important, they will only be delivered if the experience is the best. "If the feel, service, staff and product are not right from the moment you walk through the door, you will never make money and, frankly, you don't deserve to," he says.
Always a straight talker, Procter shares a final difference between the two colleagues: "Craig is a softer character than me. I've had to be a little tough in my time, but I believe I'm firm but fair, and have the mutual respect of my team."
Stable and able
Revenue at Northcote has improved dramatically since the acquisition. Occupancy of 99% is now regularly being achieved and the average room rate has doubled over the past three years. The annual report of Northcote Hotel Ltd for 2020, lodged at Companies House, reported an occupancy of 62% and average room rate of £250 during 2019.
While the one-Michelin-starred restaurant at Northcote, headed by executive chef Lisa Goodwin-Allen, has been perennially busy, the bedrooms always lagged. This has now all changed as a result of putting in place "the right channels of distribution and marketing partners and removing the wrong ones". This has meant that Northcote has left Relais & Chateaux, and now, like the Stafford, is a member of Preferred Hotels & Resorts, as well as retaining its membership of Pride of Britain. "Joining Preferred has had a serious impact in creating a great awareness of the hotel. I believe if you focus on selling something, you will sell it. Previously, the mind wasn't focused on selling bedrooms."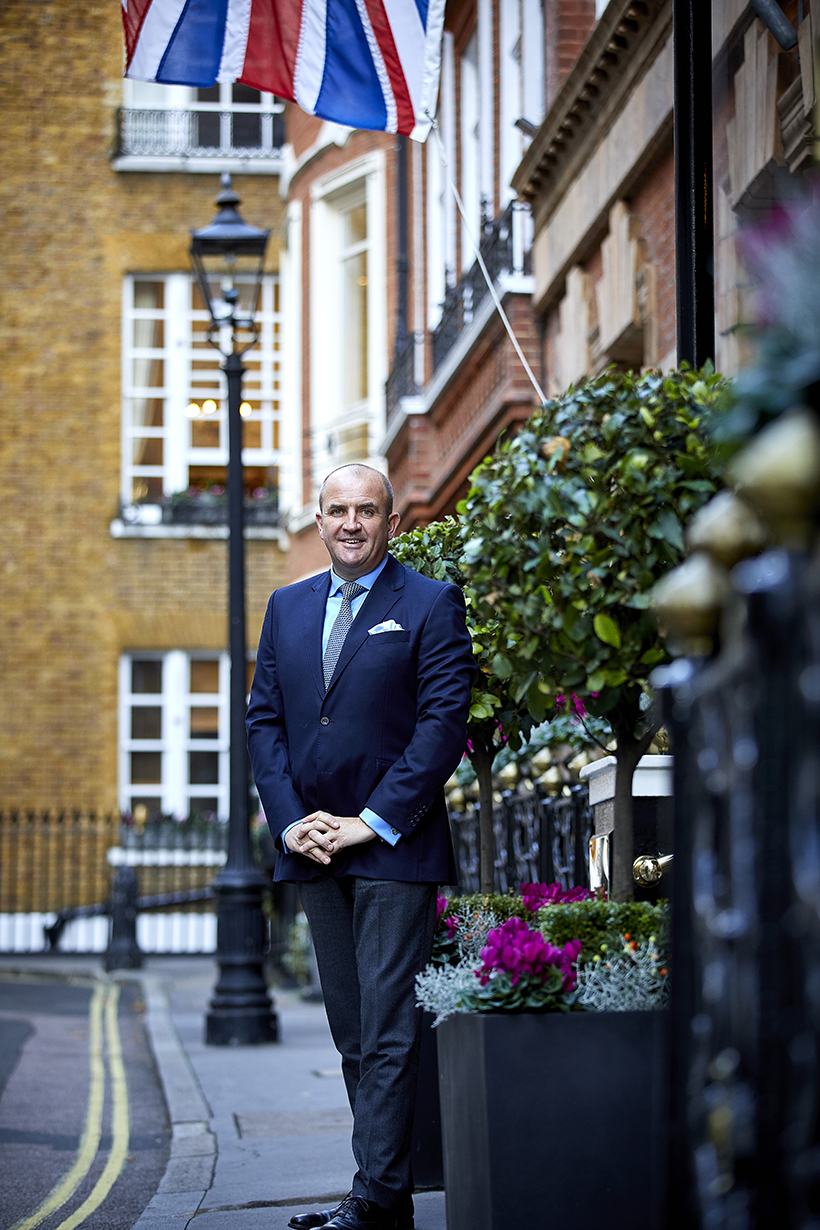 Greater financial stability of Northcote has also been achieved by turning the hotel into a five-day-a-week operation, from Wednesday through to Sunday, something which Procter initiated pre-pandemic. "Business in the north-west on Mondays and Tuesdays is non-existent," he says. "So, we've reduced our costs, ensured the team has two days off together, created better consistency across the operation and, as a result, profitability has gone off the scale."
With a more stable financial footing in place, plans are now afoot to expand Northcote. The acquisition of a parcel of land adjacent to the hotel will enable the development of a second restaurant, spa and around 20 additional bedrooms, encouraging guests who generally only stay for one night to book a second. The Michelin-starred restaurant will move into the new garden restaurant, while its former space in the main house will become an informal, all-day brasserie that will appeal to the local market. Development on the project is expected to get under way next year.
Meanwhile, the creation of Norma has been a passion project for Procter. "I've created some wonderful things in my career, but this is one of my favourites," he says. "I love it because it fits all demographics, you can take your daughter, grand-daughter, girlfriend, wife, business partner. It's warm and inviting, service led by operations manager Liz Reece is terrific, the food is exactly what you want to eat – it is good value and as a result is full six days a week."
Norma's success has encouraged the owners of the Stafford Collection to open a second outlet in Cairo, in recent weeks. With regards further expansion of the business, Procter says that there is an appetite for more restaurants and hotels to join the portfolio. "It could be something we develop, acquire or manage. It just needs to fit with what we've already got."
Support staff
Any growth of the company will, of course, require more staff. However, while the industry is facing a crisis as a result of the shortage in personnel, Procter says the Stafford Collection has done well in attracting its current rota of 310 staff, but caveats it by highlighting that finding chefs in London is tricky, "but not in the north".
Looking after and paying staff fairly is an essential element of building up a strong and loyal team, he explains. "I have long been a believer in paying staff well and have never understood why a housekeeper was not on as much money as a chef when a room sells for so much more than a plate of fish. Sorry, but that does not stack up in my book. Salaries between chefs and housekeepers at the Stafford are now more or less aligned."
Procter is highly critical of the way many hospitality businesses, including those operating in the same luxury hotel sector as the Stafford, have failed to support staff, particularly during the pandemic.
"It has been a disgrace; there has been some shocking behaviour," he says. "The result has been a detrimental effect on the industry in that it is now harder than ever to recruit staff. The strongest hotels in London today are the ones that have looked after their staff."
Supporting staff means listening to the team's demands, which across the Stafford Collection means widespread salary increases, more flexibility in working conditions, private healthcare and a four-day working week. Procter speaks regularly to his fellow hotel operators in the capital through the West One association of hoteliers and says that the body was particularly beneficial during the height of Covid when members "started telling the truth for the first time" about how they were doing. As regards lobbying of government by the wider industry in seeking support for the hospitality sector, he is not hopeful. "We're wasting our time. What the industry needs is a deal with Europe on staffing and a reduction in VAT, but the government does not listen.
"I recognise that we are in somewhat of a bubble in our businesses, but I am only too aware of many others that will not survive next year when gas bills and leases go up."
Meanwhile, he will continue to grow revenues and expand the Stafford Collection, ably boosted by a strong PR campaign led by Anne-Marie McGrath of If…Communications, which, through personal connections with personalities in the world of sport, music, film, and even royalty, has brought in a new clientele. It was as a result of the connection, with Mike Tindall, one of the Stafford's influential ambassadors and husband of Zara Phillips, that Procter and Jozef Rogulski, the hotel's executive chef, hosted a dinner for Princess Royal, Captain Tim Laurence and the Earl and Countess of Wessex at St James's Palace during the mourning period following the Queen's death.
"Not a lot of people would have been able to do that," concludes Procter.
Stuart Procter: a career at a glance
The full circle nature of Stuart Procter's career has something of an inevitability about it. Born in Lancashire's Ribble Valley, he started his career as a 15-year-old, part time waiter at Northcote, or Northcote Manor as it was then known. After spending some time as the hotel's first apprentice, he moved on to work for Shire Hotels, owned by brewery firm Daniel Thwaites, which then was also the owner of the Stafford.
Meanwhile, in 1999, Procter was appointed to his first general manager role at the Devonshire Arms in Bolton Abbey, North Yorkshire, a position he held for four years during which time the property was named Country Life Hotel of the Year and he received an Acorn Award.
Having first heard about the Stafford as an apprentice at Northcote, Procter hadbeen eager for some time to work there, something he eventually achieved in 2004, when he was appointed deputy to general manager Terry Holmes. Upon Holmes' retirement two years later, Procter was promoted to general manager.
The Stafford was sold in 2009 for around £77.5m to Britannia Hospitality and in 2011 Procter left to join GG Hospitality, based in Manchester. He returned to the Stafford in 2015, initially as general manager, before moving up to chief operating officer of the Stafford Collection following the acquisition of the property where he started, Northcote, and the launch of Norma.
The Stafford Collection
Owner BHL Global, headed by Egypt's El Sharkawy family
Chief operating officer Stuart Procter
The Stafford London
16-18 St James's Place, London SW1A 1NJ
<a href="www.thestaffordlondon.com" target="_blank>www.thestaffordlondon.com
Hotel manager Camille Fleuriet
Executive chef Jozef Rogulski
Bedrooms 106
Food and beverage The Game Bird (two AA rosettes) and the American Bar
Northcote
Northcote Road, Lango, Lancashire, BB6 8BE
Managing director Craig Bancroft
Executive chef Lisa Goodwin-Allen
Bedrooms 26
Restaurant One Michelin star, four AA rosettes
Norma
8 Charlotte Street, Fitzrovia, London W1T 2LS
Operations manager Liz Reece
Executive chef Giovann Attard
Seats 60
Continue reading
You need to be a premium member to view this. Subscribe from just 99p per week.