Harbour Arm, a once-abandoned railway terminal, has become destination for food and drink in Folkestone.
When Alison Abbott started out selling Dutch pancakes (poffertjes) on Folkestone's newly refurbished Harbour Arm in 2015, she almost wished she hadn't.
"I had a gazebo outside what is now the Tasting Rooms, just at weekends," she says of her street food stall, called Go Dutch. "It was very breezy down there and I had weekends when I didn't do any sales at all. Poffertjes were an unknown commodity and we'd give so many away. We'd tie the gazebo up on a Saturday evening and some days we'd walk around the corner on a Sunday morning and wish it had blown away."
Fortunately, things change. Seven years later, the Harbour Arm has gone from being a tiny, tentative adventure in street food, with just six traders, to something far bigger. Abbott herself now has two successful businesses here (see panel). By the end of this year, the area will be home to a total of 60 operations. In 2021 it pulled in 2.35m visitors, putting it among the five biggest visitor attractions in Kent.
This year has seen a step change, as the Harbour Arm continues its transition from a short 10-week season in high summer (last summer saw 484,000 visitors in August alone) to an all-year-round centre for food and drink.
The Harbour Arm was built in 1904 and was bought by local philanthropist and former owner of the Saga Group, Sir Roger de Haan, for £11m in 2004. It originally housed a train station feeding the Folkestone-Boulogne ferry route and served as the embarkation point for soldiers heading to the Western Front in the First World War. During the Second World War, 44,000 personnel used the port during the Dunkirk evacuation. The ferry route eventually closed in 2000 amid stiff competition from the Eurotunnel and larger ships at Dover, and the Harbour Arm and its adjoining lorry park closed to the public.
While that could have been the final chapter in the familiar story of the decline of Britain's coastal towns, De Haan wanted to see the area regenerated. In 2013, after some false starts, he won permission for a plan to build 1,000 homes on the seafront.
But the question remained, what to do with the Arm itself? The Folkestone Harbour & Seafront Development Co, which owns and runs the Harbour Arm, decided to try opening three street food huts and a few small indoor restaurants in what had been the waiting room at the end of the Arm for a short summer season. Since then, it has gone on to play a major part in food and drink's regeneration of Folkestone, which began in earnest with the arrival of Rocksalt under Mark Sargeant in 2011.
A landlord for the traders
Progress at the Harbour Arm for the first few years was gradual, says Paulo Kingston-Correia, who became general manager of the Folkestone Harbour & Seafront Development Co in 2021. Kingston-Correia has a background in hospitality, having worked as a general manager for De Vere Group, commercial director of Gillingham FC, and sales and marketing director for Roko Health Clubs.
The Folkestone Harbour & Seafront Development Co charges operators rent based on their turnover – they do not have to pay a premium to secure a site. The company invests in all of the infrastructure, leaving the operator to pay only for the internal fit-out. "There's no upfront cost for the traders," says Kingston-Correia. "It's about shared success. We work heavily on promoting the site. You haven't got a more invested landlord than us."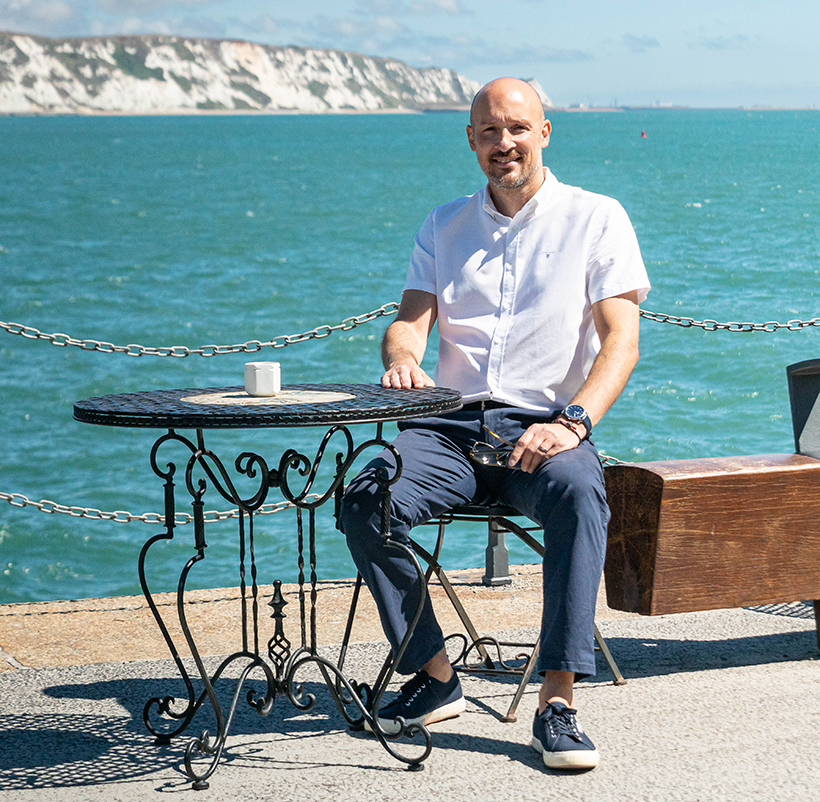 He and his team tend to come up with ideas for the look and feel of an individual venue. "It is not normal that someone will come to us and say: 'See that blank piece of land? We'd like to do X with it.' Instead, we have an idea of what we would like to do with it and we will either have someone in mind for it, or put it out to tender."
Maintaining a unique feel to the site by cultivating independent businesses is key, he adds. "This year has been more of a challenge to find unique offerings. Operators need to have a story to tell and to add flavour to what we already have."
This year, the company has spent more money on the site than at any time since its refurbishment prior to opening, which has largely gone into expanding sites and creating new venues.
Part of that catalyst for growth has been Covid-19. "During the pandemic, the outdoor space was our friend. That was and still is our advantage," says Kingston-Correia. "But it made you think. We had to be nimble. We now want to invest to allow traders to have an all-year-round business. You need indoor space for that, as well as outdoors."
It was during the lockdowns that traders came up with the idea of expanding the Harbour Arm so that they had somewhere to trade outdoors. What started as a small collection of huts in the former lorry park reopened this year as a dedicated sheltered area with 10 different independent food operations, a large LED cinema screen and seating for over 800 people. Among the businesses are Alison Abbott's Go Dutch (no longer in a gazebo), Fish Shack (the little sister of Sole Kitchen on the Harbour Arm and the Harbour Coffee Co), and a Taste of Thailand (run by the team behind Daow's Kitchen in nearby Cheriton).
"With the Goods Yard, we just wanted a big food area that was different to anything else we had on-site. It has taken a lot for us to make it what it is – it had no infrastructure. Initially it was just huts plonked on tarmac and we have had to invest heavily to make it a full F&B offer," says Kingston-Correia.
Working on the brand of Harbour Arm
Kingston-Correia and his team have also started to 'brand' what was once just known as the Harbour Arm into four different areas. In addition to the Arm itself and the Goods Yard, there is 'Beachside', currently occupies by Rocksalt Group's the Pilot Bar and Little Rock restaurant. Both sit inside shipping containers overlooking the shingle beach with views of the Channel. Next year they will be joined by a 12-hole adventure golf course and a relaxed dining restaurant from Hastings-based Brewing Brothers. Folkestone Harbour & Seafront Development Co is in the midst of building access to the new site from the station. The restaurant will be glass-fronted, allowing visitors to look into it from the station concourse, through the unit, and out to the sea beyond.
Meanwhile, on the other side where currently the expanded Harbour Coffee Co sits on its own, Kingston-Correia's team is building two new venues in what will be known as 'Harbourside'. Both glass-fronted units, made up of eight and five shipping containers respectively, will boast views of the white cliffs of Dover on the left, the Channel and the French coastline ahead, and the Harbour Arm to the right. Although at least one major local hospitality group is rumoured to be taking a site, due to open next year, details remain under wraps.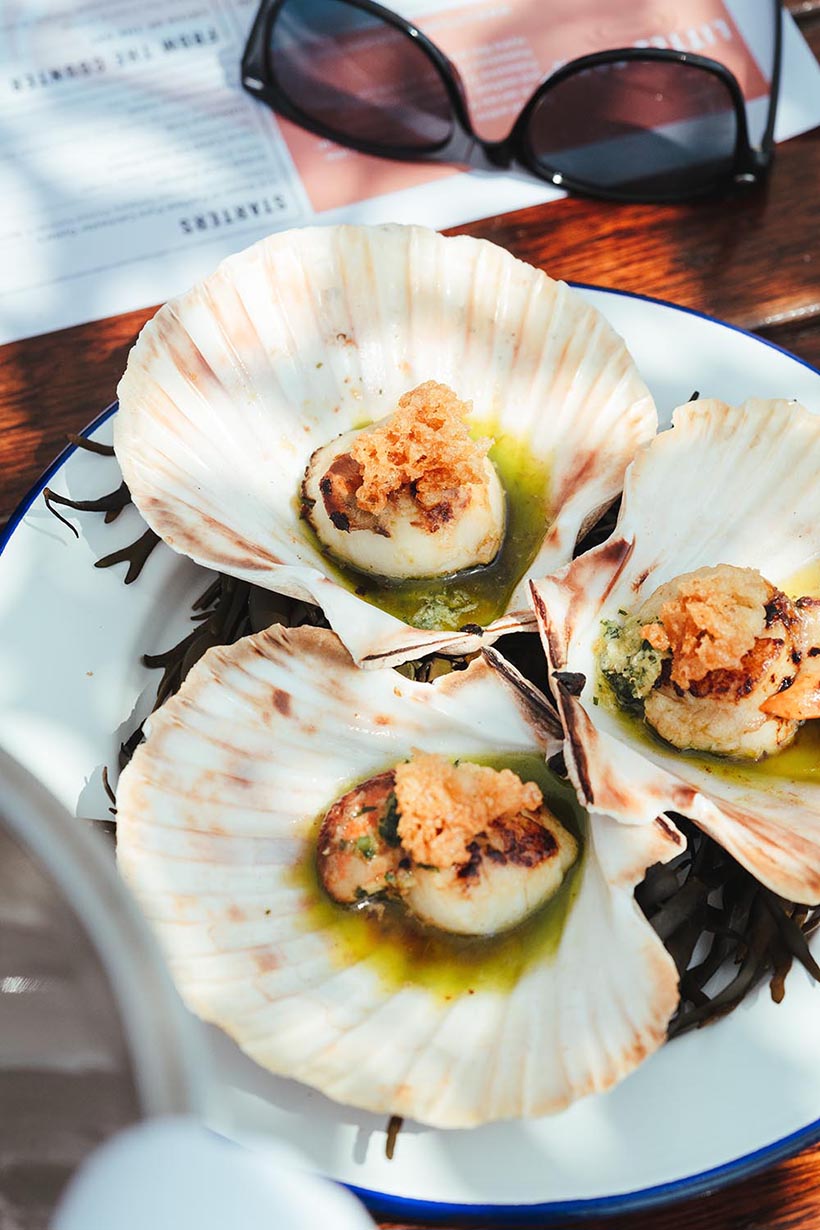 Kingston-Correia has also overseen investment and changes in what was the station's waiting room on the Harbour Arm, which is now known as Platform 4. The team behind the Lighthouse Champagne Bar has opened the Tasting Rooms, which has expanded into what was the waiting room's corridor. That means the restaurant, which celebrates both French and English cuisine, now has views across the harbour as well as more space. It's the same for Dessert Folkes next door, a café dedicated to sweet treats.
Kingston-Correia explains: "Last year, all of our businesses exceeded any year they have done before, bar the ones in Platform 4. All of those went backwards. So we made the decision to get rid of the corridor feel and expand the businesses. We wanted to give them mass."
Businesses at the Harbour Arm switched to five-day-a-week opening last year. This year, it is seven days a week during the summer and it won't shut in the winter. The Goods Yard will be open all year round at weekends during the winter, and Beachside and Harbourside will be open all year round.
The development company also owns three Pullman carriages that Kingston-Correia hopes to press into service on the train tracks on the Arm at some point. "Next year is going to be more about refinement than big projects," he says.
Business incubator
In addition to growing businesses from scratch on the Harbour Arm itself, the venue has also seen some operators move on to open bigger, permanent operations elsewhere. Having started in a tiny area on the Arm offering Spanish tapas, chef Gianni Modena has taken a permanent site for Pick-Up Pintxos on Folkestone's South Street.
Meanwhile, local chef Greig Hughes and partner Daisy Wootton launched their pop-up Bao Baron as a 'side hustle' on the Harbour Arm, before taking a food hut at Goods Yard in summer 2021 and then opening a permanent restaurant in the town's Guildhall Street.
Hughes says: "We were given a hut in the Goods Yard [in summer 2021] which had the added benefit of a lot of free events and the cinema screen to draw big crowds. We struggled to keep up with demand – we were hand-making 1,000 bao buns a week at some points. Every weekend we'd sell out.
"The Goods Yard helped us get established. That following moved over with us to the restaurant, and a lot of folk still talk about how they'd first tried us at the Goods Yard. It really was the perfect low-risk incubator for us."
Wine expert and food blogger Zeren Wilson, who has just opened John Dory, a wine shop and tasting room in nearby Sandgate with the team behind Folkestone's Space Bar and Kitchen and fellow wine expert Louise Walls, says: "The food offering on the Harbour Arm has undoubtedly been a catalyst and great incubator for food start-ups. When I first visited in 2017 I sensed a pioneering spirit amongst the traders, and found it an exciting place to explore. The Harbour Arm for many people is their first experience of what the town has to offer, and it's not just 'ahead of the curve' but a part of the curve, an important part of Folkestone's growing reputation as a dining destination."
Meet the operators
"We want to make this a 12-months-of-the-year business"
Rocksalt Group, which has nine sites across Kent, opened the Pilot bar in 2020, with the larger, seafood-focused Little Rock following in 2021. The Mediterranean-inspired sites are both located in the Beachside area and cater to around 100 covers combined.
"It was a period when outside space was at a premium for all businesses," says Jack Nimmons, operations director. "We had massive success with the Pilot in unison with the Harbour Company during the pandemic."
Currently, there is a seasonality to the business, but the ambition is to use the 36-40 covers indoors for as much of the year as possible. "We managed to keep Little Rock open Friday, Saturday and Sunday through the winter just gone. So hopefully we can develop that year-on-year," says Nimmons.
Trading in such a unique location requires more flexibility than a normal restaurant operation. "You might be expecting three consistent days of good weather and then the forecast suddenly changes," he explains. "We are also dealing with primarily fresh products, including oysters and shellfish. We have added extra storage areas to be able to increase our refrigeration."
And as far as Nimmons is concerned, the Harbour Arm has been "integral" to the growth of the local food scene. "It has grown year-on-year into the incredible space that it is now. That has filtered back into the town. There are restaurants on the high street that have opened and are doing very well – the Harbour Arm has brought more people into the town who want to open hospitality businesses."
"Covid really helped us out"
When the pandemic hit, Mark Babins closed up his Harbour Coffee Co café, then located within two shipping containers on the entrance to the Harbour Arm, and taped up the windows. But things soon changed.
"Initially, it was hell. But towards the end of the first lockdown, a few cafés in London started serving out of the window, so we opened a window up here, put some Perspex up, and started serving out of a hatch. In a perverse way, Covid really helped us out – it made us better at what we do."
The site has expanded internally and externally – thanks partly to extra shipping containers and a rooftop space with a second coffee bar – so there is now capacity for around 200 people. Babins has also started roasting his own coffee. And now he has opened a sister site to his Sole Kitchen business on the Harbour Arm, called Fish Shack, in the Goods Yard – both serving locally caught fish from Folkestone Trawlers.
Having started with just Babins and his business partner at Sole Kitchen, the business now has 19 staff. "The amount of people we serve now is crazy. I can't keep my hands on everything but I have a great team around me. With all the new development, who knows where things could go in two to three years."
"It just keeps gaining momentum"
Alison Abbott runs Go Dutch in the Goods Yard, having moved on from her gazebo on the Harbour Arm. She has also launched Shesells Seashells, which serves fresh local mussels and lobster from Folkestone Trawlers, as well as English steak from near Canterbury, and Chapel Down wine. It operates from three renovated train carriages sitting on the rail line at Platform 3.
"I was offered the carriages in August last year and I said yes because it is a permanent fixture with indoor dining. You can come here and get the view and experience the atmosphere and it is really nice." Weather has always been the biggest challenge. "People will often want to come here to sit inside – they don't want to not have any salad on their fork by the time they put it in their mouth because it is too windy." She estimates that 80% of her customers at Shesells Seashells are now repeat business, whereas at the Goods Yard, Go Dutch caters to a more diverse customer base who go there for the entertainment and the crowd.
Continue reading
You need to be a premium member to view this. Subscribe from just 99p per week.