In a hot and busy restaurant environment a few clever design tweaks will ensure your staff feel cool and comfortable in their uniforms throughout their shifts
The big decision in your corporate workwear may be whether to be formal or informal, but new developments mean that you can now be more imaginative. For example, if you have a low-lit lounge, you might want to fit your bar staff out in glow-in-the-dark shirts.
The appearance of your team members must, to a degree, adhere to the traditional perception of the role – customers expect a chef to look like a chef. However, suppliers in this sector have recently been asking themselves serious questions about how their clients are making their selection decisions on fabric and design, style and operational practicality, and indeed, whether staff feel comfortable in what is selected for them.
Opinions divide on whether workwear relates to high street fashion. "Throughout the 2010s, we saw a rise of denim in front of- house uniforms in a wide range of venues, from rural gastropubs to inner city bars," says Ben Monks, marketing manager at Tibard. "Professional uniforms often take inspiration from wider fashion trends, so we always advise keeping an eye on such developments."
Tibard has noted that while a uniform may be considered less important for a casual environment such as a café, this is not so: customers make their decision about entering an establishment as they walk past, so staff appearance can be a make or break matter.
"The main development in textiles is the marked increase in sustainable fabric options. While there is significant pressure to adopt environmentally sourced materials, it is critical to remember the importance of the product lifecycle – if traditional chefs' whites lasts four times longer than a sustainable version, the environmental gains may be lost. Unless the entire manufacturing and logistical process is analysed objectively, mistakes will be made."
Smooth operators
At Aware Hospitality, founder Alexandre Santamaria warns that fabric choices must be understood: "You should not buy your uniforms from high street brands, no matter their level of quality – uniform materials are ever-evolving and chosen for specific purposes. The sought-after fabrics nowadays are non-crease, which allow for low maintenance, such as jackets that can go in regular washing machines, and also stretchy fabrics that allow a fitted look without having to make every piece to measure.
"Fully bespoke uniforms take nine to 12 months to produce from initial enquiry to delivery – rare are the operators who can accept such long timelines. The obvious solution is some sort of hybrid between bespoke and off-the-shelf; in this scenario you get to mix and match collections and pick your own colours."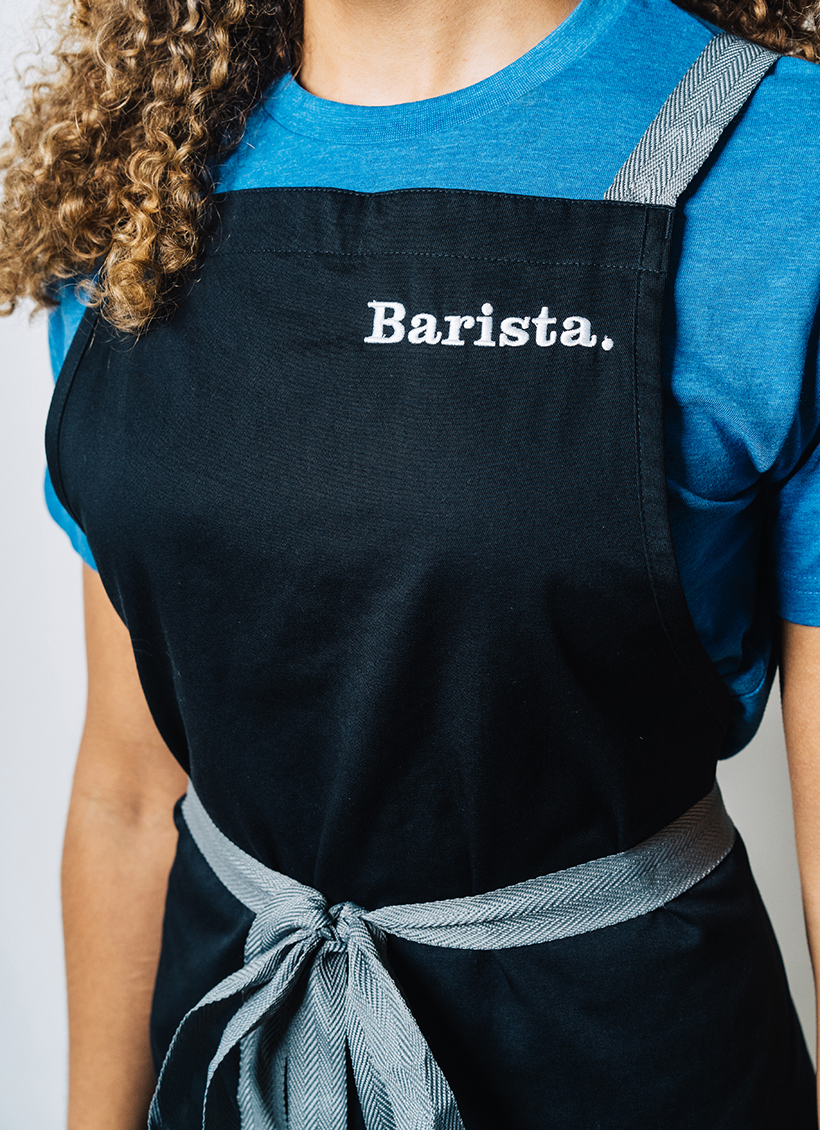 A company that has its own angle on the hybrid theme with ranges of bespoke and 'pre-designed' uniform wear is Studio 104. This supplier launched with the challenging remark that "in some of the finest hotels, exquisite food and impeccable service are always partnered with ill-fitting, uninspiring uniforms".
Things have improved, notes brand manager Stephen Humphries, but still need a careful balance between fashion and practicality. "Since we said that, there have been improvements and a greater focus on uniform, and it is now considered important to the overall experience offered by brands and hotels.
"We have two sides to our business: bespoke projects for luxury brands, which desire an entire custom range, and our 104 Collection of pre-designed garments created for clients with either shorter lead times or keener budgets – the quality is the same, and clients are able to select their own fabrics.
"Good uniform design doesn't follow fashion trends as they date too quickly – it would be a poor business decision to invest in something that is momentarily fashionable.
"Uniforms need to be both timeless and contemporary, and the contemporary aspect is achieved through the use of modern cuts and ways of styling. Some luxury brands tend to set themselves apart with modern formats for garments. For example, instead of the usual front-facing apron, a design where the apron is twisted onto one hip offers a unique visual appeal while still retaining practicality."
Comfort before fashion
There are always ways to update and improve a familiar item, says Bindu, senior designer at Mi Hub. "We have been designing a jean that is comfortable and hardwearing. Wearers have always had an issue with the fit of a trouser, and I think we have solved that problem by providing a jean that is comfortable in all sizes. It's a straight leg jean in a polycotton blend with elastane, which allows it to stretch. During a wearer trial some people wore their own jeans and some wore the new design, and the feedback was that our design was more comfortable.
"Staff can get very hot in restaurants, so we provide fabrics that wick moisture away from the body. Baseball caps can also be uncomfortable when worn all day, so we make sure that the inside has a padding to make them comfortable around the head. Polo shirts have side splits to aid fit."
In such casual wear, the danger of badged cap and polo shirts is that they may suggest to the customer that the staffer is just a fast-food burger-flipper, not a skilled waiter. Not so, says Alex Econs, founder of Icon Printing: with imaginative design, these items can make a useful contribution to businesses.
"Custom-embroidered caps can be great for both promotional merchandise as well as staff uniforms. The best designs use placement, colour, embroidery and printing techniques to achieve the most impactful, visible and memorable reminder of your business, and can double up as merchandise – we see increasing numbers of bakeries, breweries, restaurants and even coffee shops investing in items that double up as both staff uniforms and sellable ware."
Icon's most notable recent work has been the glow-in-the-dark shirt, made for the Lovebox After Dark events company. The request came from the client, and Icon discovered that it could achieve the effect by using phosphorescent inks and screen-printing on a dark blue uniform.
"This process is a fantastic way to add a twist to branded merchandise. For any business that operates in low light, this feature can be both an amazing staff T-shirt and something which can be sold to fans of your brand."
The polo shirt by itself might be an over-familiar sight, acknowledges Matthew Davies-Benjamin, chief executive at Beat Concepts, but casual can still be effective.
"Modern chains are overwhelmingly heading for casual T-shirts, with large, fun prints on the front, back and sometimes on the sleeves. Our clients often choose to elevate the look with a premium, eye-catching apron, which can lend an edgy, inspired look to a uniform."
Choice of practical fabric is now a big consideration for his clients: "They are now looking for uniform which is both more functional and more sustainable than traditional options. Our clients like lightweight fabrics and mesh panels in chefwear, which makes a big difference in heat regulation.
"By increasing the polyester blend in a garment, it will tend to wash better and crease less; we offer fabric where the polyester element is rPET [recycled polyethylene terephthalate], and the cotton element is certified organic cotton, which is a fantastic all-round solution for practicality and sustainability."
Bespoke touch
There have been many surveys to try and establish what staff do or do not like about uniforms. The most common complaint is of clothes feeling uncomfortable or fitting badly, which suppliers complain is often caused by bulk-buying for economy. Other problems include fabrics being difficult to wash and iron overnight, and of 'unflattering' uniforms – but this, say suppliers, can be overcome by allowing a little bit of personalisation, such as allowing staff the choice of skirts instead of trousers, or choosing the colour of their tie.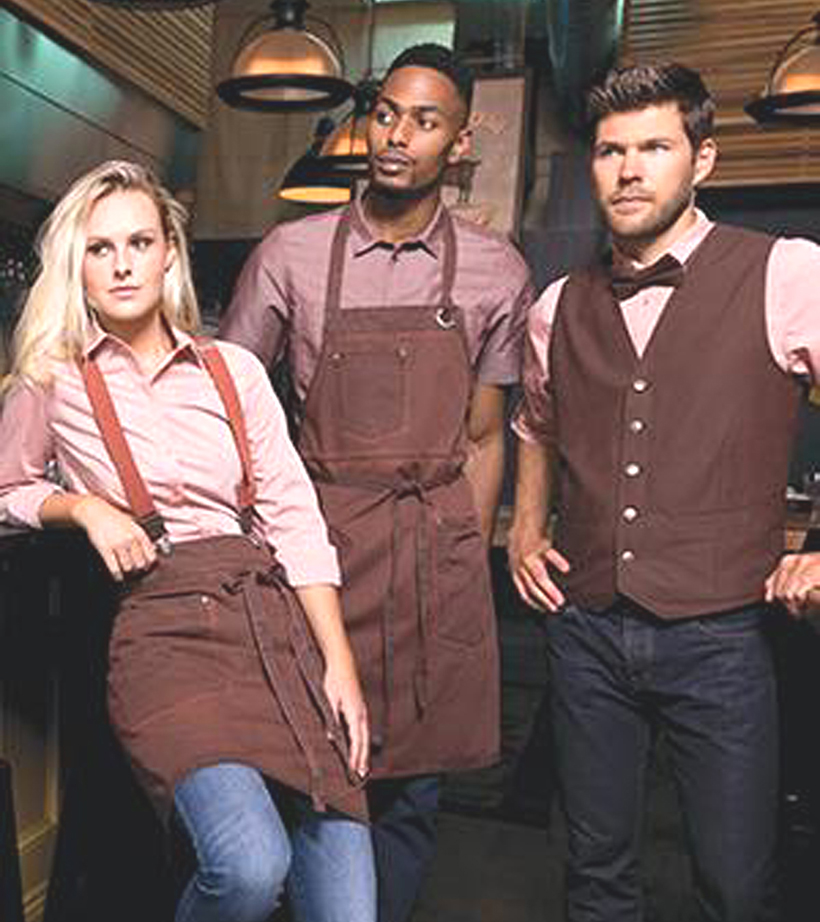 The Alexandra company agrees, noting that its big move last year was offering a flash of colour – such as contrasting neutral aprons with a touch of orange or purple – or its new sustainable range made from Tencel, a biodegradable material made in part from eucalyptus fibres. It says that last year, "the demand for cheap, non-durable clothes decreased, as many hospitality businesses looked to consciously 'invest' in their uniforms".
It may seem good management to consult staff on their uniforms, as there have been examples where new chef uniforms, which were specified by purchasing managers, were immediately thrown out by the chefs themselves, who considered them impossible to work in. "This is a problem if the senior team are focused on budgets and 'brand', whereas the staff are focussed on practicality," says Humphries. "This is a great challenge for suppliers and is where our competitors regularly fall down. We interview key members of staff as well as the senior team to understand the desires of both – we often then act as intermediaries.
"We provide a 'staff fit' day where we make sure that each person is issued with the correct size, and complete any last-minute alterations."
The very worst option is to throw ideas out to the entire workforce and start a free-for-all, says Beat Concepts. "Some clients end up with as many differing opinions as the number of staff they ask. What works better is a limited-wearer trial in a single branch, with feedback closely monitored."
Either way, the Lindstrom group advises that the most valuable feedback is often received on a one-to-one basis, because some staff might feel pressured about speaking in a group.