Don't waste your waste. Use it to track output and minimise the amount of food going in the bin. Here's the tech to help recalibrate your usage and prevent profits being thrown away
"Without doubt, food waste has become one of the most pressing issues to face the foodservice industry and is front-of-mind for operators and customers alike," reports Scott Duncan, managing director at Unox UK.
"As awareness of the impact of waste, the rise in food shortages and the cost of living combine, caterers are faced with greater scrutiny from consumers and the government, with pressure to reduce their waste, improve efficiency and offer a more sustainable business."
Charity WRAP (Waste and Resources Action Programme) estimates that UK foodservice and hospitality operators waste some 500,000 tonnes of food annually while international food waste coalition Champions 12.3 found that businesses throw away 900,000 freshly prepared meals each day.
This costs more than £3.2b a year. According to Kelsius commercial director Mario Kelly: "Of the £20,000 that food waste costs each hospitality venue on average every year, up to 75% of that is avoidable."
Kelly cites recent research by Fourth and the Sustainable Restaurant Association that found that only one-fifth of operators track whether their food waste comes from spoilage, preparation or plate waste (which, says WRAP, account for 21%, 45% and 34% of waste respectively). Just 10% were using technology to monitor their food waste output.
Digital menu and stock management software provides valuable insight in real time and over time, says Henri Jooste, strategic product manager at Zonal. Its menu management solution defines ingredients and quantities that can tackle both over-ordering and plate waste, helping kitchen staff tweak recipes, remove poorly-selling dishes or adjust portion sizes. Integrating digital stock management systems such as the Acquire end-to-end purchase to pay system with electronic point of sale (EPoS) technology means, he adds, that stock levels are automatically updated in real time as sales are processed.
Linking waste management software with stock control, purchase-to-pay solutions and recipe and menu modules can reduce food waste by up to 4%, asserts Henry Seddon managing director at Access Hospitality. EPoS systems that track sales in relation to ingredient cost will pinpoint the most and least popular and profitable dishes. He adds: "It may also identify if you need to think about reducing the number of dishes on your menu or getting creative by making more dishes from multi-use ingredients."
Wireless temperature monitoring and digital HACCP systems that ensure food is stored and served at safe temperatures at all stages can play a key role in minimising spoilage. Kelsius's FoodCheck2Go combines a digital temperature probe with a tablet to check and record fridge temperatures, cook and cool temperatures, and deliveries, while its FoodCheck 2.0 uses fixed sensors to record storage areas and alert staff to any sudden temperature changes. "This could save businesses thousands in stock loss," says Kelly. Mechline's wall-mounted HyGenikx air and surface sanitiser eradicates most of the microbes and moulds that attack perishable foods, extending their shelf life in kitchens and coldrooms by an average of 58% (approximately 7.5 days) and some produce by 150%.
"Using this technology alongside methods of ensuring that fresh food stock and menus are carefully planned, with all foods being stored with a first-in, first-out approach, caterers can help preserve the lifespan of fresh foods and fight against food waste," attests commercial director John Newell.
Freeze frame
Simple storage solutions for prepped and ready-to-serve foods can help cut the 50%-80% of avoidable food waste in commercial kitchens, says Adrian Brown, managing director at Cofresco Foodservice. Wrapmaster's reusable food-grade and dishwasher-safe silicon Flexsil-Lids, designed to fit most international gastronorm tray and steam pan sizes, provide air-tight seals to keep food fresh.
Everyday fridges, freezers and cold rooms play a crucial role in reducing spoilage at every step of production, but blast chillers and freezers add a new dimension in these uncertain times of fluctuating demand and reduced staff, says Martin Laws, marketing manager at Williams Refrigeration.
Operators can prepare meals in bulk, rapidly chill or freeze the hot food and store it in peak condition for extended periods until it is regenerated for serving. The Williams range spans compact models that can process as little as 10kg of food to roll-in units capable of handling up to 320kg of product at once.
The downside of blast chilling, cold storage and regeneration is that it is "an incredibly energy-intensive process and can also lead to product wastage if regenerated dishes are not used," notes Duncan at Unox, which offers the world's first 'hot fridge', Evereo, as an alternative that costs just £1 per day to run. Evereo preserves hot food safely at the temperature at which it is served and above the danger zone for bacterial growth for eight hours in unsealed containers or 72 hours using Multi.Day bags and trays.
Larger sites and dark kitchens can also benefit from cooking dishes in one kitchen, before preserving and serving from another location using Evereo," adds Duncan.
Smart solutions
Smartphone apps such as Olio and Too Good To Go enable caterers to shift surplus prepared foods to charities and food banks or offer unsold food at discounted prices for customers to collect towards the day-end.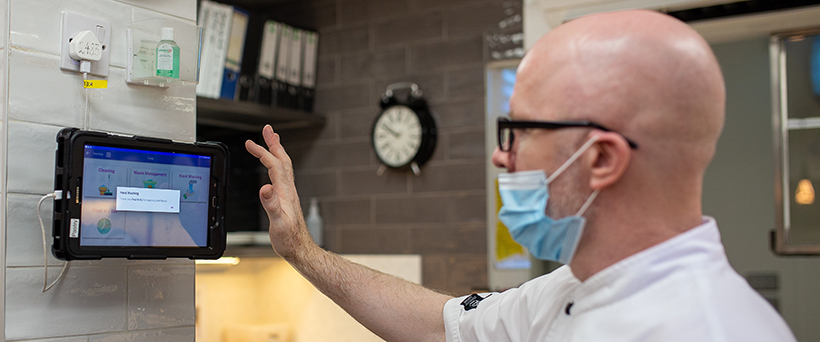 Rising costs make landfill an increasingly uneconomic and unsustainable option for unavoidable food waste, but there is growing armoury of ingenious equipment that convert muck into brass by turning it into revenue-generating bio-fuel or compost.
Meiko's BioMaster pump and vacuum system is one of the costlier solutions but will, says the company, pay back over its 30-year life. The BioMaster hopper pulverises food waste, including oil, grease, bones, shells and fish skins, and pumps it into a holding tank to be collected for use as compost or biogas. It uses less electricity and water than other systems, needs no added chemicals, wood chips or enzymes and is government-approved as a sustainable solution.
Green Eco Technologies' compact WasteMaster converts food waste into a dry residue that can be anaerobically digested into bio-fuel, while Enterpack's Compostapack food waste system creates compost from food scraps, cardboard and compostable packaging and films. Waste2 Environmental Systems iD-R system uses aerobic and anaerobic digestion to turn food waste and compostable crockery and cutlery into a dry fertiliser crumb and covert waste gases into electricity that operators can use to reduce power bills or sell to the National Grid.
The good news, concludes the Champions 12.3 report, is that 76% of food outlets recouped their investment in food waste reduction programmes within the first year, rising to 89% within two years. "The study also found that for every £1 invested in cutting food waste, you can expect to see £7 back in saved profit, whatever the size or location of your business," says Seddon.
Waste-not checklist
Hayden Hibbert, director of client relations at food procurement expert Allmanhall, outlines simple actions to reduce food waste:
Avoid overbuying stock, especially perishables.
Store food at the right temperature, maintain fridges and freezers at the correct temperature and rotate stock appropriately.
Label food containers correctly, including allergens and date information.
Keep a stock inventory of foods in all storage areas, including use by and best before dates.
Ensure deliveries match orders, are of good quality and within their use by dates.
Ensure meal portions match customer requirements – around 25% leave food on their plate.
Don't overextend your menu – keep it simple to keep stock levels down.
Winnowing the waste
Amadeus is rolling out Winnow Vision across all NEC Group venues after a successful pilot at the NEC ICC Birmingham slashed food waste by 33%, saving almost 97,000 meals a year.
Winnow Vision is an AI-powered bin with digital camera, smart scales and touchscreen that records the type, weight, cost and reason for all binned foods, which Amadeus has integrated with its Fourth hospitality systems to jointly track waste.
Food and beverage director Marc Frankl regards tackling food waste as "one of the most cost-effective investments to reduce your carbon footprint" and says Amadeus aims to cut avoidable food waste by 50%. Simon Hellier, executive chef at ICC Birmingham, describes the technology as "game-changing". "The ICC's kitchens cater for 400,000 delegate days every year, so if we over-stock, this can vastly increase what we have to send offsite for recycling or anaerobic digestion," he says. "Changing our habits using AI helps the environment and saves us resources, time and labour."
Suppliers
Access Hospitality www.theaccessgroup.com/hospitality
Allmanhallhttps://allmanhall.co.uk
Enterpack www.enterpack.co.uk
Green Eco Technologies www.greenecotec.com
Kelsius www.kelsius.com
Mechline Developments www.mechline.com
Meiko www.meiko-uk.co.uk/en/
Unox UK www.unox.com/en_gb
Waste2 Environmental Systems waste2es.com
Williams www.williams-refrigeration.co.uk
Winnow Solutions www.winnowsolutions.com
Wrapmaster www.wrapmaster.global
Zonal Technology www.zonal.co.uk