Meet the 2022 Acorn Award winners
This year's brightest 30 under 30, celebrated their successes at the winners' weekend event, held at Rudding Park
In the lead up to the Queen's platinum jubilee, The Caterer held its own celebrations by bringing together this year's Acorn Award winners at Rudding Park, the privately owned luxury hotel in Harrogate.
With 90 bedrooms and suites, a destination spa, multiple restaurants, a kitchen garden, private cinema, two golf courses and conference and events space, the host venue, set in 300 acres of landscaped gardens and woodland, allowed the winners to put the abundance of flowers and plants it cultivates to good use during a cocktail masterclass and crown-making session.
Rudding Park's bar manager Jordan Sweeney led the Acorns on a taste journey during his cocktail masterclass. He demonstrated how to stretch two ingredients in his creative class – raspberries and coffee – in juices, kombucha and spirits for the winners to sample.
A walk through the grounds provided the winners with an opportunity to discover the hotel's extensive kitchen garden, which is used by Rudding Park head chefs Eddie Gray and Callum Bowmer and their teams in providing the freshest ingredients for both the Clocktower and Horto restaurants.
The 'crowning' ceremony saw the teams collect flowers, plants and foliage from the estate, ready to be turned into Jubilee crowns, with the teams delivering presentations on the concept behind each of their crowns and why the Queen would choose their design.
The rooftop spa was a social space for the Acorn winners to unwind with a range of hydrotherapy and thermal experiences, while the Escape Zone offered a peaceful space for a range of treatments. And on the Sunday evening the winners and the team from CH&Co enjoyed a barbecue cooked in view of the Jupiter bust and gardens alongside the library.
Rudding Park's managing director Peter Banks and hotel manager Nuno César de Sá were both on hand all weekend for individual tours and insights into the history of the hotel.
Monday morning commenced with a reviving breakfast followed by individual portrait shots and a group winners' photo call in the hotel's stunning gardens. Following the Acorn Awards presentation lunch the winners heard from two previous Acorn Award winners – and to date, the only father and daughter recipients – Charlotte Horler, deputy general manager of the Grand Birmingham, and James Horler, chief executive of Ego Restaurants and chairman of Notes Music & Coffee and Ping Pong.
The Horlers provided the winners with an entertaining and theatrical description of their experiences in hospitality, offering an insight into the changes that have taken place and the opportunities the industry provides in terms of traditional and entrepreneurial career progression.
"It was wonderful to be able to welcome 30 future hospitality titans to Rudding Park at the end of May," Banks said. "Having met them, we can all sleep easy: the future of our industry is in safe hands."
Miles Baxter, 39, group general manager, Houston & Hawkes
Miles Baxter's career to date has been exceptional. He has quickly risen up the ranks to become a senior manager with his current employer and runs some of the contract caterer's most prestigious contracts. He joined BaxterStorey in 2014, after graduating from Edge Hotel School in Colchester. Here, his natural ability to build strong performing teams saw him advance up the career ladder from assistant manager to general manager, overseeing a team of 24 and a £1m turnover contract. By 2018, he had been made general manager of a larger contract, building it into one of BaxterStorey's flagship sites, with a turnover of £2m.
In 2021, he joined the management team of Houston & Hawkes, overseeing a golf club. It was a challenging contract for the caterer, but by creating a high-performing team, being creative and clear in his vision and demonstrating tenacity, Baxter has achieved 45% year-on-year sales growth for the site. As a result of Baxter's efforts, the rate of absenteeism at the site has been reduced by 31%, while employee turnover is running at an all-time low of 7%.
In addition, he has supported mobile network operator Three UK in getting its new headquarters in Reading (which is occupied by 1,000 workers) up and running, and is leading the mobilisation of an office in London populated by 900 staff. Keen to give back, Baxter has two mentees in the business and has been a huge advocate of industry charities through his fundraising work for Hospitality Action and becoming an ambassador for Springboard.
What is the secret to a happy, engaged team?
"I want a team that enjoys coming to work, so I spend most of my time working with my colleagues to understand how I can help them pursue their personal or professional goals. I like to make training fun, and work closely with our suppliers to ensure we offer the best and most rewarding engagement."
Lily Bell, 28, account manager, BaxterStorey
Lily Bell joined BaxterStorey as a trainee manager at its Visa site, one of the foodservice provider's flagship London locations. In just four years, her progression has been outstanding. She has risen from departmental manager, overseeing a team of six with an annual sales target of £600,000, to deputy manager, managing a team of 23 and with a £1.3m target.
She secured the role of account manager in 2021, overseeing the whole Visa contract and catering services at Paddington, Reading and Basingstoke, along with the vending services in Belfast and East Kilbride – no mean feat during a global pandemic.
At the tender age of 28, she now heads a team of 32 with an annual turnover of £2.5m. Never one to rest on her laurels, Bell started a senior leader master's degree apprenticeship in January.
As an illustration of her business acumen, she proposed and managed the transition of the Visa contract from a commercial model to cost-plus, saving her client £435,561 in operating subsidy for 2021 as a result. Understanding the shift in workplace dining since the pandemic, she responded positively, introducing apposite technology such as digital signage and labelling, contactless self-serve areas, and a 24-hour click and collect service.
But it's not all about the bottom line. She is a mental health first-aider, BaxterStorey's first 'patch wellbeing and mental health ambassador', and one of her initiatives is a 30-minute Friday morning walk, where she takes her team out on a stroll during which they talk about anything.
What is the secret to a happy, engaged team?
"Promote positive thinking and positive actions, collectively and individually, allowing every team member to feel valued and supported. A positive work environment encourages communication and collaboration, meaning team members are involved in decisions, able to be creative and have autonomy within their role, leading to happiness and fulfilment."
Connor Black, 25, head chef, the Bull & Bear, Manchester
Connor Black's astonishing rise to head chef of a Tom Kerridge restaurant at the age of 25 is a huge achievement and one that now inspires his kitchen team.
It all started in 2012 when Black, aged 15, wrote a letter to chef-patron Kerridge asking for work experience at the two-Michelin-starred Hand & Flowers pub in Marlow. After a week in the kitchen, he so impressed Kerridge that he was offered an apprenticeship and, within a year, had worked his way up to demi chef.
Seeking to broaden his skills, Black moved to Australia in 2015 to work as a chef de partie under Grant King at Gastro Park in Sydney, which had two hats (the Michelin-star equivalent). He took in a few other kitchens while he was in the city and was on the opening team of seafood restaurant Cirrus Dining as junior sous chef, which went on to win two hats in its first six months.
Armed with a great CV, Black returned to the UK in 2017 and worked in several of Kerridge's kitchens. Highlights include taking on the joint role of head chef of the Shed (the Hand & Flowers' private dining room), and sous chef of the Hand & Flowers itself in 2019, before landing his current role.
Despite his youth, Black is heavily involved in mentoring colleagues and offers students at Manchester College the chance to work in his fast-paced kitchen. He is also a keen supporter of Hospitality Action.
What is the secret to a happy, engaged team?
"Communicating with my team on a level that makes them part of the process, and giving them a chance to create alongside me."
Jordan Burdall, 28, golf academy and retail manager, Rudding Park, Harrogate
Jordan Burdall joined Rudding Park as a golf assistant in 2018. Swiftly identified as a 'shining star', he was promoted to his current role in 2019, with responsibility for a shop, driving range and function room, with a team of five.
At a time when golf was showing a decline, he embraced the challenge, and the Rudding Park hotel is now reaping the rewards. Under Burdall's leadership, retail sales have increased by 169% to £350,000 in 2021, and he is hungry to hit £500,000.
His talent lies in adapting to new market forces and innovating. Examples include his investing in the TrackMan Range golf-ball tracking system and online golf-bay booking. Close to 5,000 customers signed up for bay booking, enabling the club to communicate with them via online accounts. He also launched a range bar to give guests a new experience, tapping into the '10-pin bowling for golf' concept, and introduced robot ball collectors to create efficiencies and reduce payroll. Not least, he ensured his team were given refresher training to boost product knowledge and enable them to increase sales.
To help the community at large, Burdall's team works with Golf in Society, a social enterprise initiative aimed at improving the health and wellbeing of an ageing population by introducing them to golf.
As for management style, Burdall has built a culture of trust. If he says he will take action, then his team know he will follow up – even if an issue can't be resolved straight away.
What is the secret to a happy, engaged team?
"Engaging positively with my team daily makes them feel respected and appreciated and is then reflected in their work ethic and in making them feel important in their role."
Josh Chadwick, 26, hotel manager, The Tawny hotel, Consall, Staffordshire
Josh Chadwick's first big responsibility was at Hogarths hotel near Solihull as assistant brasserie manager, a venue with accolades including two AA rosettes and Midlands Restaurant of the Year. Somehow, during this time he also managed to complete a degree, achieving a first.
By 21, he was managing 80 staff in the £5m-turnover events, bars and hospitality areas at Drayton Manor Resort, Tamworth. During his time in this role, he improved the staff satisfaction score by 36% and exceeded the turnover target for the department by £100,000. In 2021, he helped open the UK's first 'deconstructed hotel', joining the Tawny as hotel manager, overseeing a team of 120.
Many awards have followed. The hotel was ranked in the prestigious The Times Top 100 Hotels within the first three months of opening and was accorded a 9/10 rating by The Telegraph. Within two months, Burdall was achieving 92% occupancy from direct bookings.
Indeed, by operating without using online travel agents the hotel generates more profit that it can invest back into the Tawny, its team and its marketing. In addition, Chadwick's strong marketing campaigns ensure the hotel attracts 35% of its visitors from London – an unusual demographic for Staffordshire – and it's part of his vision to put the whole area on the map.
As for his team, in the past 12 months, he has worked with HIT Training to deliver apprenticeships and short courses for colleagues to develop into new roles, resulting in an impressive staff retention rate of 86%.
What is the secret to a happy, engaged team?
"It comes from creating a great culture. Whether it be from group catch-ups over a morning coffee, to investing time and effort in their personal development, each element helps shape an engaged and motivated team."
Graeme Cumine, 29, restaurant manager, L'Enclume, Cartmel
With a BTEC in public services under his belt, Graeme Cumine looked set for a different career. However, a part-time job in a local restaurant whetted his appetite for hospitality and by 2013 he was working full-time and undertaking the Wine & Spirit Education Trust Level 2 Wine Award. Later that year, he moved to Grassington House, Skipton, working his way up to restaurant manager in 2015.
A year later, keen to enhance his experience, he joined the then two-Michelin-starred, five-AA-rosette L'Enclume as chef de rang. In 2017, he was promoted to head waiter and also reached the finals of Young Waiter of the Year at the Royal Academy of Culinary Arts Annual Awards of Excellence.
Talent and dedication have underpinned his steady progress and by 2020 he was promoted again to restaurant manager. As part of chef-patron Simon Rogan's restaurant team, he helped L'Enclume win its third Michelin star in February 2022, becoming the only restaurant in the north to achieve that accolade.
To nurture future talent, Cumine has worked with Kendal College to devise the front of house apprenticeship package offered by Simon Rogan's Academy.
Out of the kitchen, he works with the head gardener at Simon Rogan's farm to understand the ingredients used in L'Enclume's dishes so he can offer restaurant guests and his team better information as well as ensure that no part of a plant is wasted.
What is the secret to a happy, engaged team?
"Communication, listening and getting everyone in the team moving towards the same goal. Also, ensuring each team member understands their role and what they need to do to achieve their personal career goals."
Ethan Davids, 28, director, Chickpea Group
Ethan Davids' journey from washing dishes in his parents' pub to owning a pub group is one of hospitality's many inspirational tales.
When he sought a business loan to start the group with his sister and schoolfriend, they were laughed out of the bank, and had to beg, borrow and steal to get things off the ground. It worked, and Chickpea Group now has four pubs and a pizza business in the south west.
Davids oversees everything – operations, turnover, growth, staff and design. Financially astute, he drove revenue up at Chickpea's first pub – the Grosvenor Arms, in Wiltshire, taken on in 2019 – from £300,000 a year to more than £1m. Similarly, the business's pizza arm, Nole, is a great example of successful pivoting during the pandemic; a standalone Nole shop is now open in Salisbury.
Keen to share his story, Davids has partnered with a local school to provide students with a day-in-the-life experience of the group.
He has also created an environment where hard work, creativity and passion is rewarded with obvious progression across the group, regardless of age. Two head chefs are under the age of 25, while the assistant general manager at the Grosvenor Arms was 18 when promoted. Davids also gives managers the freedom to manage each pub as if it's their own to help them inspire their teams.
Tellingly, one of his goals in the next two years is to help a member of staff open their own pub or restaurant "because it's fun".
What is the secret to a happy, engaged team?
"Creating an environment where creativity flourishes. I do that in our business by making ideas come to life. We don't hang around and work on a trial-by-error basis. Thankfully, some ideas have worked."
John Dickson, 29, hotel manager, Dakota Eurocentral
John Dickson was handed the responsibilities of hotel manager within 10 years of starting his career, which is a phenomenal achievement.
A decade ago, with aspirations to work in football coaching, he joined Dakota Edinburgh to earn money for college. However, working in the kitchen as a runner, he realised his passions were aligned more with hospitality than football. He undertook Dakota's Learn More, Earn More development programme, and started to reap the rewards through promotions. In 2015, his career took off when he joined Dakota Eurocentral as restaurant manager.
In this role, he implemented new procedures that saw consistent record-breaking revenue figures in F&B and led to him taking on bigger roles. By 2021, his success and dedication brought him promotion to his current role as hotel manager of Eurocentral.
It's been a great 12 months for Dickson, the business and his team. The hotel is set to finish the year ahead of budgeted EBITDA and surpassing the budgeted average daily room rate. As well as spearheading the opening of a purpose-built events space at Eurocentral, he hired a new events team, drawing from locals and hospitality graduates in the area.
Now responsible for a multimillion-pound business with 90 staff, he is focused on broadening their skills through cross-training, distillery tours, wine tastings, butchery sessions and more. He also works with local schools to talk about opportunities in the industry.
What is the secret to a happy, engaged team?
"Making people feel good. We all have our part to play in a high-performing, fast-paced environment, and it's key that everyone feels their efforts are appreciated every day. We all want the same things in our place of work – to feel like we're part of something, to work in a team where you're respected, where you have the opportunity to develop and learn, and have a bit of fun doing it."
Dorya Djebbar, 29, people business partner, CH&Co
Dorya Djebbar joined CH&Co in 2018, armed with a master's in HR management and experience as an HR administrator with South Coast Port Services.
Her first role was as HR adviser in the education sector, but a series of promotions saw her zip up the ladder, overseeing 2,000 employees across 700 sites as people operations manager, before landing her current role in January 2022. It is her responsibility to integrate Gather & Gather, which was acquired in 2019, into CH&Co. This is no mean feat given that Gather & Gather is the largest business within CH&Co, with 1,200 sites, 2,350-plus people and an annual turnover of £150m.
Djebbar has also been instrumental in supporting the post-Covid rebuilding of the business. With the intake of new recruits rising to an average of 100 a month, she reviewed the starter process, identified simplifications for managers, and collaborated to train 500 managers. She also helped to design and roll out the in-house people engagement survey, which returned a 72% score.
No wonder that in 2021 her achievements were recognised at the HR in Hospitality Awards, when she won the Rising Star Award.
She works as a Springboard ambassador and has been instrumental in CH&Co's work with the charity to launch the Kickstart scheme, championing the programme with her operations teams.
What is the secret to a happy, engaged team?
"Open communication, encouraging collaboration, and continuously mentoring and coaching. I reached my professional goals because I always had a leader who developed and motivated me and kept me engaged."
Laura Dunphy, 29, training and development manager, Cameron House, Loch Lomond
Laura Dunphy faced a bigger challenge than most of her peers when she stepped into her newly created role in April 2021. With the luxury hotel having been closed for four years following a fire, she was tasked with devising a five-star hotel training strategy for 525 new staff. Others might baulk at the challenge, but Dunphy demonstrated ambition and patience.
To make induction fun and engaging, she helped devise a three-day 'clan welcome' for groups of up to 70 new starters. Undeterred by the fact the hotel was still closed, she booked bowling clubs, a football stadium and even a local cinema to make sure the inductions went ahead. The 525 new employees – many of them lacking experience – were then given on-the-job training through 75 new departmental trainers trained by Dunphy.
It's impressive – and so is her CV, which demonstrates wide-ranging hospitality experience from when her career started on Principal Hotels' graduate manager programme, to being promoted to a cluster training manager role at Principal for Scotland in 2020 – though the pandemic put paid to that.
At Cameron House, Dunphy aims to attract high-quality talent and is currently focusing on strengthening the graduate programme. The hotel used to appoint two graduate managers a year, but she appointed eight in the summer 2021 cohort and has since appointed two more – with an 80% retention rate so far. A further six are soon to be appointed.
What is the secret to a happy, engaged team?
"Showing genuine care. Taking the time to discover what they are passionate about means you can not only show you value them by remembering the little things, but you can also tailor your approach to their development and what they want out of their career, leading them to feel acknowledged, appreciated and supported in their role and as a person."
Chara Forrest, 29, resident manager, the Devonshire Arms Hotel & Spa, Bolton Abbey
Chara Forrest's continuous progression is down to her innate ability and ambition. She was recently promoted to the resident manager position, a role she has made her own over this past year. Her team of seven collectively oversee a team of 100, and she takes personal responsibility for their development by sharing the skills she has learned over an extensive career in hospitality.
It all started at Slaley Hall, Hexham, where she whizzed up the ranks of reception and F&B. In 2015, she joined Seaham Hall, Durham, as reception manager and over the course of three years worked her way up to operations manager, winning internal awards such as Front of House Person of the Year, as well as a Shooting Star nomination in the North East Hotels Association Awards.
Demonstrating her commitment to hospitality, she gained a scholarship on the executive education programme at Ecole Hôtelière de Lausanne in 2017. In 2018 she joined the Devonshire Arms team as deputy general manager, carving a path to her current role.
Forrest is building an impressive CV. Thanks to her continued personal development, she now has all-round knowledge of the luxury hotel sector, with a strong interest in personnel support and growth, and guest relations.
As well as completing a leadership skills programme, she has forged links with Hospitality Action and ambulance charity First Response so that she can better direct any team members who are struggling, while still offering her own support.
What is the secret to a happy, engaged team?
"Look after your team's wellbeing because that is at the core of building a happy team. Understand what makes them tick so that you can encourage them to do what they do best every day."
Ruth Hansom, 27, head chef, the Princess of Shoreditch, London
Where to start with Ruth Hansom's achievements? In a nutshell, she runs an all-female kitchen at the Princess of Shoreditch, which is the only pub in London to have been awarded three AA rosettes. Not only that, but she was in the final six of the 2022 Roux Scholarship competition at just 27.
Her career started at the Ritz London, where she spent four years working her way up to chef de partie. While there, she took part in international cookery competitions, winning titles including Master Chef of Great Britain and Young National Chef of the Year and appearing on BBC's Million Pound Menu.
To broaden her skills, she took stages at restaurants, including Core by Clare Smyth, before landing her first head chef position at the Luton Hoo Hotel, where in her own words she learned "how to manage people and how important it is".
Certainly, what stands out about her is that she practises fairness and kindness in the kitchen, guiding her chefs in understanding why they may have made a mistake in order to help them to learn, and counteracting the bad press that many kitchens receive.
Similarly, Hansom's inclusive approach is proving successful in hiring, developing and retaining staff. Notably, she encourages the youngest chefs to put forward menu ideas and she works with them to develop them for the menus, giving them a sense of purpose and a boost in confidence.
What is the secret to a happy, engaged team?
"Everyone has a different secret. No two people are the same. Getting to know your team and what makes them strive is different from person to person, so flexibility is key. For some people it's downtime and for others it's empowerment. Play to their strengths and help them develop their weaknesses."
Kumiko Hiwatari, 29, premier sous pastry chef, the Ritz London
Kumiko Hiwatari joined the Ritz in 2019 as a sous pastry chef in the afternoon tea section, which serves up to 420 covers a day, and the Michelin-starred restaurant. She made a natural progression to the role of deputy before taking on the role of premier sous pastry chef, using her warm nature and people and organisation skills to manage a brigade of 29.
Besides recruiting and training new recruits, she oversees employee relations, menu design and development, and the staff rota. Described as the pillar and backbone of the department by her line manager, Hiwatari has brought consistency and direction to the team. Her fresh approach, for instance, means "an old-fashioned" department now uses IT, embraces change and adopts new ways of working, resulting in its smoother running.
Crucially, she has established strong connections between the Ritz London and educational institutions such as Le Cordon Bleu, Westminster Kingsway College and Leiths Cookery School, resulting in her being an ambassador for the industry and attracting apprentices for the Ritz London. She has also trained as a mental health first-aider and created a more open working environment at the hotel, implementing informal one-to-one check-ins.
Hiwatari embraces extra responsibility, not only ensuring that her team is fully trained, but also mentoring apprentices. This gives her a better understanding of the different levels of expertise in the team and the ability to identify skills gaps. Since she became involved in succession planning she has reduced staff attrition and boosted team morale.
What is the secret to a happy, engaged team?
"Engaging with an individual's needs in a positive way. That may be through positive reinforcement, a friendly approach or constructive feedback, but it is important that the team feels they are looked after, guided and, most importantly are happy in their place of work."
Jaques Hobson, 29, F&B manager, the Belfry Hotel & Resort, Sutton Coldfield
Jacques Hobson joined the Belfry's meeting and events department 10 years ago, where his passion for guest service propelled him from F&B assistant through several roles before becoming F&B manager in 2019.
Between 2019 and 2021, he grew revenue at the golf course's Halfway House by £100,000, a noteworthy achievement during the pandemic. This was thanks to his initiatives, such as lengthening opening hours, price reconfiguration and offering new products. He also responded to the demand for outdoor hospitality, transforming the old 18th green of the PGA National course into the 19th Green bar for the Euro 2020 football tournament.
Most importantly, Hobson is a people person. He heads a team of 68 plus a management team of six and has notched up a strong staff retention rate of 55%, which is above the industry average thanks to the encouragement he offers everyone to get involved and share ideas or menu recipes.
After lockdown, he recruited 50 new staff. As many of them were aged 17 to 20 and had little hospitality experience, he created individual starter and training packs for them and introduced classroom training. In the past four years, he has developed and promoted more than 10 staff members, some of whom have become head of departments.
It all ends up on the bottom line. Hobson has maintained the business in unprecedented times through nurturing a high-performing team that delivers. Not least of his achievement is that his successful financial strategies have resulted in the resort owners investing in another Halfway House.
What is the secret to a happy, engaged team?
"Success comes from working together and ensuring everyone has the opportunity to contribute and share ideas. A team that is happy and motivated is key to delivering world-class F&B service."
Craig Johnston, 26, head chef, Marcus Belgravia, London
Craig Johnston's list of achievements in professional kitchens is impressively long for just 10 years of experience, but soft skills are where his true value lies. A well-rounded chef, he can not only run a big and busy kitchen, but also efficiently and calmly collaborate with a full restaurant team, including front of house, HR, reservations and marketing.
His career started at the age of 16 at a two-rosette restaurant in Maidenhead. He then joined the team at Pollen Street Social, London, as a pastry chef before returning to Maidenhead in 2016 as sous chef at Michelin-starred gastropub the Royal Oak in Shipston-on-Stour.
He was obviously going places when in 2017, aged 21, he won MasterChef: The Professionals – the youngest winner in its 13-season history. Shortly after, he joined the Marcus team as senior chef de partie, and over the next four years worked his way around the Michelin-starred kitchen. In January 2022, he took over full responsibility, overseeing a brigade of 19 alongside his senior sous chef.
Johnston raises the bar in the kitchen by sharing his knowledge with the brigade and developing apprentices. While he often stays late to help others, he champions work-life balance among his team and has introduced a system where new starters work a four-day roster and each member who works five days is allocated an early finish. He also encourages open communication across the kitchen team and front of house, and has introduced one-to-one catch-ups with team members.
What is the secret to a happy, engaged team?
"It's all about giving your team as many opportunities to learn as you can with clear development plans. It's important to recognise their growth and achievements and listen to their suggestions, concerns and questions."
Serafin Kapusta, 28, F&B operations manager, InterContinental London Park Lane
Serafin Kapusta has been on an upward trajectory since he completed IHG's Europe future leaders programme in 2016, having honed his F&B skills across three countries and three IHG brands – InterContinental, Crowne Plaza and Voco.
His first management position was assistant F&B manager at the 204-bedroom Crowne Plaza London City, which has four outlets. He zipped up the ranks, moving to Wales to support the Cardiff hotel in 2020 during – and after – the pandemic, before joining the 387-bedroom InterContinental London Park Lane for its reopening in 2021.
As F&B operations manager he oversees four outlets and the meetings and events department. He has met the challenge of regrouping after the pandemic head on, recruiting more than 80 new staff since the hotel reopened. Perhaps one of his biggest challenges has been successfully implementing a strategy to train associates with zero experience in hospitality to bring them up to Forbes five-star standards.
As for personal development, he never stops. He is currently setting aside time to study for a master's in international hotel and tourism management. And he supports the wider industry through, for instance, being active in the Bacchus Society at Oxford School of Hospitality Management and mentoring work experience students through Springboard's Inspire programme.
What is the secret to a happy, engaged team?
"Creating a culture of appreciation within the team – whether that's celebrating accomplishments, hard work or just saying thank you – can go a long way in building a happy and engaged team."
Timothy Kendall, 29, chef proprietor, T and T Pubs, Launceston, Cornwall
Tim Kendall owns two Cornish businesses – the Barley Sheaf at Gorran, and the Rising Sun Inn on Bodmin Moor.
Their success is no doubt down to the fact he has worked a mix of stages and permanent roles under some of the best in the industry to gain a solid understanding of hospitality.
In London, he worked with Marcus Wareing and Michel Roux Jr at the two-Michelin-starred Le Gavroche. While in Cornwall, he worked with Stephane Delourme at Rick Stein's Seafood Restaurant, with Jamie Porter at St Moritz, with Paul Ainsworth at Number 6, and with Chris Eden at the Driftwood.
In January 2017, Kendall became senior chef de partie at the Idle Rocks in St Mawes, Cornwall, where he was promoted to sous chef in 2018 and head chef in 2019.
All this gave him the experience he needed to open his first pub in 2020 and his second two years later. Accolades include Pub of the Year in the Cornwall Tourism Awards and a Michelin Guide listing.
Most impressively, Kendall is dedicated to breaking the cycle of abuse in the industry. All team members are treated with respect regardless of role. His manner is calm – colleagues say they have never heard him raise his voice, nor verbally abuse a team member. The no-blame culture means solutions are found when mistakes are made, and continuous tailored training programmes have created a justifiably proud team. He has also developed relationships with a local college and provides training for people entering the industry.
What is the secret to a happy, engaged team?
"I encourage a friendly team. We start the day by saying hello to each other and shaking each other's hand to show we notice and respect each other. Also, employees want to know if they can trust their managers, so be true to your word and as honest and forthright as you can, without being brusque or rude."
Tabitha Kirby, 24, deputy account manager, BaxterStorey
For someone who is just 24, Tabitha Kirby boasts impressive career progression. She began as a waitress at Galvin La Chapelle, London, where hard work and talent launched her onto the Galvin management training programme.
A move to BaxterStorey saw her again prove herself, this time as support manager for the company's Deutsche Bank contract. When the foodservice provider won the Amazon flagship site, it was clear she was the woman for the job. She mobilised and launched hospitality for Amazon with style, growing sales by over 50% (£36,500) in her first month. In 2020, she was asked to take over a contract that had faced significant financial challenges. Within her first month, she had turned a site making a £10,000 loss into one notching up an £11,000 profit.
This stunning track-record saw her emerge from lockdown as deputy account manager, overseeing a team of 33, across BaxterStorey and Benugo.
She is creative in promoting the industry. During lockdown she wrote articles about young people in the catering industry, supported by interviews on BBC Radio Kent.
More recently, she has been working with Social Bite, a social enterprise that strives to end the cycle of homelessness and bring people back into work within hospitality. Kirby has launched a training platform, offering homeless people the chance to spend six to 12 months at her site to find their feet in the workplace again, before helping them secure long-term roles in the industry.
She also volunteers at Great Ormond Street Hospital, running cooking classes for young patients, and is a fundraiser for homeless charity Harp and the Make-A-Wish Foundation.
What is the secret to a happy, engaged team?
"Create a positive work environment and ensure your team feel valued, appreciated and heard. A happy team is a successful team."
Will Lockwood, 29, head chef, Roots York
Realising university wasn't for him, Will Lockwood took a job at a restaurant in Huddersfield when he left school. It was the start of his hospitality career, and in 2014 he seized the chance to work in a Michelin-starred kitchen, joining Tommy Banks' team at the Black Swan, Oldstead, as a demi chef de partie.
From the get-go, he showed signs of leadership, and innovation. Within two years – after returning from a placement at Noma in Copenhagen – he was made head chef. He retained the Black Swan's Michelin star for six years, won and retained three AA rosettes, and saw the Black Swan named Best Restaurant in the World by TripAdvisor.
As restaurants began to reopen post-Covid, Lockwood headed to L'Enclume, Cartmel, under Simon Rogan. However, in 2021 he returned to the Banks team as head chef of a brigade of eight at Roots York, which had just secured a Michelin star.
It's a solid kitchen. Lockwood operates an open-door policy where staff can discuss any issues, and he uses the feedback to implement systems to make Roots a brilliant place to work.
Indeed, his contributions are as varied as his skills – from being a role model for his relatively young and new team, to using his knowledge and creativity to create an inspiring menu. And his strong ambitions for a second Michelin star mean he is just getting started.
What is the secret to a happy, engaged team?
"There is no secret to a happy and engaged team. Creating one comes from having a positive, respectful working environment where people are empowered in their roles. It also comes from great leaders who put their people at the forefront of everything they do."
Lilian Lubowitz, 27, group sales manager, CH&Co
In 2017, having secured a degree in events management, Lily Lubowitz was appointed sales and events manager at Concerto Group. Later that year, she moved to CH&Co and by July 2020 was promoted to her current role at its events arm, Eve.
Her achievements say it all. To date, she has delivered £1.6m of event sales and in 2021 supported venues to achieve £4.8m. Other wins include playing a pivotal role in securing two new contracts worth £6m over five years, designing the tender structure and content and presenting to clients.
For the latest contract, she has collaborated on the design of a new hybrid agreement, with Eve managing the sales and Create delivering the catering. This new model paves the way for future sales growth, and Lubowitz is now exploring how to adapt it to secure new business models for Eve.
She has ambitious goals for 2022. They include a personal target of £100,000 of new business, an average marketing audit score of 90% across the venues, an average Google rating of 4.8, and £10,000 in savings for venues.
Ever eager to grow, she embraces opportunities for personal development, such as Gradvert learning and development, and Maxima training sessions for sales. But she is also inspirational beyond the workplace, having worked at the Lewisham Donation Hub during the Afghan refugee response, and inspiring others within CH&Co to donate and get involved.
What is the secret to a happy, engaged team?
"Recognition, direction and support; a connected community both within work and socially; and the whole team being confident in their offering and on board with the ambition of the company/brand so everyone is part of the journey."
Deepak Mallya, 29, premier sous chef, the Ritz London
As a student at Bournemouth and Poole College, Deepak Mallya hounded his tutors to place him at the Ritz London for his apprenticeship. By 2012 he had his wish, vowing to work his way through the ranks under the leadership of executive chef John Williams. During the 10 years he has been at the Ritz London, he has risen to premier sous chef, leading a brigade of 60 and proving instrumental in gaining and retaining the restaurant's Michelin star.
One of his strengths is nurturing new talent. As an ambassador of the Bournemouth and Poole College apprenticeship programme, he has helped enrol and inspire new apprentices and enjoys teaching and honing young recruits. He also welcomes those seeking stages and work experience, so he can showcase the benefits of a career behind the stove.
His strong work ethic makes him a dependable member of the team, which, paired with his skill and precision, means he is often nominated as manager of the month by his team. No stranger to accolades, as a young chef he won the Royal Academy of Culinary Arts' best apprentice prize, and he was recently picked as the UK representative at the Taittinger World Final.
Outside the kitchen, his greatest passion has been assisting with the Adopt a School programme, where he teaches children about food, nutrition and sustainability.
What is the secret to a happy, engaged team?
"It starts with treating all staff members with respect and value, ensuring they feel confident to air any concerns they may have as well as give their own ideas on how to improve things. Keep the team motivated with realistic goals and a shared vision, so everyone is focused on achieving their potential."
Veikko Paananen, 26, restaurant director, the Aubrey, Mandarin Oriental Hyde Park
After graduating with a degree in international hospitality management and design, Veikko Paananen joined Mandarin Oriental Hyde Park London in 2019 as a management trainee. During the year, he was cross-trained in various F&B departments before being promoted to back of house manager, overseeing a team of 33 and a P&L responsibility of £1.2m.
It was a role that highlighted his talents – not least by giving him the chance to support a management change in the two-Michelin-starred Dinner by Heston Blumenthal. No surprise, then, that last October he was promoted to his current role of restaurant director at the newly launched Aubrey, where he manages a team of 84 in a venue with multimillion-pound revenue.
But it isn't all about the day job for Paananen. A notable triumph has been the elimination of single-use plastics from the back of house areas, and driving several sustainability and corporate social responsibility initiatives, including a 100% score in a sustainability audit. Through recycling initiatives, he and his teams divert more than 10 tonnes of waste a year.
He looks after his team, too. Back of house, he cut staff turnover to an exceptional 6% by supporting colleagues' training and development, and wellbeing.
Outside work hours, he volunteers with Oxfam and champions blood donations in the hotel. And he is promoting the industry by giving his spare time to Hospitality Action.
What is the secret to a happy, engaged team?
"To create a culture where everyone feels comfortable sharing new ideas and giving positive and constructive feedback. If you listen and care about what people around you say, and do your ultimate best to build on it, you will build rapport that carries a long way."
April Lily Partidge, 28, sous chef, the Ledbury, London
April Lily Partridge is no slouch. She has steered her career through cutting-edge kitchens, starting with a work placement in 2008 at the Reform Club, moving through the Ivy, then Wasted with chef Dan Barber, over to New York at the two-Michelin-star Blue Hill at Stone Barns, back to London and the Harewood Arms, plus a stint at Notting Hill Fish + Meat Shop.
She started at the Ledbury in 2020, but during the pandemic spent much of her time working at Pril's Pantry, a micro hamper business. She is now back in the Ledbury's kitchens, credited with being the driving force behind it achieving five environmental health stars in March.
Her calm professionalism and energy has attracted much praise within the industry. "The Ledbury is a better place with her on the team," says the restaurant's chef patron Brett Graham. And a fellow chef describes her as "a true mentor to me in a challenging industry". Drawing attention to her technical achievements and competitive nature, chef Brian Turner highlights her triumphs in major competitions, such as third place in National Chef of the Year 2020, adding: "Achieving success in these has seen April become all that she has aimed for in becoming a great chef."
Partridge gives back to the industry, too, notably speaking at Springboard's FutureChef events to inspire young people and reassure their parents that being a chef can be a great career choice.
What is the secret to a happy, engaged team?
"It is about being passionate, full of energy and inspiring people to achieve what they are capable of through sharing knowledge and skills. Being compassionate and kind is important and makes a huge impact on people's mental well-being and in turn how they perform at work."
Ryan Percopo, 28, executive head chef, BaxterStorey
Ryan Percopo joined BaxterStorey in 2013 as a commis chef. By 2017, his natural leadership qualities had eased his way up the ranks to group retail head chef, responsible for five kitchens and team of 15 for a £20m contract. At the age of 24, that's no mean feat.
He made his ambitions clear and in 2019 was headhunted for the executive chef role at M&G Investments, a new £1.8m contract for BaxterStorey. Since reopening post-lockdown, he has helped grow sales there by an impressive 17% during a challenging period.
Training and development are at the heart of his work ethos. To inspire his team, once a week he takes one of his chefs on a street food tour of a local market. He then asks them to create a dish for the menu based on what they've learned that day. One chef de partie was inspired to do a bun cha pop-up the following week, which resulted in a 39% sales increase.
It's examples like this that cement Percopo as a future industry leader. He sees the value in vocational learning and gives the team his support and tools, while trusting them to be the experts in food innovation.
He is also an ambassador for the industry, showing the career progression available by mentoring four chefs through BaxterStorey's chef academy.
What is the secret to a happy, engaged team?
"Being inclusive: let every single team member be involved, have their say and make joint team decisions. You should then find yourself with a team that always goes the extra mile knowing that they and their skills are valued."
Sophie Shotton, 29, general manager, Yorebridge House, Wensleydale
Armed with the skills she honed as chef de rang at Rockliffe Hall, Sophie Shotton swept into five-star Yorebridge House in the Yorkshire Dales in 2013 and within three months had risen to restaurant manager. She led the front of house team to scoop several awards, including three AA rosettes, and mentored and supported three junior members of staff through apprenticeships – one of whom took up a general manager role.
Following her own promotion to general manager of the 12-bedroom hotel in 2016, she has helped increase the company's turnover year-on-year through, for instance, marketing campaigns and making improvements to software and operational procedures. Her efforts to drive staff retention have also helped drive the business's reputation, loyalty and repeat custom. This has generated further revenue and greater recognition, with a listing in the Top 50 Boutique Hotel Awards in November 2021 and a TripAdvisor Best of the Best Award in the same year.
What stands out, though, is her hunger to learn and develop. She has achieved a Level 3 and Level 5 diploma in operational management and Level 3 in wine and spirits. Despite the day job and being a mother of two, she is also studying for a degree in management and leadership through Arden University. It's perhaps no surprise, then, that her goal is to mentor and support women in their hospitality roles to create long-term career prospects for returning mothers.
What is the secret to a happy, engaged team?
"Finding out what motivates each individual will ensure they work to the best of their ability alongside one another, contributing to the overall success of the company."
Claire Small, 29, director of innovation, Elior UK
After graduating from Cambridge University in 2014, Claire Small worked her way through the marketing ranks of Restaurant Group and SSP, sharpening her commercial skills along the way.
She took up her role with Elior in 2021, overseeing concept and brand development, menu management, food development and digital strategy across the UK business.
Data-driven and digitally focused, she aims to deliver a five-year £25m incremental sales budget through digital activities.
In the meantime, she has already launched two new-to-market concepts. The first is Wildgreen, a 50% plant-based, digital-first climatarian quick-service restaurant for the B&I sector. The second is in healthcare, delivering a nutritious food range to support NHS staff and patients, available via contactless kiosk screens and digital pre-order.
Clearly thriving in a fast-paced environment, she is now working on a project that will use technology to deliver food and retail products to hospital beds for immobile patients.
To get the best out of her diverse team of eight – embracing the director of food and photography, head of menu management and head of digital – Small completed a manager as coach course.
Unsurprisingly, her talents have been attracting attention elsewhere, and she gained recognition in the 2021 Women in Hospitality, Travel and Leisure Index.
What is the secret to a happy, engaged team?
"Ensuring the whole team are clear on the vision of what we're trying to achieve together and understand how their responsibilities contribute to achieving it. Inevitably, we encounter challenges along the way, so ensuring we have a solid support network when this happens is also key to encouraging my team to push past perceived barriers."
Lydia Staniforth, 27, recruitment marketing specialist, Delaware North
Lydia Staniforth is clearly driven. She joined this catering giant as an HR intern in 2018 and within a year had been promoted twice and was five months into a placement in the US. It was one of the first UK-US transfers for the company, and it was Staniforth who made it happen.
Once in the US, she pioneered the launch of an online interview tool and trained HR leaders to use it. This has changed the way the company recruits – especially in the casual market – and has improved the candidate experience.
Her quest to learn more about talent acquisition has directed her career path. Back in the UK, she became the company's first global associate, supporting the UK and US teams with recruitment marketing and employer branding. And last October, she was promoted to recruitment marketing specialist, managing the company career site to create global content as well as working on the relaunch of the company's employer value proposition.
As well as being pivotal in creating new processes and systems, she has encouraged her team to learn and grow. She encourages team members to join her on training courses and dedicates time each week to study with them to create a high-functioning team.
And somehow, she has also found time to become an ambassador for the Springboard charity and the Burnt Chef Project.
What is the secret to a happy, engaged team?
"Empowering and inspiring colleagues – whether by encouraging team members to speak more during meetings, or sharing industry-related articles, webinars or podcasts for additional learning and development opportunities. Or maybe asking team members to take the lead on a new project and being there to guide and support when needed."
Ewen Thomas, 29, general manager, Christian Conference Trust, High Leigh, Hoddesdon, Hertfordshire
In today's industry, inspiring others and sharing ideas is the key to staff retention, and Ewen Thomas does it well. John Heaseman sums up the qualities of his general manager perfectly when he describes him as "an excellent role model and leader – and not only for young hoteliers; he helps challenge us oldies, too".
Thomas is clearly passionate about his vocation. During the pandemic, he had to furlough 90 staff and mothball the 150-year-old High Leigh mansion. With no customers, he rolled up his sleeves, acting as security, engineer, electrician, receptionist and reservation booker to ensure the centre was ready to reopen at short notice. In a 16-month period when more than £4.2m worth of bookings were deferred, he also delivered a £3.9m new-build project that came in under budget.
Meanwhile, to keep inspiring people to consider a career in the industry, he collaborated on a podcast series called A Hoteliers Handbook, featuring guests such as Champneys general manager Rob Ledward-Smith.
By July 2021, High Leigh had reopened stronger than ever, with a revenue target of £2.5m. It is already showing business on the books of £2.6m for this year.
Thomas has mentored 10 people in the past few years and his work to support the industry continues through his involvement with the Master Innholders' Aspiring Leaders and his work with the Institute of Hospitality.
What is the secret to a happy, engaged team?
"To encourage members of the team to show their personalities and to offer great work-life balance along with progression, while always being transparent and honest. The past few years have shown that the industry culture of old is not acceptable. We need to empower and trust the professionals who have chosen this industry as a career."
Victoria Tweddell, 28, HR business partner, PPHE Hotel Group
Having joined PPHE in 2014 through an undergraduate programme, Victoria Tweddell has shown consistent career progression. By 2016, she was working with the pre-opening team at the company's Waterloo site as HR co-ordinator and was pivotal to the onboarding of all 150 employees. Her innovative ideas supported the HR manager in saving £61,120 in the recruitment budget.
Two years later, she had worked her way up to senior HR officer at the Riverbank site, where she increased engagement scores among the 250-strong team year on year, from 75% in 2017 to 78.3% in 2019, through coaching and supporting line managers. After the pandemic, she became the interim HR business partner at both Riverbank and Waterloo, taking both hotels through a difficult time of recovery. Her success in this short time earned her promotion in 2022 to HR business partner for the Park Royal, London Victoria and Holmes hotels.
She is keen to introduce young people to the hospitality industry and has been the lynchpin for key corporate social responsibility initiatives in partnership with The Caterer, recruitment consultancy Mum and others. Indeed, she continually shows her commitment and passion for the industry.
She was unanimously voted Employee of the Year 2017 and 2019, and played a key role in getting the business named Best Employer 2021 at the Cateys and was shortlisted as HR in Hospitality's Rising Star in the same year.
What is the secret to a happy, engaged team?
"Allowing the team the opportunity to make a difference. Listen to the team, empower them to make decisions and create a working environment that encourages open communication and a flow of ideas."
Shaun Wright, 29, revenue application and systems manager, Hand Picked Hotels
Over the past 10 years, Shaun Wright has earned five internal promotions. In every position, his ambition has shone through, not least through his ability to increase sales and profit through clever strategic planning and adapting the business mix.
As wedding co-ordinator at Nutfield Priory hotel, Redfield, from 2012 to 2014, he grew wedding revenue by 26% to £195,000. And as sales and revenue manager at New Hall hotel, Sutton Coldfield, from 2017 to 2019, he increased the average room rate from £93.51 to £100.97 – £260,000 worth of additional profit over two years. Oh, and along the way, he helped the hotel achieve red-star AA status.
More recently, in May 2021, he created new residential spa packages ready for reopening, which have so far generated more than £39,000 worth of additional revenue. No wonder, then, that in December 2021 he was singled out to start a company-wide role looking after the database systems, including training and developing several departments.
He has brought the whole team with him on his journey, turning the previously formal head of department meetings into round-robin sessions to encourage openness and trust. He has also created an incentive scheme to embed a sales culture across the hotel, involving a 'stamp card' to reward sales leads from all staff, including F&B, reception, health club and the spa.
As well as sharing best practice, Wright has a fine track record in mentoring colleagues inside and outside the company. He has also presented to 250 aspiring students to showcase the opportunities that exist in hospitality.
What is the secret to a happy, engaged team?
"Investing in and engaging with each individual to identify their strengths, personality type and ambitions. Also ensuring each member of the team knows the impact that they can make on the business and empowering decision-making skills."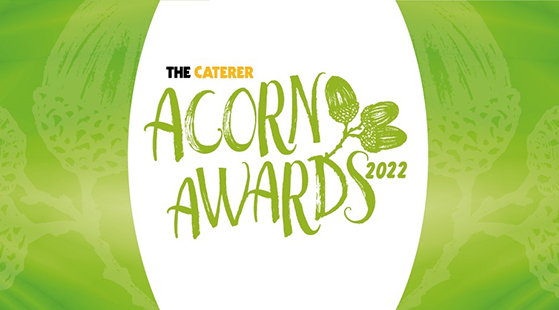 Congratulations from CH&Co
Wholehearted congratulations to the 2022 Acorn Awards winners from everyone at CH&Co. It is an absolute privilege to be part of this uplifting event that recognises and celebrates our industry's rising stars. The 30 worthy winners are impressive and inspirational individuals. Their accomplishments to date are remarkable, and they all possess exceptional qualities of innovation, creativity, collaboration and verve. This is very exciting, both for them and for the future of the hospitality industry.
As a collective, we find ourselves at a pivotal point – let's call it our 'phoenix from the ashes' moment. Everyone in hospitality has faced previously unimaginable challenges, and while it's still tough out there we now have a fantastic opportunity to effect positive change: to rebuild our industry in a progressive, energetic way that reimagines how we create memorable food and service experiences through innovation, inclusion and sustainability.
The industry is looking to its bold, aspirational leaders to realise this opportunity. I truly believe that the experience of our established leaders, coupled with the new perspectives, flair and fearlessness of our future trailblazers, is a force to be reckoned with.
How we attract and develop people is crucial to creating a more dynamic, forward-thinking and attractive industry. Hospitality has always provided incredible development, career prospects and support to those with the right attitude and determination. Progression from entry level to board level is more than possible – I've seen it within CH&Co and other businesses. We must make it a priority to champion hospitality careers, shout about the incredible progression available and celebrate and nurture emerging talent and their valuable contribution.
The Acorn Awards lead the way in this. This year's winners have the opportunity and a platform to forge incredible careers and make a real difference. We will watch their bright futures flourish with continued interest and awe.
Allister Richards, chief operating officer, CH&Co
Continue reading
You need to be a premium member to view this. Subscribe from just 99p per week.