Having just won a Michelin star, this Staffordshire restaurant is booked up for months. Andy Lynes meets the chef-patron to find out how he manages the fame
If you want to eat chef Tom Shepherd's food, you will need to plan ahead. Upstairs, his elegant 28-seat first floor restaurant (including a counter for up to four people overlooking the kitchen), located above his father's jewellery shop on a cobbled street in Lichfield's city centre, is fully booked six months ahead. Shepherd, whose impressive CV includes Restaurant Sat Bains, the Latymer (working under Michael Wignall), the Samling in the Lake District and Adam's in Birmingham, won a Michelin star in February after just four months of trading, making Upstairs the first and currently only restaurant in Staffordshire to hold the award.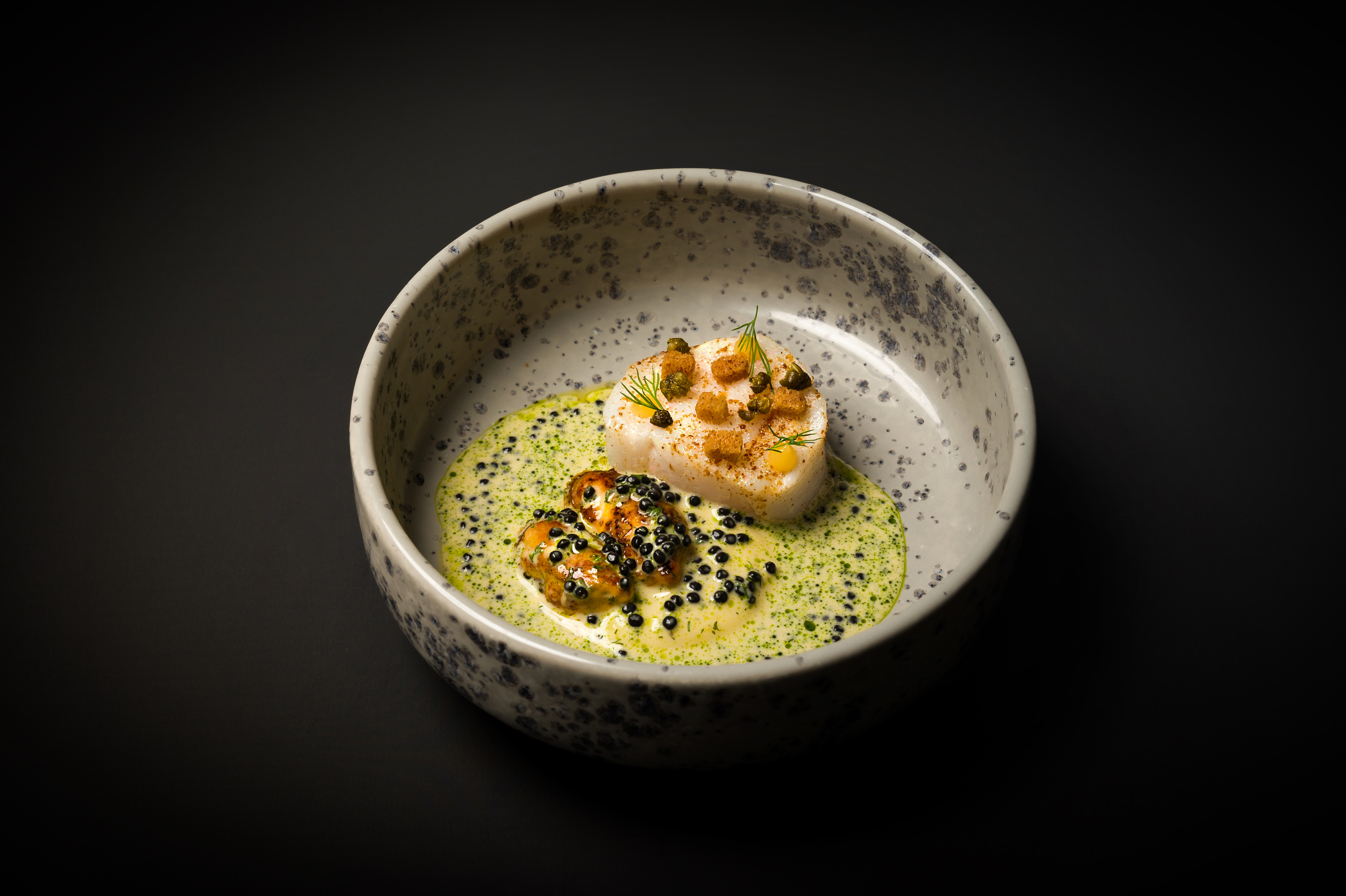 "We were pretty busy before but then it just went a little bit mad. We still haven't really quite recovered. November sold out in three minutes on 1 April and I think that's just absurd," says Shepherd. The chef heads a brigade of five serving a seasonally changing seven-course tasting menu (£90), seven-course vegetarian tasting menu (£90), four-course lunch menu (£45) and four-course vegetarian lunch menu (£45). He had been offering Sunday lunch but recently decided to move to a four-day week as, even turning the restaurant over twice he was making less money than on a Thursday lunch service. A sixth member will soon be added to the team to allow Shepherd to take some time off from his seven-day-a-week schedule running the business as well as – unusually for a chef-patron – the restaurant's pastry section.
"To be a complete chef, you have to understand pastry. It's a completely different palate," he says. "Banoffee is by far my favourite dish on the menu. It's a great, nostalgic, funny ending to the meal. It's essentially a choux pastry éclair filled with those nostalgic banoffee flavours, but a lot more refined and ramped up."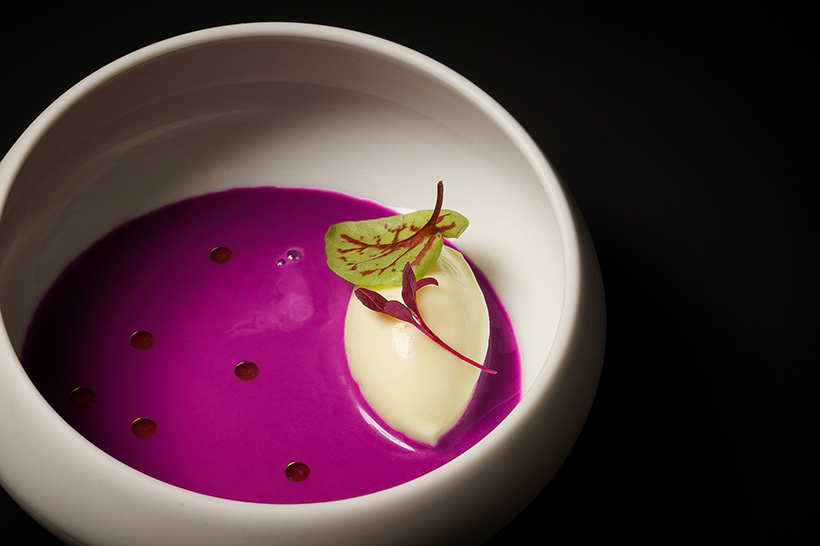 Shepherd makes a chocolate craquelin mix with demerara sugar and salted almonds, which is frozen and blended into a coarse crumble and sprinkled over the raw choux and baked. The filling is made with a light, whipped ganache made with Valrhona Caramelia caramel-flavoured milk chocolate, and a crème diplomat made with a base of fresh banana that's whipped together with double cream. Shepherd adds a sherry and rum gel to loosen the texture and add acidity. The dessert is finished with banana ice-cream (made to taste like a less sweet version of banana milkshake) and, in a nod to the original banoffee pie recipe, he adds a 'zigzag' of condensed milk that has been cooked in the tin for four hours in a water bath at 96ºC.
In addition to British nostalgia, Shepherd incorporates Asian elements, pairing Orkney scallops with satay sauce and coriander, barbecued hen of the woods mushrooms with dashi, and topping a 'transition' course of coconut rice pudding and mango sorbet with Thai green curry foam made from ginger, galangal, chilli, coriander, lime leaf and lemongrass.
"I don't necessarily look at them as influences – I more look at them as ingredients. When you design a menu, it has to flow. I like to start with a standout – a more acidic and salty dish – so it awakens your palate, and then we follow that through to a more traditional, French-style dish."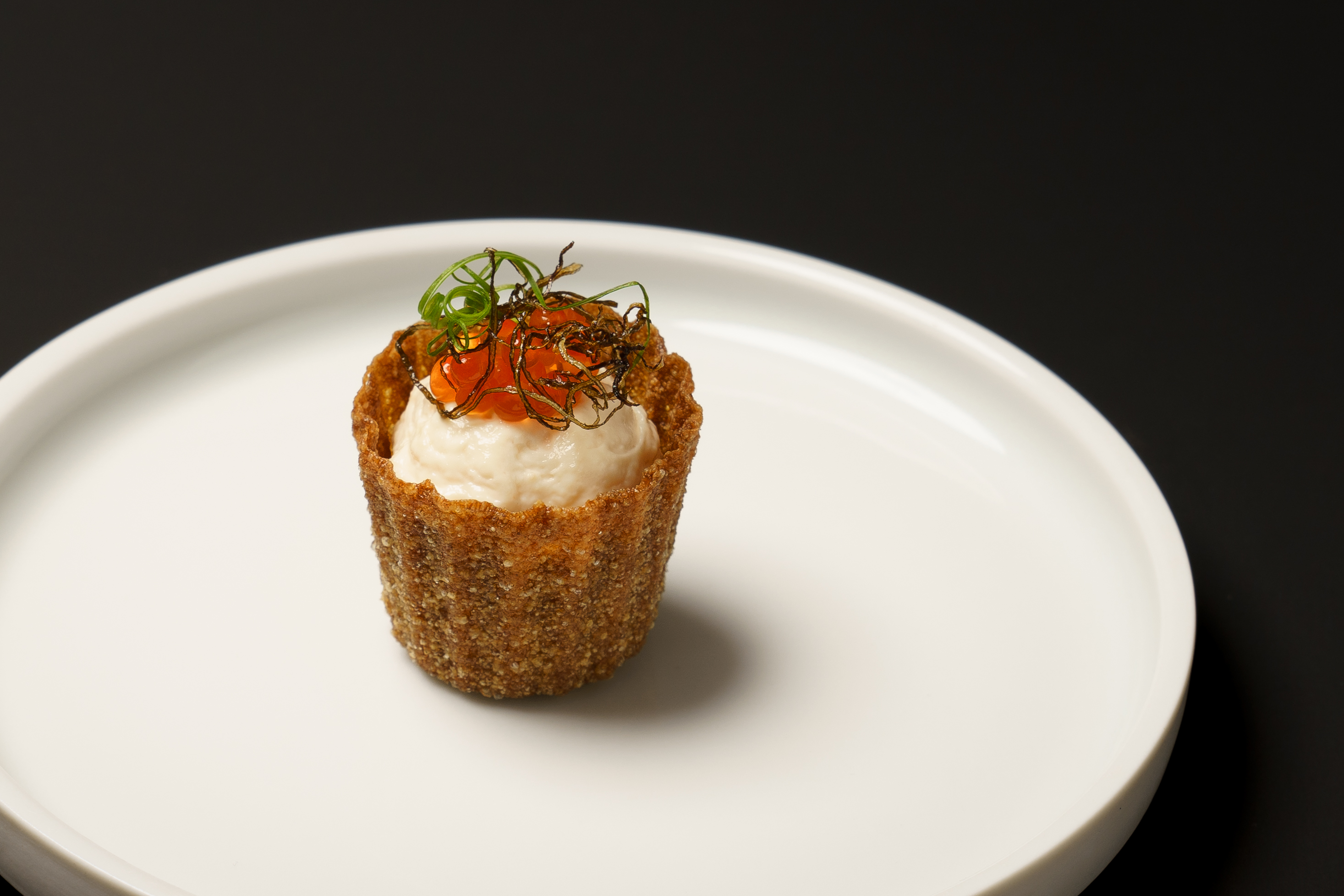 It doesn't get more Gallic than a classic white wine-based sauce Robert, which Shepherd says he has "evolved and invigorated" with mustard seeds, shallot, tarragon, parsley and wild garlic buds. He serves it with a rump of lamb (supplied by Walter Rose butchers in Devizes) poached sous vide in smoked lamb fat, rosemary and garlic for an hour at 58ºC, then roasted heavily in the pan to render the fat and served pink. The dish is finished with a caramelised onion purée, lamb fat crumble made with more onions caramelised in the smoked lamb fat, breadcrumbs, garlic and rosemary, a wild garlic emulsion and polenta and Parmesan chips.
Although you'll probably have a long wait to try the Upstairs menu at the moment, that could change. Shepherd already has plans to extend the kitchen into the roof area and eventually to take over the whole building once his father retires from the jewellery business.
"It's a big site with 120 sq m floorprint upstairs and it's the same downstairs," he says. "If we can do a more relaxed dining experience on the ground floor, it will be just as popular. We want to evolve. We would love to be able to be in a position in the next couple of years to open a second restaurant, as well as looking at rooms. We need to ensure we don't run before we can walk, but you've got to have goals."
25 Bore Street, Lichfield City WS13 6NA
Continue reading
You need to be a premium member to view this. Subscribe from just 99p per week.