Chef Cornel Uys has taken his fine dining training and applied it to creating deeply flavoured food kissed by the smoke of the barbecue
During the day, this small café in Cardiff's residential neighbourhood of Pontcanna is bustling with locals, enjoying trendy brunch dishes like avocado toast and homemade waffles with fried chicken and maple syrup, or the more traditional Welsh breakfast of bacon, cockles and lava bread.
But prior to the pandemic, Milkwood was a fine-dining restaurant, which during lockdowns flipped to serving takeaway sandwiches, burgers and pizzas. When trade was up and running again, the owners – Tom and Cerys Furlong and brother-in-law Gwyn Myring, who also run two pubs in the capital, the Lansdowne pub in Canton and the Grange Pub in Grangetown – decided to keep the restaurant's more accessible menu. Brunch quickly became a hit, with Milkwood packing in some 120 covers a day.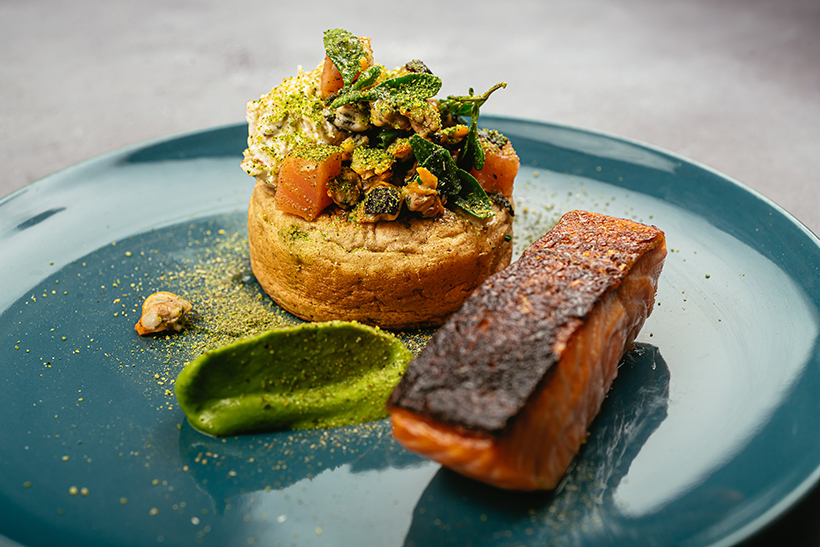 Head chef Cornel Uys moved to Cardiff for a slower pace of life after helping a friend set up a restaurant in Bruges, before which he was head chef at the three-rossette Hammet at Castell Malgwyn hotel in Llechryd, Pembrokeshire. But after nearly two decades chasing awards in high-end kitchens, including a 10-year stint at the Ardanaiseig hotel on the banks of Loch Awe, it was unsurprising that he soon had an urge to get a little more creative in the Milkwood kitchen.
His small plates menu is available every Friday and Saturday night, leaning on his modern fine dining experience and with nods to the East. "I look at the menu and say that's food I want to eat," he says. "I don't want to do stuffy and pretentious food – I don't want to see another tasting menu in my kitchen."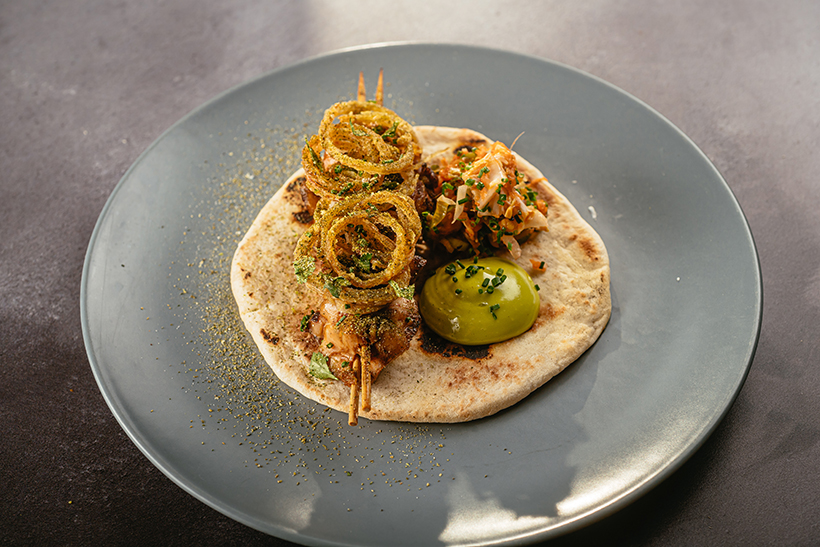 Instead, small plates include dishes like homemade crab and smoked salmon mayo crumpet or padron peppers, coconut yogurt and pepper flakes, and even his brunch-favourite hash browns pop up on the evening menu covered in rosemary and pecorino.
His dish of miso cod with broccoli, shiitake mushroom, crispy onion and lumpfish roe begins by marinading the loin in miso, mirin and sake, which gives it that coveted black tinge, while also slightly curing the fish so it doesn't fall apart when it is cooked on the plancha grill before being finished over coals.
Cooking over flame features heavily in Uys' menu, and every shift two chefs and a kitchen porter dance around the tiny kitchen with its yakitori and plancha grills and Green Egg barbecue – "I'm South African," he shrugs. "I've grown up having braai three or four times a week".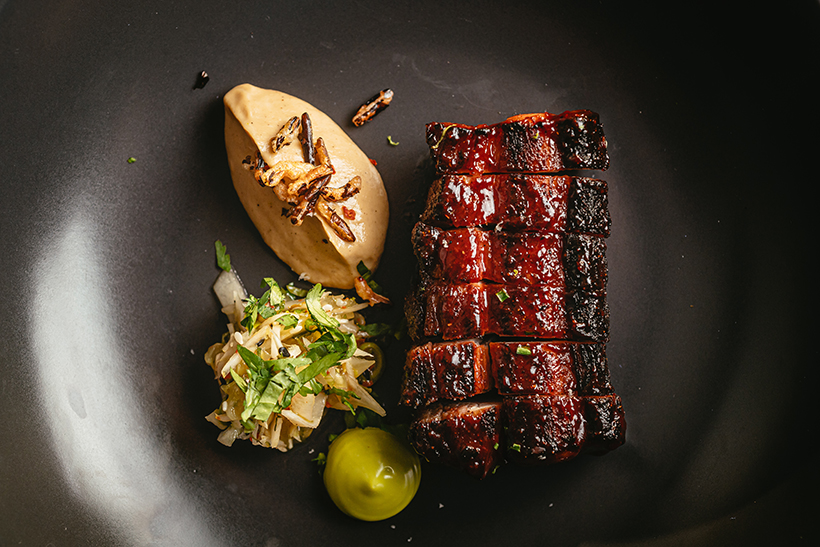 While he may have turned his back on fast-paced rosette kitchens for the time being, his fine dining training shines through with intricate plating and sophisticated flavour combinations. "Lockdown was the first break for an extended period of time I'd had in 17 years and it gave me perspective that if things aren't perfect it's not the end of the world," he says.
"The philosophy here is that we're having fun and there's no right or wrong way, as long as it tastes really good. I don't want to be saying 'you did it wrong because its 15 degrees off centre'."
Off centre or not, his beef short rib of beef with lumpfish roe, onion, shiitake and pepper dulse is a showstopper. "Beef and onion is a combination that just works. When I was younger and cooking at Ardanaiseig, everyone asked for fillet of beef, it's beautiful and soft, but tastes like nothing. But when I first tried short rib from the longhorns at Huntsham farm at Hammet House in Llechryd, it blew my mind."
Uys places the short rib in a 10% sugar-salt brine for two days before transferring it into a low 70ºC oven for another day and a half. "I then press it down, cut it into chunks and heat it up before finishing it over the grill."
For the onion purée he uses a dashi stock. "The salty hit matches the sweetness of the onions, which I sauté down until almost caramelised, and then add the dashi and cream and blend. There's also sautéed shiitake mushrooms, and I serve it with nori and sea purslane for the iodine flavours."
Ideally the evening menu would expand, but with the staff shortages, Uys is in the kitchen from on weekend shifts and doesn't intend to push his team to the brink. And after many years travelling, he has settled into the Cardiff way of life. "Cardiff is the first time I've felt accepted" – and the Welsh capital thanks him for his hash browns.
83 Pontcanna Street, Cardiff CF11 9HS
Continue reading
You need to be a premium member to view this. Subscribe from just 99p per week.