Rapid-cook kit can cut down cooking times so you can serve in a hurry. We look at the latest in cooking equipment and how it saves you time in the kitchen
Accelerated and multifunctional cooking equipment proved a potent panacea during the pandemic. These Swiss army knives of the culinary world helped depleted workforces in traditional, dark and drive-through commercial kitchens to quickly and easily handle large volumes of food – or different cooking styles simultaneously – as they grappled with shifting demand.
As Wayne Bennett, vice-president of sales and marketing at MKN, points out: "In the pandemic everything switched to takeaway menus. Speed was critical: caterers didn't want their customers to have to wait, and many completely changed their menus to accommodate."
Their value in saving caterers time, space, money and energy seems set to continue in the post-pandemic world as demand for takeaways stays strong and new stressors emerge. "There has already been a reported 41% rise in energy bills within the hospitality industry, paired with other price hikes including labour costs, food and drink prices, and insurance costs, which are already putting unprecedented strain across the board," says Justin Cadbury, chairman and chief executive at Synergy Grill Technology.
So it's unsurprising that Mark Hogan, commercial director at Foodservice Equipment Marketing, says that: "In the commercial kitchen, one legacy from the pandemic is the need for more productivity from fewer people." He describes Alto-Shaam's Vector Deluxe multicook ovens as "the perfect fit for today's slimmed-down workforce". The biggest model has four independent cooking chambers, allowing one chef to cook four different dishes simultaneously.
Equipped with Structured Air Technology, Alto-Shaam's multicook ovens deliver a high-velocity, vertical air flow that allows them to cook twice the amount of food as conventional cookers do in a given time. Chefs can input new recipes with unlimited steps and actions via the manufacturer's ChefLinc remote oven management system. Staff at all skill levels can therefore achieve perfect and consistent results at the touch of an icon.
"Connectivity has become a real driver for the industry, and for caterers operating multiple sites, uploading menus can now be done at the touch of a button," says Steve Hemsil, UK and Ireland sales director UK at Welbilt.
Merrychef's new ConneX high-speed ovens are, Hemsil says, its fastest, quietest, most compact and most connected to date. Welbilt's KitchenConnect platform allows chefs to continuously monitor their equipment and update menus remotely, while the ability to choose between convection, microwave or impingement cooking allows the ovens to cook, toast, reheat and grill up to 80% faster than other cooking methods.
Combi ovens – with their mix of dry convection heat, steam or both – have always been highly versatile kitchen workhorses, says Scott Duncan, managing director of Unox UK. "Designed to cook, steam, roast, grill, fry or bake, a modern combi oven is packed full of innovative features and technology to drive consistency, save energy and reduce the demand on labour," he adds.
An extra chef in the kitchen
Adam Knights, marketing director at Rational, likens the in-built intelligent assistants in its iCombi Pro combi-steamer and iVario bratt pan to "having an extra chef in the kitchen". Rational's iCookingSuite technology – which identifies the weight, size and condition of the food to be cooked and automatically adjusts the cooking parameters for the best results – can take over many cooking processes to free up kitchen staff, he explains. The updated ConnectedCooking app makes it easier for chefs to upload their own recipes (including dictation and image recording) and monitor technical and operating performance.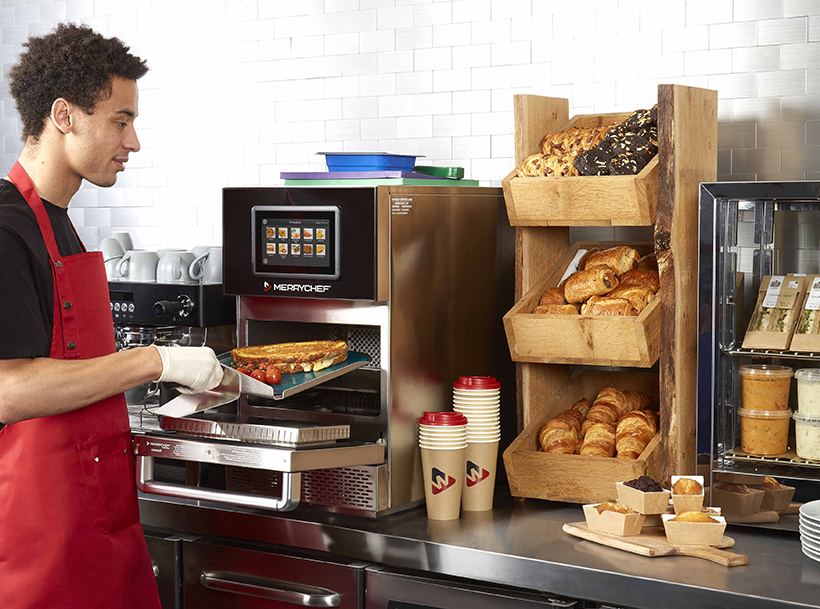 Rational describes the iCombi Pro as being 50% more productive, 10% quicker and 10% less energy-guzzling than its predecessors, while iVario is claimed to work up to four times faster than conventional kitchen appliances while using up to 40% less energy.
While microwave technology has changed little in recent years, Panasonic's new compact NE-C1275 combi-microwave unit adds Inverter technology to its microwave-, grill- and convection-based ability to grill, toast, bake, brown, crisp, and roast as well as to cook, heat and defrost.
Because it allows for gentler and more even heating on low power, Inverter technology "can therefore heat single portions of sauce or effectively cook vegetables quickly to order", says Panasonic's European sales manager Jared Greenhalgh. He adds that the NE-C1275's six power levels and four combi options means that "many recipes can be cooked fully from scratch – even pastry!"
Some like it hot
Taylor UK's TurboChef Sota rapid-cook oven incorporates impingement – blasting the food with a concentrated jet of hot air – and microwave technology, and can replace traditional microwaves and contact grills. Its catalytic convertor minimises heat loss by recirculating hot air back into the oven and even scrubs cooking smells and grease, allowing the compact unit to be sited anywhere without any requirement for extra ventilation.
As well as toasting regular hot sandwich grill foods such as bagels, croque monsieurs and ciabattas, it can heat and brown the items that standard grills can't – tartlets, quiches, cauliflower cheese, nachos, pasta bakes, wedges and chicken dippers, says David Rees, marketing manager at Taylor's parent HTG Trading. Easy cleaning is yet another time-saving string to the multitasking bow. The multifunctional, charcoal-free Synergy Chargo chargrill oven eliminates the sticky problem of fat, oil and grease by vaporising fats into carbon dust that is simply vacuumed out of the appliance.
"Menu versatility and shrinking kitchens are two of the most prominent trends that are shaping the foodservice arena at the moment," says Cadbury. The Synergy Chargo's efficient heat retention lets it steam, smoke, slow-cook and grill foods – from pizzas and breads to veggies, burgers and roasted chickens – twice as fast as traditional charcoal grills.
Dispensing with cooking oil altogether makes Cuisin­Equip's new LightFry air fryer easy to clean and easy to site. Its standalone hood taps into the trend for hot grab-and-go set-ups front of house, says sales director Steve Elliott. Preprogrammed menus and automatic emptying take the heat off staff.
Food is steamed, then evenly crisped in the rotating basket by hot air, with the high-capacity model able to serve up 32kg of fries every hour or 600g in four minutes while using up to 50% less power than traditional fryers. The Lightfry can also grill and roast foods such as falafel, halloumi, spring rolls and dim sum.
Clean-itself combi
Unox's new Speed-X is claimed to be the first self-washing combi speed oven. It incorporates an automatic washing system that makes use of a one-litre integrated detergent tank, water filtration and intelligent sensors.
Combining microwave speed with combi flexibility, Speed-X can hold up to 10 GN 2/3 trays, handle up to four accelerated cooking functions at once, and monitor up to 10 cooking processes simultaneously. The Speed-X's DigitalID user interface can store more than 1,000 programmes.
MKN bills the SpaceClean technology in its award-winning FlexiChef as the first and only automatic cleaning system for horizontal cooking appliances. It can accurately detect the level of dirt and suggest the most suitable washing mode to avoid waste, and do the job in just two minutes without the use of chemicals.
This multi-tasking appliance is designed to fry, steam, boil, deep fry, pressure cook or sous-vide cook three times faster than conventional cookers and twice as fast as conventional pressure cookers while saving up to 66% in energy. For even greater flexibility, the pan base is divided into three independently controlled cooking zones while the Magic­Pilot operating system aims to be as simple and intuitive as a smartphone.
"The key here is the speed in which it gets up to pressure. It's essentially a very modern tilt skillet which we can pressurise and therefore speed up the cooking process – a risotto takes six minutes, for example, instead of 30 minutes," explains MKN's Bennett. "You can do much more with much less equipment, and that's what any caterer wants, particularly as kitchens keep getting smaller."
Fast-cooking, multi-tasking and digitally savvy appliances that can adapt to cook in many different ways help operators navigate changing demand without creating kitchen chaos by having to change their cooking systems, says Knights at Rational. "So have they earned a permanent foothold in busy commercial kitchens?," he asks. "Absolutely. Advanced multifunctional cooking systems can futureproof your kitchen, helping you face the challenges of a changing world."
Hob hub
After launching a multizone induction hob with four cooking zones that work as one or individually, Charvet has applied this technology to traditional plancha cooking as an alternative to flat-top grills and griddles.
The 12kW Charvet Pro 800 Four Zone Steel Plancha is a heavy-duty grill that is made from 20mm-thick steel plate. It can act as a solid-top hob for boiling big pans in the morning by setting the entire surface temperature to the maximum setting of 450°C.
The Pro 800 comes into its own for plancha and teppanyaki-style cooking that requires mixed heat zones, from searing hot surfaces to cooler sections for food to cook through or hold at the right temperature. The heat combo is also great for cooking sausages, bacon, toasted sandwiches, steak, eggs, stir-fry and pancakes.
Variety show
Multifunctional and multipurpose, Rieber's Varithek front cooking stations allow caterers to cook, grill, roast, stir-fry, steam and fry foods theatre-style at public events and in small dining rooms.
The largest mobile unit, the ACS 1600 O3, holds three interchangeable front cooking modules from a selection of ceramic hobs, grilling plates, hybrid hot/cold plates and powerful 5kW induction hobs, wok hobs, deep fryers and pasta boilers.
The two cupboards below – each with eight support rails for gastronorm containers, thermoplates or grilles – keep food at hot, cool or ambient temperatures.
Varithek's productivity can be enhanced using Rieber's K-Pot and new ThermoplatesEco GN cooking pans, says managing director Gareth Newton. K-Pot – which can now be app-controlled to start meal regeneration remotely or via a timer – is a multifunctional electric chafing dish that griddles, boils or fries when used with GN containers before switching to hot hold.
As well as preparation, chilling and regeneration, ThermoplatesEco pans can roast, steam and grill with direct contact heat. The triple-layer construction lets them heat up and cool down quickly, requiring up to 10% less energy and 21% less time.
Suppliers
BGL Rieber https://www.bglrieber.co.uk
Charvet https://charvet.co.uk
CuisinEquip https://www.cuisinequip.co.uk
Foodservice Equipment Marketing www.fem.co.uk
MKN www.mkn.com/en
Panasonic www.panasonic.com/uk
Rational UK www.rational-online.com
Synergy Grill Technology synergygrill.com
Taylor UK www.taylor-company.co.uk
Unox www.unox.com/en_gb
Welbilt www.welbilt.uk