With smaller kitchens, reduced menus and fewer staff, chefs need to make some gains somewhere, and that's by using efficient and automated cooking kit which uses less power
Efficiency, efficiency, efficiency, to paraphrase a vote-winning political slogan of the past, is all that most hospitality operators are thinking about these days.
With energy prices shooting up, staffing levels shooting down and costs rising across the board, it has never been more of a priority to stretch your resources.
A typical commercial kitchen is a big energy user and creates as much CO2 as 28 houses, according to the Foodservice Equipment Association (FEA). So it is no surprise that the kitchen finds itself at the heart of a push to streamline operations for efficiency, and to cut overheads by reducing energy usage.
The cost-effectiveness of prime cooking mainstays in the kitchen, such as combi ovens, grills, fryers, induction hobs and steamers, is under scrutiny as never before. Staffing costs, cleaning schedules, and getting the best returns out of all available space are also in sharp focus when purchasing equipment.
Prime cooking purchasing trends have been changing due to rising energy costs, suppliers report. The gap between buying a more expensive energy efficient product with lower running costs or buying a cheaper, less efficient product with higher running costs is closing, says Andy Threlfall, technical and policy director of the FEA.
"Where previously the main focus would have been the initial capital cost of the unit, operators are now asking how much it will cost to run," when purchasing new equipment, he says.
Steve Hobbs, director at Grande Cuisine, observed that "although we are not having direct conversations with customers about the ongoing cost of running a piece of equipment, it is clear that this is becoming an increasingly important part of their decision-making process."
Power down
Energy source is also in focus, with wholesale gas prices surging. Right now, the most notable aspect of selling prime cooking equipment is the increasing preference that end-users have for electric units as opposed to gas, Hobbs says. Around 70% of the prime cooking equipment Grande Cuisine delivered to customers over the summer was electric, he estimates. This was true mainly for its Mareno modular equipment sales, but also its Athanor cook suites.
Justin Cadbury, chairman and chief executive of Synergy Grill Technology, also comments that with a reported 41% rise in energy bills within the hospitality industry, paired with other price hikes, "energy efficiency has fast become one of the top priorities when it comes to purchasing catering equipment".
Electric grills are becoming more sought-after, especially for operators wanting to switch to a 100% electric commercial kitchen in the coming years, he reports. The new Synergy eGrill range uses natural food oils from the grilling process as a secondary heat source, turning fat into free fuel. This saves 12 tons of CO² emissions per year in comparison to a standard electric grill, Cadbury says.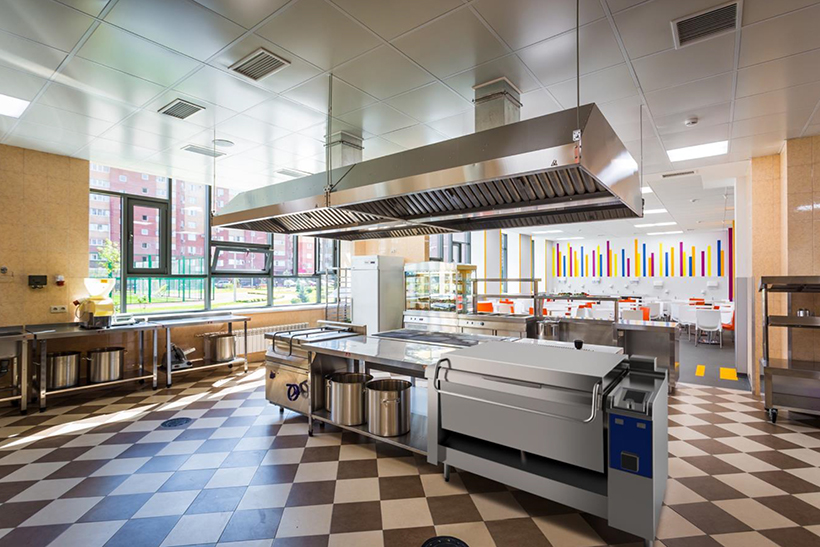 Despite energy efficiency having become a top priority, Adam Knights, marketing director, Rational UK, says at present the only database to assess energy efficiency in prime cooking equipment is HKI certification, which Rational is on. The HKI CERT database gives comparative energy usage figures based on set guidelines, but more could be done to improve information resources for operators.
The second key trend the FEA has noted is an increase in the purchase of smaller models and multi-functional models. Industry supply chain issues and staff shortages have seen operators altering or reducing their menu, moving to these models, says Threlfall.
Smaller units are often cheaper to run and maximise the use of limited kitchen space and allow the creation of separate cooking areas for safe processing of allergenic ingredients or to meet other dietary requirements.
"With kitchens under ever-increasing pressure to do more with less – less resource and, crucially, less space – multifunctional cooking solutions that guarantee consistent results can make all the difference, says John Stewart, product manager cooking and food prep, Hobart UK equipment division.
Traditionally, a kitchen would include upwards of 10 pieces of kit, but with the increase of multifunctional equipment, cooklines may now only have five or six pieces, which can contribute to a large-scale reduction in energy usage.
"Our research tells us that 55% of tenders now include the requirement for a multifunctional pan; this is something we predict will rise as kitchen space decreases and doing more with less will become ever more desirable," he adds. Hobart's Precipan lines can be incorporated into a compact cooking suite. Knights adds that as multifunctional equipment such as Rational's iVario Pro takes up less space in the kitchen than a bank of separate appliances, it saves on extraction systems on top of running costs. Labour costs are also reduced.
"Modern cooking systems can take over many cooking processes, freeing up staff for other tasks, for example, costings and menu planning. All staff do is turn, pour or remove food from the pan when the cooking system signals."
Hands off
Staffing issues cannot be overlooked. Gone are the days when powerful gas or electric ranges were crammed into a less than adequately ventilated space, as Charvet UK managing director, Ian Clow comments: "When considering an equipment upgrade, creating a working environment that is attractive to chefs will help recruitment and staff retention."
Multi-purpose elements such as Charvet's Multizone Induction Hobs and the Charvet Multizone Electric Plancha save space in kitchen design because they are multifunctional; being used as two or four hobs for service and as one large solid top for big pans.
Automatic cleaning is another important feature in terms of water usage, chemicals and time, says Steve Hemsil, sales director UK & Ireland at Welbilt.
An automated cleaning system that starts at the touch of a button and can be pre-programmed, means kitchen staff can be redirected to tasks other than cleaning.
"Many kitchens choose highly labour-intensive equipment that commits them to a minimum labour force for the long term," says BGL Rieber managing director Gareth Newton.
"That was fine when labour was cheap and plentiful. But now things have changed, and operators can save a lot of labour by choosing the alternative of automated equipment."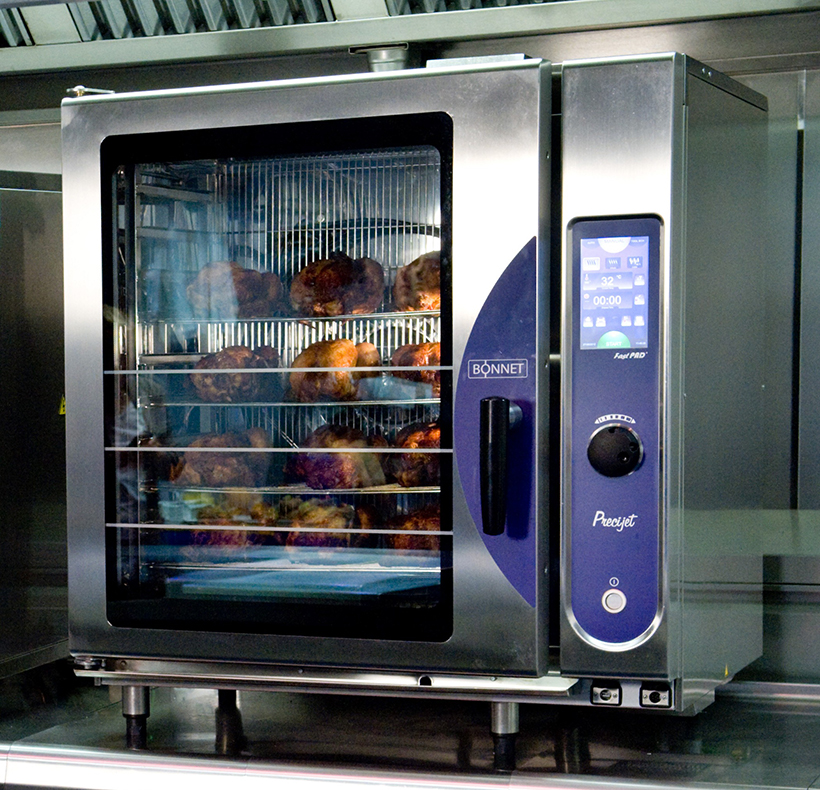 Operators should expect ongoing support from their suppliers, in these tricky times, adds Hemsil. "Caterers need to keep in contact with their suppliers and really max out all that is offered. If there's a masterclass that shows how to use equipment more efficiently, attend it. If a development chef offers menu or recipe help, take it. If the equipment company offers training, in person or online, book a place, and if the equipment company you work with doesn't offer all those things, switch companies!"
Gas leak
Meanwhile, the future promises much in the way of technological leaps and bounds that will improve the efficiency of cooking equipment, suppliers suggest. Connectivity is still in its infancy, analysing processes and optimising asset efficiency plus menu management. The next few years will see leaps in technology and its application.
Scott Duncan, managing director of Unox UK, says its Big Compact Plus combi ovens features MIND.Maps technology for Data Driven Cooking, with data helping to optimise efficiency. A chef can see how long ovens are operating and when they are cleaned. This information could inform decisions such as using the self-cleaning facility once a day instead of twice to save costs.
But efficiency does not need to be rocket science. Following care instructions can make a huge difference to your bills, the FEA advises: "Still turning on the gas burners first thing? Turn them on when you need them, turn them off when you don't. As well as saving on gas you'll reduce the workload on your ventilation system, which will save you more," Threlfall urges.
But don't forget you can go too far in trying to cut costs when it comes to the big beasts of the kitchen. The rise in utility costs has led to reports of operators turning equipment off overnight to save on electricity costs. "This can often have unforeseen consequences if it is not shut down, cleaned and prepared correctly in accordance with the manufacturer's instructions," he says.
Efficiency is very much the order of the day in the kitchen, chiming with net-zero concerns, but as with all things, excess cutting of costs can be a false economy. No one wants to have to replace thousands of pounds of oven that has broken down before it's time due to misuse.
Coming soon: the UKCA
Foodservice equipment manufacturers are gearing up for the introduction of the UK Conformity Assessment mark, or UKCA, the new marking that will be required for certain products on the market in Great Britain.
The UKCA mark will become mandatory for all previously CE-marked products for use in Great Britain from 1 January 2023.
Over the last year the Foodservice Equipment Association says it has already noticed an increase in customs checks, with products being withheld in customs.
Suppliers
BGL Rieberwww.bglrieber.co.uk
Charvet www.charvet.co.uk
Foodservice Equipment Association www.fea.org.uk"
Grande Cuisine www.grandecuisine.co.uk
Hobart www.hobartuk.com
Rational www.rational-online.com
Synergy Grill www.synergygrill.com
Unox www.unox.com/en_gb
Welbilt www.welbilt.uk