From bugs to lab-grown beef, the future of food is almost here. Lottie Gross looks at what we can expect to be eating in the years to come
What is the future of food? This is the sort of question that can only be answered with another question – specifically, how long is a piece of string? Because with all the ideas and advancing technology at our fingertips, and the desire to fix the food industry's myriad problems – emissions, food scarcity, unethical and unsustainable practices – the sky's the limit for food and how it might be used in commercial kitchens.
But while it's almost impossible to predict what exact innovations might change the way we cook, order and eat our meals, there are likely to be some general themes that will crop up in the next decade or three. At least, that's what Charles Abraham, director at Sodexo, says.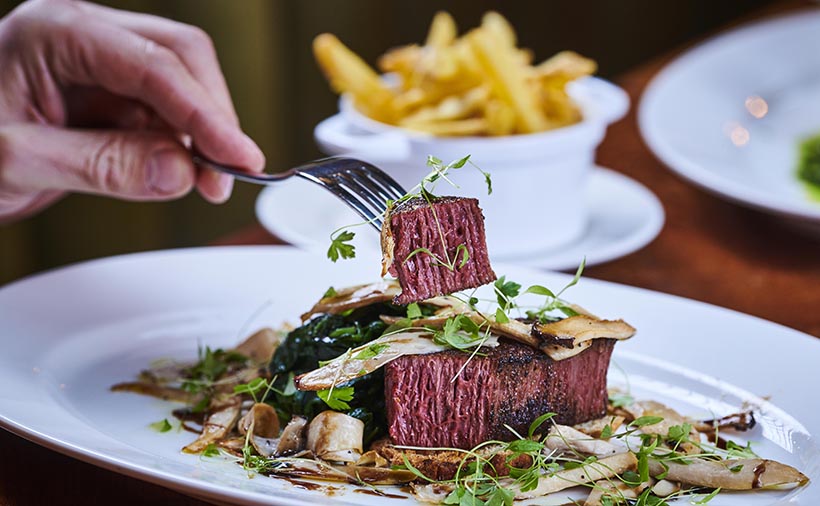 "The first theme is alternative proteins. The market for alternative meats is growing rapidly, but one of the things that has to change to make it more accessible is the price point. It needs to become comparable to traditional proteins," he says. "We know farmed meat, such as beef, has a relatively high carbon footprint, so I think alternative proteins will grow, and the expectation is that by 2030 alternative meat will make up 18% of the global meat market."
According to a report commissioned by charity No Meat May, the global alternative meat market is expected to be worth around £10b by 2025 and is projected to reach $24.8b (£19.8b) by 2030. Spokesperson Dr Morgaine Gaye, a food futurologist, predicts that 'air protein' will become a staple in the future.
"The product is created using hydrogenotrophic microbes, which are fed with oxygen, carbon dioxide, water, minerals and nitrogen," she explains. "The solution is then fermented over a few days. Texture and flavour are added and, using a variety of different pressures, the air protein can then be formed to create the desired texture for chicken, pork or even scallops."
"The product needs to get better, though," says Chris Jenny, co-founder of Eatplanted, an alternative meat product made through a bio-structuring process and which is sold in thousands of restaurants around the world. "Consumers are looking for larger pieces of alternative meat – or cuts, if you will – so that will be one of the key points to win them over."
He predicts that restaurants will want to use larger pieces of alternative meat for the sake of greater flexibility and creativity in dishes. It's the reason why Eatplanted is bringing out its own whole chicken breast, and Redefine Meat is launching its New Meat steaks, which now feature on menus in a number of Marco Pierre White's grill restaurants.
A bug's life
Alongside the meat substitutes, a whole raft of alternative proteins is also on the horizon, says business and sustainability writer and author of Substack's Buzzing newsletter Emilie Filou. She reckons the future is all about insects, but will they make it onto restaurant plates in the future?
"Absolutely," she says. "In Europe, you can buy insect burgers, pasta, crackers, cereal bars and breakfast cereals, as well as lots of flavoured whole insects. There is insect-fed chicken, trout and pork at French supermarket Auchan and specially branded 'insect-fed' eggs in the Netherlands. These products aren't widespread yet but this is just the beginning.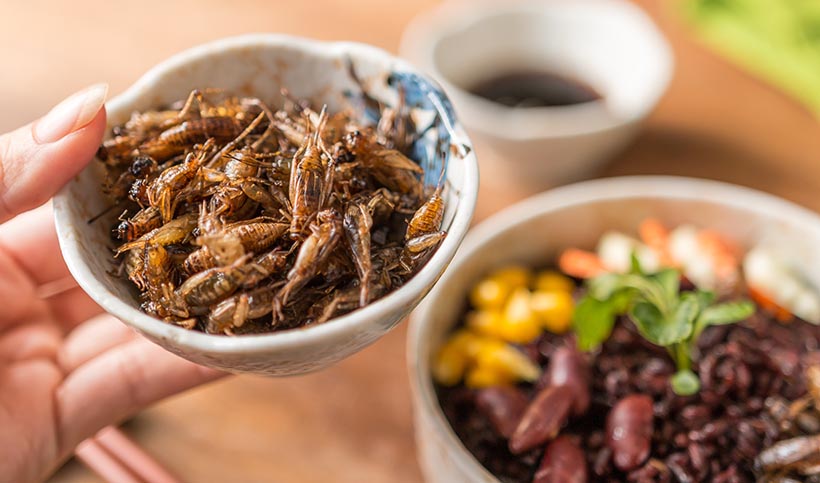 "Some eggs in the UK have been laid by hens that have been fed with black soldier fly larvae. The larvae are a sustainable alternative to rainforest-destroying soy, which makes up the bulk of chicken feed, and it is thought the larvae can increase egg production.
"At the moment, this is a tiny fraction of national production, but Morrisons recently signed a deal to introduce black soldier fly larvae on 10 of their egg farms and it is a growing industry," she says.
Insects are high in fibre, protein, vitamin B12 and the crucial amino acids you find in fish, and have better environmental prospects, as their production uses less land and water, which makes them seem a solid option for a more sustainable source of sustenance. But the more pertinent question is whether we humans can actually stomach them.
"Humans have eaten insects for millennia; the fact that Europeans stopped eating them 800 years ago is an anomaly," says Filou. "We just need to reconcile the idea that insects are food. I appreciate it's easier said than done: it's not easy to override a lifetime's worth of social and cultural conditioning, but just being open to the idea is a start.
"It's also worth remembering that social norms of what constitutes food are constantly evolving: 40 years ago, no one ate sushi in the Western world. Ten years ago, vegan burgers were a radical niche; now they're mainstream. The same will happen for insects, and I think that trend will be driven by younger, more environmentally conscious consumers."
Play by the rules
Far less exciting but equally game-changing, regulations will change the way we cook and eat, too, Abraham believes.
He says: "There have been more changes in the regulations surrounding food in the past three or four years than we've seen in a long time, so I think that's going to continue to be a challenge. Especially how things like salt and sugar are managed."
With the latest controversial move by the government requiring calorie counts to be printed on menus by food businesses with more than 250 employees, and recent rumblings around sugar and salt taxes, cooking with certain ingredients may become more challenging. Alternatives such as artificial sweeteners are already on the market, but other, less conventional replacements might also rear their heads in the coming years.
A potential salt replacement is seaweed, which is becoming ever more popular with chefs in Britain, who are using it to create a moreish umami flavour. Keith Paterson of the Shore snacks company says: "You can use it as a salt replacement, you can use it to fortify products, and you can use it as a thickening agent. We've done experiments with bread where you can reduce the salt by half and extend the shelf life by using seaweed-derived products."
It is incredibly nutritious, too, with plenty of minerals, antioxidants and fibre, plus iodine within its slippery strands. "The UK is one of the most iodine-deficient countries in the Western world because we don't iodise our salt. Plant-based eaters particularly don't get enough iodine in their diet as it tends to come from meat and dairy products, so seaweed can really be used to enrich the mineral content of our food."
Seaweed stacks up on the environmental front, too. "It's absolutely unmatched in terms of environmental credentials," says Paterson. "Unlike any other farming or aquaculture, you can grow seaweed simply by putting rope in the water, allowing the seaweed to grow naturally before harvesting it, and then it will regrow the next year. It's a naturally regenerative crop."
Regenerative crops are going to become the norm in the future, says acclaimed farm-to-fork chef Nicola Hordern, who believes the biggest changes to the way we cook and eat will be where our food comes from. "Organic and integrated farming methods, where you're working with the environment not against it, will become more commonplace, such as agroforestry, which is the growing of both trees and agricultural or horticultural crops on the same piece of land.
"And outside of urban areas, restaurants are working in collaboration with local small farms, as well as putting pressure on wholesale suppliers in terms of where they're buying ingredients in bulk, like flour and sugar. If the pressure comes from the chefs buying those ingredients, then hopefully we'll see a shift in the attitude of suppliers."
Hordern, a former head chef at Darsham Nurseries, has now launched The Canteen in Southwold, a restaurant she believes encompasses all of the elements we'll see in the most sustainable and responsible hospitality venues. Her food is sourced from local farms and her menus are led by what is available, while the kitchen is powered by renewable energy. But she admits these solutions are trickier for restaurants in big cities that don't necessarily have access to a local farming community.
Simon Hawkins, head chef at Scandinavian-style restaurant Fint in Leeds, says there are urban solutions, too: "The kinds of food grown and where will impact what is eaten and when. This is affected by the ongoing impact on soil quality around the world, as well as too much and too little water at various times. However, the growth of aquaponic and hydroponic farming [the cultivation of plants and aquatic animals in a recirculating environment] will increase the amount of foods grown in central towns and cities, reducing food miles."
When you think about the needs of our planet and our population, many of these solutions make sense. They're a logical prediction based on the technology and demand we have today. Other predictions, though, feel less tangible. In fact, Adrian David Cheok's prediction renders food itself almost entirely intangible. He believes we'll be tasting and smelling food through our smartphones, thanks to devices fitted with 'aroma cartridges' that he has created with students at iUniversity, Tokyo. While this sounds like a slightly more sophisticated version of Smell-O-Vision, he believes they could become available to the masses in the next 10 years. However, that, and all of the above, remains to be seen (or tasted).
Poppycock predictions: wild ideas that never came to be
In 1955, Science Digest suggested "beef cattle the size of dogs will be grazed in the average man's backyard", with animals small enough to feed a family of four.
In 1975, entomophagist, or insect eater, Victor Benno Meyer-Rochow predicted we would all be eating bugs by 1995. While insects are gaining attention in the food world, we're still a way off canned, dried, pickled and fresh options hitting the shelves.
In 1893, an article in the Newark Daily Advocate predicted we'd all be enjoying liquid lunches by 1993, with drinkable meals on sale in order to liberate women from the kitchen. While all manner of protein shakes and meal replacement drinks do now exist, they certainly haven't become the norm.
In 1894, French chemist Marcelin Berthelot predicted we'd be growing meat in labs, "not by artificial combustion, but by the underlying heat of the globe". While lab-grown meat is indeed now a thing, geothermal energy has little to do with it – for now.
Main image and insect photograph: Shutterstock
Continue reading
You need to be a premium member to view this. Subscribe from just 99p per week.