With Covid still lingering and flu season around the corner, it makes sense to demonstrate to customers that your establishment front and back of house is squeaky clean. Here's all the latest kit
A major benefit that came from lockdown was that many foodservice operators reviewed and improved their hygiene practices. And that's just as well, because customers do recognise whether an establishment is hygiene-conscious.
They really do notice, says Kate Thompson of the Chartered Institute of Environmental Health. "The pandemic opened eyes and changed attitudes. More than half of consumers classify themselves as being more conscious of hygiene at food outlets."
Dominic Ponniah, head of cleaning contractor Cleanology, agrees: "Customers are more vigilant. The minimum standard today is to clean surfaces and touchpoints between customers, and this should be built into staff routines… because if an operator does not clean between customers, that now raises a massive red flag. Washrooms remain the focal hygiene point for most customers, and this is still an area where performance remains patchy."
An everyday problem remains the tricky question of whether a quick squirt and wipe of a table top is really sufficient or if an operator can realistically sanitise between customers.
There is no standard answer, says Natalie Stanton, who founded the Safety Expert online training resource for food businesses. Your regime must come from your own risk-based assessment of your frequently-touched surfaces… and while looking at the surfaces, she notes, do not forget your staff hand hygiene.
At Biovate, managing director Nick Winstone says a squirt and wipe can be effective, with the right tools. "A sanitiser that has been tested as effective against pathogens will get the job done quickly and efficiently, with minimal contact time. Pre-pandemic, most sanitisers required a contact time of five minutes to meet the EN1476 standard, and today manufacturers have reduced this to 30 seconds.
"A good microfibre cloth will remove a lot more dirt and soil load than a generic 'blue roll' and reduce carbon footprint – cloths are reusable, whereas blue roll generates landfill waste."
Not all wipes do, says Paul Maxwell, marketing manager at Cheeky Panda: "For high-footfall sites, disposable wipes offer significant benefits over reusable cloths. The disposable nature of the product ensures no cross-contamination.
"However, not all disposable wipes are equal; many still contain plastic. Our anti-bacterial wipes clean any surface quickly and easily, can be disposed of and will biodegrade over time, unlike most wipes. Our wipes are made using bamboo, purified water and no harsh chemicals – just pure, plant-based cleaning agents."
Clean but green
Nor are all disinfectants equal, says Cert, which calls itself "a third pathway among historically set-in-their-ways surface cleaners".
"There are old-school, over-engineered disinfectants that kill 99% of all germs and bacteria, but whose overbearing strength is six times the UK recommendation. There are plant-based propositions of well-meaning anti-bacterials that are ill-equipped to deal with prolific viruses, and which produce vast numbers of single-use plastic bottles.
"Cert is a hospital-grade dosed tablet that works with tap water to create a powerful cleaner with an efficacy of seven days – it can be poured down the toilet without impeding the wastewater system."
A squirt and wipe is effective as part of an ongoing 'clean as you go' staff regime, says Sam Greaves, managing director of the Cleenol Group.
"The squirt and wipe is OK, so long as thorough disinfection happens at the start or the end of the day, and critical touchpoints are disinfected as needed, with attention given to those items that could easily transmit infections – TV remotes in a meeting room are a great example.
"At the beginning of the pandemic, we were encouraged to sanitise everything that moved and much that didn't. Two years on, we know it's very much an airborne transmitted virus, so the most important thing is to ensure adequate ventilation. Ducts and air-con units can't be sanitised between meetings, but if your overall regime is thorough, then allowing enough time between functions should be sufficient."
Airborne germs are a danger, agrees Nick Falco, technical director at Mechline, whose HyGenix air sanitiser is powered from a 13-amp power socket.
"Disinfecting surfaces and touchpoints is a temporary solution. Just because your surfaces are safe now, doesn't mean they will be safe in an hour. Micro-organisms multiply at an alarming rate. Air sanitisers can achieve significantly higher hygiene standards on hard-to-reach surfaces in your prep areas."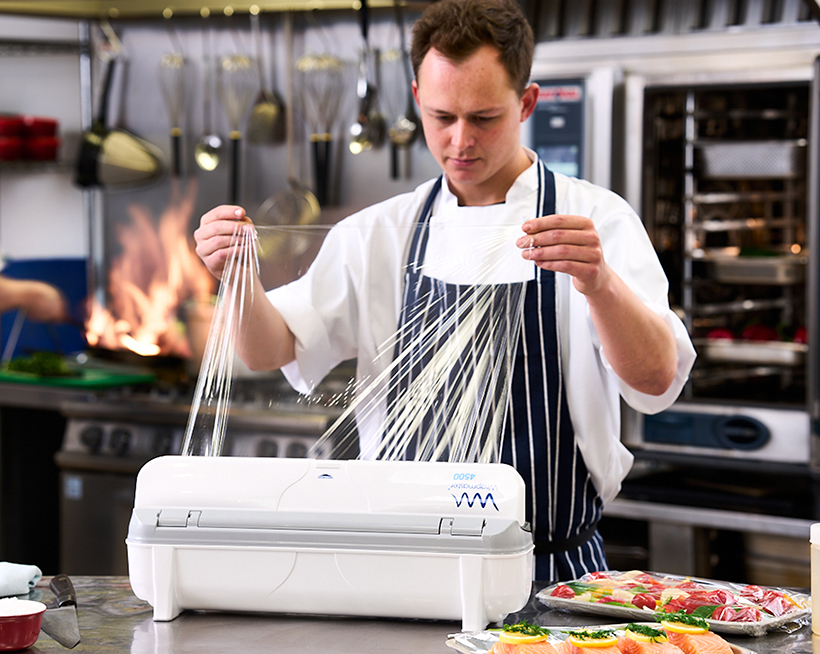 Assessing touchpoints is complex, says Adrian Brown, managing director at Cofresco Foodservice. "In a kitchen, you touch hundreds of surfaces in just one service, and germs can survive for several days if they are not destroyed by effective cleaning and sanitising. Small changes can have a big impact – chefs say clingfilm is an essential item, but the cardboard cutter boxes used for film or foil are serious offenders. The Wrapmaster dispensing system uses a plastic casing that can be easily sanitised.
"Your staff know that hands should be washed for 20 seconds before and after handling food or rubbish – but opt for single-use paper towels to wipe surfaces, and stop staff using chef's cloths!"
Do not forget the link between hand hygiene and surface disinfection, says Lynne Snoding, foodservice marketing manager at Diversey UK.
"Surface disinfection and hand hygiene are most effective when done in conjunction. Hand disinfectants placed near common-touch areas most likely to be used by different customers, such as handles and touchscreens, will help break the chain of infection."
Touchpoints around wipes and napkins can be vastly reduced, says Tork. Making the right facilities accessible will help staff who have contact with menus, cash, credit cards and other high-touch items – otherwise, chef's towels will certainly get used for drying hands.
"We recommend that hygiene products are strategically placed in areas with a high volume of activity. The Tork centrefeed dispenser is designed to fit any workplace layout, with a rotating nozzle that allows users to take paper from any angle, improving accessibility. To touch only what they take reduces the risk of cross-contamination.
"The new Xpressnap Fit is an innovative napkin dispenser which enables employees and customers to only touch the paper napkins they use."
But judge your cleanser choice carefully, says Mike Meek, procurement director at Allmanhall: "We suggest caterers review their cleaning spend and consider things like yield rather than just product price: cheaper products may not be cost-effective if yield is lower."
Top tables
Table linen gives an image of hygiene, says Christeyns' operations director Justin Kerslake: "Studies have shown that table surfaces can harbour germs, providing a breeding ground for bacteria, if not cleaned correctly - germs may still be present once the table has been wiped down.
"In the mind of the customer, nothing says 'clean' more than pristine, white table linen. Seeing a fresh set of linen can provide peace of mind, and reusable linen is far more sustainable than disposable paper placemats and napkins."
The Textile Services Association has produced the Rest Assured Pledge, a guide on the safe handling of linen and textiles. It includes such basics as the segregation of clean and dirty, and also advanced issues such as dealing with the used linen of a guest found to be Covid-positive.
Precision tools
"Covid taught us the usefulness of digital technology," says Keith Warren, chief executive of the Foodservice Equipment Association. "Connectivity is key, as in temperature monitoring systems with sensors that send data from appliances to a central computer. There's now no need for staff to go round the kitchen touching equipment to check temperatures."
Many staff still write down the temperatures of equipment multiple times a day, agrees Mario Kelly, commercial director at Kelsius. "This is time-consuming. Combining a digital temperature probe with a tablet computer, our FoodCheck2Go system checks and records temperatures in food storage areas and immediately alerts operators of any sudden temperature changes."
The same goes for ice, says David Rees, marketing manager at Hubbard.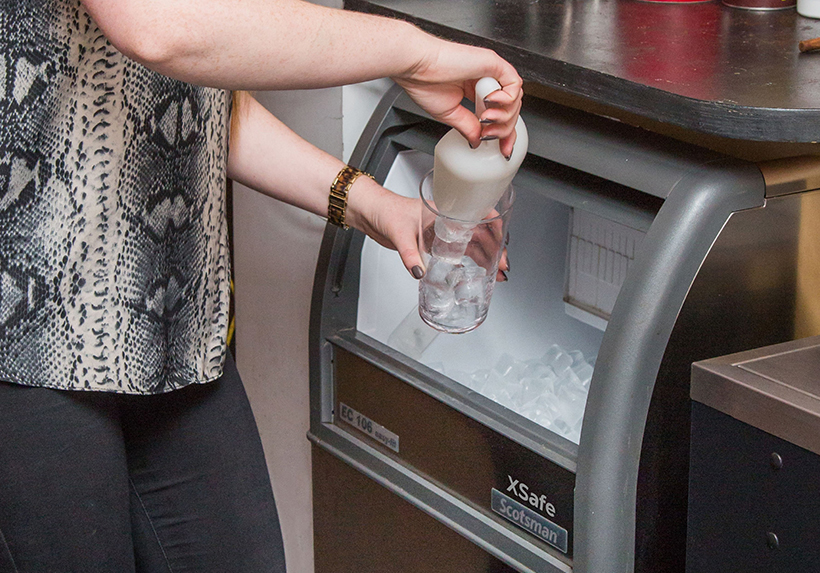 "The need to improve the hygiene of ice machines spurred the creation of the XSafe system during the pandemic, and it is now standard in most Scotsman ice machines. It uses UV light to destroy germs and bacteria and help reduce build-up of slime, yeast and mould. It can increase the working life of equipment by up to 30%."
At Foodservice Equipment Marketing, commercial director Mark Hogan agrees that exposing washed items to ultraviolet light helps kill remaining bacteria. His Sirman sterilisation cabinets, for sterilising cutlery, utensils and glasses, act as part of an infection control system.
It was espresso engineer Richard Norman of Mad About Coffee who first spotted the infection danger caused by operators who had left coffee machines with standing water in them throughout lockdown. The coffee trade reacted quickly to highlight the danger, but he notes that staff still need to be kept on their toes.
"Cleaning is still the number-one problem. I have clients who used lockdown as a chance to scrub down and clean from top to bottom, and they have survived… it is those who still haven't a clue about hygiene that infuriate me. You have to put some elbow grease in."
Suppliers
Almanhall allmanhall.co.uk
Biovate www.biovatehygienics.com
Cleanology cleanology.com
Cheeky Panda uk.cheekypanda.com
Cert www.certcleaning.com
Christeyns www.christeynsfoodhygiene.co.uk
Cleenol cleenol.com
Diversey www.diversey.com
FEM www.fem.co.uk
Hubbard www.scotsman-ice.co.uk
Kelsius www.kelsius.com
Mad About Coffee www.madaboutcoffee.uk
Mechline www.mechline.com/hgx
Tork www.tork.co.uk
Safety Expert www.thesafetyexpert.co.uk
Wrapmaster www.wrapmaster.global