All in a day's work for the right warewasher
Choosing your new glass, pot or dishwasher is a serious affair, as Steve Bowler, regional category manager for warewashing at Electrolux Professional, spells out: "It is a little known fact that warewashing accounts for around 15%-20% of total operating costs for caterers, so opting for the correct solution is more important than it might first appear."
The importance of warewashing to efficient kitchen operation is emphasised by Frances Farrelly, application expert for kitchen and foodservice at cleaning chemicals specialist Diversey. "Dishwashing is connected to 60% of what happens in a kitchen and has a major impact on operational efficiency,"she explains, adding that energy accounts for around 10% of warewashing costs.
This means performance, speed, energy use and water and chemical consumption will be among operators' top considerations in this current climate of spiralling costs.
Electrolux's water-efficient Green & Clean range – which spans under-counter, hood and rack formats – can cut operating costs by up to 22% a year, says Bowler. The hood washer's 24-litre tank uses just two litres of water per cycle, while the dual-rinse rack model's 34-litre tank uses just 1.2 litres. Combined with the Energy Saving Device, this can mean savings of 30% on water and 32% on detergents.
Ease of use is another valuable feature, adds John Nelson, managing director at Nelson Dish & Glasswashing. It's one that many modern warewashers offer via multiple programmes for most eventualities (such as heavily soiled, rapid wash, delicate items), intuitive controls to maximise water and energy efficiency and self-diagnostics to nip potential problems in the bud.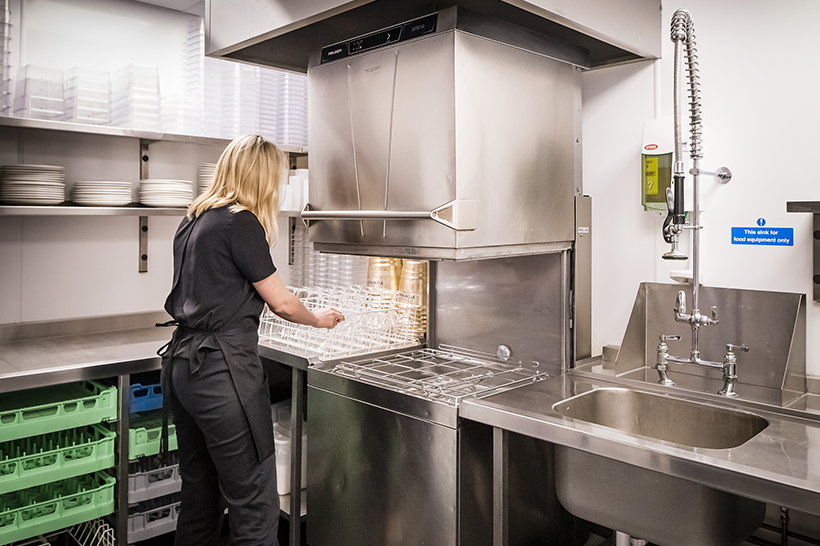 Noise levels, especially front of house, are also a consideration according to Nelson, who equates the 58 decibel rating on Nelson's Advantage machines with "gentle rainfall".
Clear advantage
Warewashers obviously need to be matched to the available space and to their workload. Glasswashers are easiest to specify, notes Paul Crowley, marketing development manager at Winterhalter UK, and are often under-counters.
They are calibrated to a gentler water flow than dishwashers to protect delicate items, adds Nelson. The group's Advantage glasswashers feature a 'soft start' option that builds gradually for maximum protection. Its new plug-in air rack, Glass-Dry, offers a novel solution for busy bar managers forced to serve drinks in hot, wet glasses by slashing drying times from 40 to four minutes while cooling glasses to just below ambient. The three models accept glasswasher rack sizes of 400mm, 450mm and 500mm square.
An under-counter dishwasher would suffice for operators serving bar snacks to around 100 customers per day, notes David Glover, UK and Ireland country manager at Wexiödisk, while those serving breakfast, lunch and dinner would be better suited to a pass-through or rack machine, such as Wexiodisk's WD-153, which can wash 260 baskets per hour.
High-speed, high volume pass-throughs are even more efficient, adds Nelson, when 'used within a bespoke dishwashing system to streamline throughput and avoid congestion with the addition of storage, tabling, racking, shelving, waste disposal and pre-wash rinsing'.
The new WD-12S from Wexiödisk is an ingenious solution "for operators that have equal dish to pan washing requirements, yet only have space and budget for one warewasher", explains Glover. It can be used as a potwasher, a dishwasher, or both, he adds: "thanks to the WD-12S's individually-adjustable water pressure arms, which makes simultaneously washing plates on the right, and pans on the left, and vice versa, possible."
Clean machines
The pandemic has made hygiene a hot topic and Winterhalter's new compact conveyor dishwasher, the CTR, incorporates a new hygiene mode that automatically slows the rack speed down if the wash water temperature drops to ensure a thorough wash. Described by Crowley as fast, flexible and efficient, the CTR can handle up to 195 racks per hour, is packed with energy-, water- and chemical-saving features and has a modular set-up that allows options such as drying zones or prewash tanks to be retrofitted as demand changes.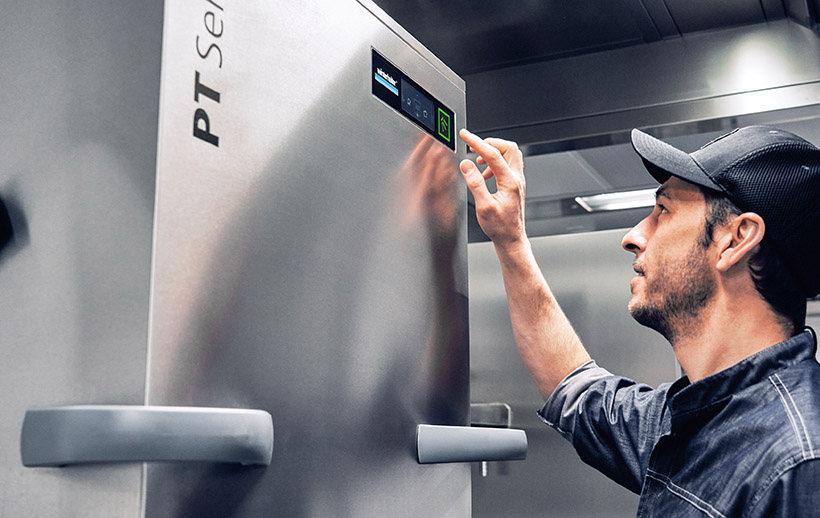 Blue Seal's WRAS- and CE-approved glass and dishwashers feature double filters, sanitising cycles before drain-down, and rounded, smooth corners inside the wash tanks to reduce dirt traps and make cleaning easier, says national accounts manager David Chesshire. In Meiko machines, components that should be removed for regular cleaning are colour-coded in blue.
The latest exhaust air heat recovery systems are also helping reduce energy bills. Winterhalter's passthrough PT Workhorse EnergyPlus uses internal hot steam to heat the incoming water supply, cutting energy consumption by up to 15% and releasing almost no steam when the hood is opened to create a cooler, improved work environment. Paul Anderson, managing director at Meiko, credits heat recovery systems for slashing energy use by around 30% on its biggest machines and around 15% on its smaller under-counters.
The automatic hoods on Meiko's M-iClean H range are another feature helping enhance efficiency and working conditions, says Anderson: "These stop the need for staff to manually lift the hood, which is arduous work and gets harder the more you need to do it. A busy site will see the hood raised and closed more than 100 times per shift." As well as protecting staff from hand, neck and shoulder strain, auto hoods speed up the dishwash process to save around 40 minutes per shift.
Rewash rates in commercial kitchens stand at a wasteful 10%, which Farrelly claims are often down to non-optimised processes. Connectivity is one way of improving reliability, says Crowley at Winterhalter, whose Connected Wash option allows operators and their service providers to monitor warewasher operations remotely in real time, warning if machines run out of chemicals or a component is failing.
Similarly, Diversey's cloud-based IntelliDish insight, monitoring and diagnostic system helps boost the efficiency and results of all linked machines, for instance by issuing alerts when energy, water or detergent usage exceeds predetermined limits.
"By choosing a quality warewasher brand, you should be able to count on its reliability – provided you ensure it is looked after, both in terms of day-to-day maintenance by staff and through regular serving by a qualified engineer," concludes Bowler at Electrolux.
Training staff in the correct use of equipment and chemicals, along with common-sense routines, is the final crucial ingredient needed to get the best from your washer, agrees Chesshire: "Good workplace practice, scraping plates and pre-rinsing also helps to improve wash performance and enables the use of shorter wash cycles, encouraging less power usage and cost to the business."
Scaling down
"Hard, or very hard, water affects around 65% of the UK, but primarily the south and east of England," points out Nelson. The resultant limescale can clog water hoses, leave unsightly marks on glassware and crockery, and reduce the efficiency of heating elements as Farrell at Diversey spells out: "Each millimetre of scale inside the heating element will add around 8%-10% on energy costs for a typical commercial machine."
Water treatments such as descaling detergents or water softeners help prevent or remove limescale build-up to improve warewashers' performance, efficiency and longevity.
"The best modern technology for treating water is reverse osmosis, which removes up to 98% of limescale and heavy metals and other contaminants," declares Anderson at Meiko. "Reverse osmosis makes the water soft, which means it needs fewer chemicals, like detergent and rinse aid to work effectively, and it also saves energy. Reverse osmosis is now so cost effective it more than pays for itself over the lifetime of the dishwashing machine."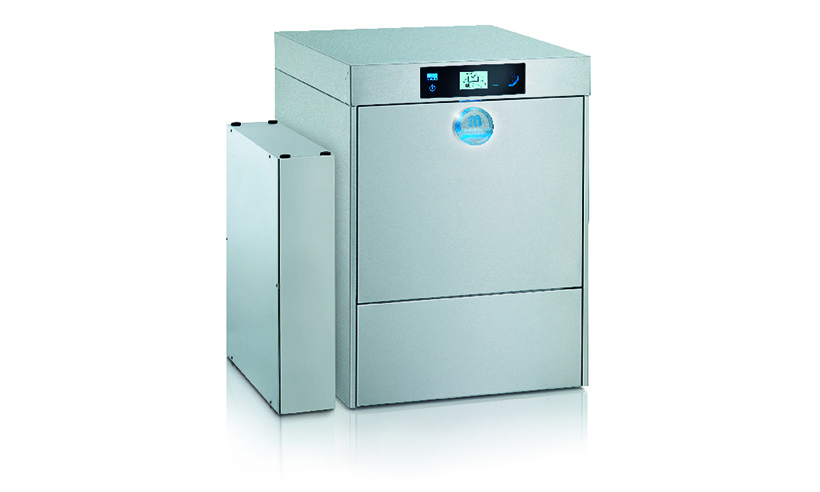 Size matters
Crowley at Winterhalter spells out the top five considerations when determining the type and size of dishwasher needed.
Peak power Warewashers need to cope with the busiest period of the busiest day, although peak washing times may not correspond to peak service times.
Seating capacity A larger seating capacity does not necessarily equate to a larger machine.
The number of meals and courses served Operators should factor in kitchen equipment as well as tableware that may need washing.
Typical place setting A café serving 50 customers can manage with a smaller dishwasher than a fine dining restaurant serving the same number with an extended range of cutlery and crockery per guest. Consider plate size when deciding on rack type.
Supersized Check that the entry height of the door or hood can accommodate the biggest items to be washed, such as trays or statement pieces of tableware.
Chemical attack
The key warewashing chemicals are detergent to clean items and rinse aid to help the detergent run off so items dry quickly without streaks – especially important, says Farrelly, when short wash cycles are used. Correct balance is essential for optimum wash results, so the rinse aid and detergent pumps supplied with Blue Seal's warewashers are, says Chesshire, fully adjustable to local water quality.
While larger operators can benefit from its sophisticated auto-dosing systems, Diversey's Pro Formula range offers smaller establishments using compact professional or even domestic machines advanced formulations that work at low temperatures under Unilever brands such as Sun, Persil, Cif, Comfort and Domestos.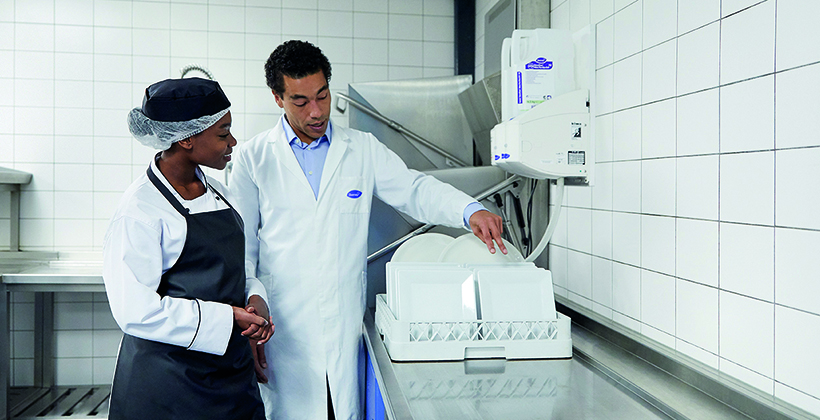 "It is worth noting that spending on dishwash consumables, such as chemicals, will add up to far more value than the cost of the machine, making it even more important to get the right advice from the start," advises Anderson at Meiko.
Meiko Active's highly-concentrated formulation can reduce detergent and rinse aid consumption by 40% and 60% respectively compared with cheaper commercial products, saving 60kg of detergent and 13.5kg of rinse aid each year.
Suppliers
Blue Sealwww.blue-seal.co.uk
Diverseywww.diversey.com
Electrolux Professionalwww.electroluxprofessional.com/gb/
Meiko UKwww.meiko-uk.co.uk
Nelson Glass & Dishwasherswww.nelsonwashonline.co.uk
Wexiödiskwww.wexiodisk.co.uk
Winterhalterwww.winterhalter.com/uk-en
Continue reading
You need to create an account to read this article. It's free and only requires a few basic details.