It's important to make sure children get fed at school. With the calls for the government to increase provision, here's how caterers are coping with shortages
The school catering sector has not been immune to the accumulating challenges facing the hospitality industry and it is having to adapt while its workforce witnesses the acute impact of the cost of living crisis on families' ability to feed their children.
There has been increasing lobbying for the expansion of free school meals provision, notably the Feed the Future campaign backed by the likes of Tom Kerridge, Jamie Oliver, LACA and Chefs in Schools, calling for all children of families on Universal Credit to be eligible for free school meals.
In England, children up to Year 2 in state schools receive a free meal each day (universal infant free school meals or UIFSM). For older children provision is means-tested (free school meals or FSM), and families must have a combined household income of £7,400 or less to be eligible, criteria which charity Child Poverty Action Group says excludes 800,000 school-age children in England who are living in poverty.
Both Scotland and Wales have committed to rolling out free meals to all primary school pupils, and some schools in Northern Ireland, where the threshold is £14,000, are reported to have been offering more pupils free meals in response to rises in the cost of living. But despite increased provision across the devolved nations, a hoped-for announcement in England in the chancellor's Autumn Statement was not forthcoming.
"We recognise this is a really difficult time for the economy," says Brad Pearce, managing director of Plymouth-based school food co-operative CATERed and national chair of LACA, which represents school food providers from local authorities, contract caterers and kitchen and school staff, to suppliers and manufacturers. He says that expanding provision to children of families in receipt of Universal Credit will "target the families most in need in primary schools, but importantly, also secondary school students".
"Hunger doesn't disappear at age 11," he adds.
In November, Feed the Future hosted an event in Westminster to highlight the benefits of free school meals, such as improved academic attainment and school attendance, to 150 attendees including politicians. During the event, chef Tom Kerridge served school lunches to some attendees, while others were given vouchers for cold packed lunches.
"I gave a little speech at the end of the day and told them all that the next time they have the opportunity to vote for free school meals, they should most definitely be voting for free school meals – and if they're not, they should take a long, hard look at themselves in the mirror," says Kerridge, whose restaurant group includes the two-Michelin-starred Hand & Flowers pub in Marlow, Buckinghamshire.
"That was met with deathly silence, so I'm fairly certain it hit home."
He adds: "This might be the only hot meal these kids have during that day. It might be the one opportunity for them to have something nutritious, balanced and filling. We already know that these children are from the most vulnerable areas of society because their parents are already qualifying for Universal Credit. The fact that they have to go through a secondary process to see if they qualify for free school meals, I find absolutely ludicrous."
'Deeply concerned and disappointed'
Anna Taylor, executive director of the Food Foundation, which is co-ordinating the campaign, said the organisation was "deeply concerned and disappointed" at the lack of action in the Autumn Statement.
"Though benefits will be uprated in line with inflation from April 2023 and short-term payments will be made available next year for some households, many struggling households will miss out and families are facing a gruelling winter until then," she said.
"Hunger doesn't disappear at age 11"
"We've got to regroup and see what we think is achievable with this government," adds Cath Elliston, head of campaigns at the Jamie Oliver Group, a partner in the campaign coalition.
LACA has a monthly call with the Department for Education and says funding levels are on the agenda "every time – as is the extension of eligibility". However, it doesn't help that the UK has seen five different secretaries of state for education in the last year.
"That team are understanding and can see what we're saying and the logic behind it [but] it's not their decision, it needs to go to the Treasury," says Pearce.
"I think this is one of the areas where there's a problem with joined-up government," suggests Henry Dimbleby, co-founder of restaurant chain Leon and charity Chefs in Schools, and author of both the National Food Strategy and the School Food Plan, for which he was awarded an MBE.
"Really it should not be in education, there should be a minister for children looking at this in the DWP [the Department for Work and Pensions]. It's not on the secretary of state's radar until Marcus Rashford is causing constituents to send them nasty emails."
PwC analysis earlier this year into the societal and economic benefits of increasing free school meal provision in England was clear that expansion presented a positive return on investment, with every £1 invested estimated to generate £1.71 in benefits. A separate study by the University of Essex's Institute for Social and Economic Research in 2020 found the policy also had a significant impact on child obesity rates.
"Everybody benefits – it's not just the kids who are getting the meals," says Kerridge. "If you are hungry, it's more likely to lead to disruptive classrooms. The more time the teacher can spend on teaching rather than work with a disruptive classroom, the better it is for every single child in that class."
Cost inflation hitting school caterers
However, an expansion of provision is not going to solve the myriad of challenges school caterers are facing. An October survey of school meal providers by LACA found that 91% of respondents were experiencing food shortages, with 76% having to change their menus as a result.
Since May, the survey reported food costs had risen by around 30%, with 28% of respondents using more processed foods, almost 35% considering moving away from British meat and 24% potentially having to reduce the cost and therefore quality of meat purchased. While 94% said they were still able to meet the mandatory school food standards, some were having to reduce portion sizes and offer less choice to cope, and over half (52.2%) expected the quality of school meals to continue getting worse over the coming weeks and months.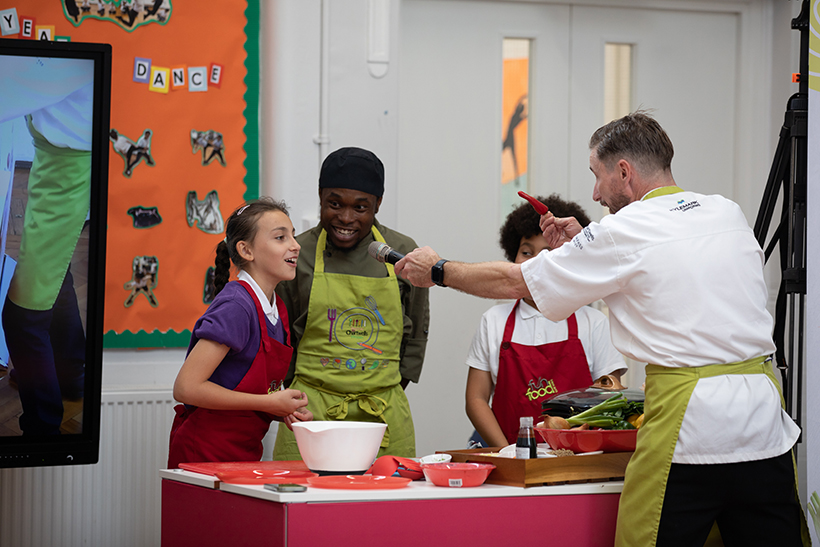 "Making any money from school meals is a challenge at the moment… It is a really difficult time," says Michael Hales, managing director of Juniper Ventures and winner of the 2022 Cateys Public Sector Caterer Award.
Formerly the London Borough of Newham's catering department, spun off in 2018 as a local authority trading company, Juniper delivers Newham Council's Eat For Free scheme to 75% of primary schools across the borough, with the council also funding free meals for Key Stage 2 pupils.
Hales says the business's high level of uptake in its primary sector (85%) has so far protected it, reducing its unit cost, "otherwise we would be really, really struggling".
"We have not changed anything on the menu as yet. We've moved to different dishes, but we haven't changed any of our ingredients, and we haven't reduced our menu," he says.
"I suppose 'yet' is the key word there – our hand might be forced if funding doesn't become available or prices don't settle.
Kingswood Catering, based in Corby, North Northamptonshire, operates across 85 schools in the area and has been particularly affected by shortages.
"We're having to be a lot more creative to cope with everything that's being thrown at us. It won't affect the quality of the food, but I think we'll have to be pretty tight on things like portion control," says partner Julie Belford. "We don't have the same buying power of some of the bigger companies. I wonder if some smaller companies will be squeezed out of the market altogether."
However, even the larger providers are experiencing difficulties. Lyn Winnard, managing director of education at Elior, says contract caterers are fighting a daily battle to not let inflation affect food standards or quantity, but this, alongside supply chain issues and a challenging labour market "are all taking their toll".
"Food and wage inflation are far outstripping the increases offered by the government, so we, as an industry, are finding it a lot harder to make school catering services sustainable. We have not reduced portion sizes and are working with clients and our supply chain to continue to meet the standards," says Steve Hawkins, managing director of schools at Sodexo UK & Ireland. Although the catering giant hasn't reduced portion sizes, in some cases it has been forced to reduce the amount of organic ingredients purchased.
In a paper sent earlier this year to then prime minister Boris Johnson and then to his short-lived successor Liz Truss, Bidfood group sales and marketing director Dr Andrew Kemp set out how the funding for free school meals was not increasing in line with inflation.
On the introduction of UIFSM in 2014, the funding provided by government was £2.30, which increased to £2.34 in 2020, and then £2.41 this year – an increase of less than 5%, while the Consumer Price Index (CPI) has increased by more than 20% in the same period and food inflation by more than 12%. As a result, LACA is calling on the government to increase funding for both UIFSM (£2.41) and FSM (£2.47) to address the cost of living crisis and for this to increase annually with inflation.
Kemp's report recommends that, to match National Living Wage, Retail Price Index (RPI), CPI and food inflation, UIFSM would need to increase funding to between £2.92 and £3.01 per meal.
LACA is also calling for school meals funding to be ring fenced, as funds are issued to schools, who are not required to pass on the full amount to the caterer, and there has become an expectation that contract prices will be lower than the allowance, enabling schools to allocate some of that money elsewhere. Belford strongly agrees that ring fencing would help caterers by ensuring they receive the full amount and levelling the playing field to ensure standards remain high.
"We have been in tender situations where we've had to put in a much lower bid than £2.40 even to stand a chance," she explains.
Capacity and infrastructure
The sector has also not been immune to recruitment challenges, with 74% of LACA members facing a lack of applicants.
"When we do get applicants, they often don't turn up to interview or they find the job is quite difficult. It's quite a high-paced job when you're serving and a number of applicants end up quitting after a few weeks," says Pearce.
Questions also remain around the ability of some schools to service increased provision due to a lack of infrastructure and funding.
"The funding is a joke," says school meals advisor Patricia Fellows. "A lot of kitchens haven't got the capacity or the equipment – the storage, the refrigeration, the cooking equipment or space – to deliver these extra meals."
Sodexo says it supports an increase in means-tested free school meals eligibility, but Hawkins adds that this would need to be paired with investment in facilities and the official rate that school meals are charged to make the service sustainable. The result of all these challenges is a school meals system that is struggling to keep up with market pressures and would require urgent government attention to provide for any expanded provision.
"We are in a hell of a mess at the moment," says Fellows. "In 50 years, I have not seen anything like this. And I don't know how we're going to get out of it… Sadly we think that standards are getting left behind because of the situation, and I'm really scared that the school meal service is in jeopardy and almost at risk of bankruptcy."
Dimbleby is confident, however, that provision will eventually be expanded – it's just a question of when: "It's going to happen some time because it's not sustainable. But it's whether it will happen before there's some kind of disaster, or afterwards," he says.
"All around the country there are schools who are paying for children who aren't eating well and giving them food. The willing is there – what they need is the funds."
The government's response
A Department for Education spokesperson said: "We understand the pressures many households are under, that is why we are supporting more children and young people than ever before. "Over a third of pupils in England currently receive free school meals in education settings and we are investing up to £24m in our National School Breakfast Programme, which provides free breakfasts to children in schools in disadvantaged areas. "In addition, eight million of the most vulnerable households will get at least £1,200 of cost of living support this year on top of benefit from the Energy Price Guarantee – meaning they will be eligible for support which exceeds the average rise in energy bills by hundreds of pounds."
How caterers are ensuring school children are being fed
School food providers across the country are providing families with food parcels, breakfasts or after-school cookery clubs and summer activity programmes.
Elior funds free breakfasts across some regions with a trolley breakfast service and provides all its primary schools with fresh fruit at lunchtime in addition to the free fruit schools receive from the government.
Juniper is trialling a 'playground market', distributing surplus ingredients across nine of its schools in partnership with the Felix Project, providing parents with fruit and vegetables either for free or for whatever they can afford. Chefs in Schools co-founder and executive chef Nicole Pisani says one of the schools the charity works with has a similar partnership.
"I think that's the future, where the school becomes the community hub where, regardless of what you're earning, you can get uniforms, food and a hot meal. I personally don't know a school or a school kitchen team who says 'no' to a hungry child, free school meal or not – they just feed them."
Several caterers are investing in off-site production kitchens, including Sodexo and Kingswood Catering, which also has an education kitchen to offer cooking lessons to parents and children with an emphasis on basic ingredients to make cost-effective meals.
"Let's re-educate people in cooking their own food and move away from all of the fast food that they're buying, which is expensive and not that nutritious," says partner Julie Belford.
Continue reading
You need to be a premium member to view this. Subscribe from just 99p per week.