A desire to tap into the English wine market led Penny Streeter to acquire Leonardslee, an estate, vineyard, restaurant and now rooms that work together in harmony
Penny Streeter's aim to create the UK's most impressive wine destinations encompassing first-class accommodation, gourmet food, retail outlets, live music and art is ambitious.
"We are looking to create an absolute destination," she says over a Zoom call from her home in South Africa. "The wine industry is evolving really fast in the UK, but I don't believe there is currently anything else like it on the scale that we want to achieve."
Considering Streeter's impressive track record, going from a homeless mother of three to being included on The Sunday Times Rich List with a fortune of more than £200m, it's a good bet that with her drive, determination and deep pockets, she will succeed.
Streeter has already achieved a great deal since she took the first steps in creating an English winery following the acquisition in 2016 of Mannings Heath Golf Club in West Sussex, and a year later of nearby Leonardslee Lakes & Gardens. Alongside the planting of a four-acre vineyard, she opened Restaurant Interlude within the Grade II-listed, 19th-century, Italianate mansion house at Leonardslee, which achieved a Michelin star within 12 months. The launch of 10 luxury bedrooms in the house earlier this year is her latest achievement.
It was nine years ago that Streeter, who was born in Zimbabwe in 1967, took her first steps into the world of wine and hospitality when she purchased the Benguela Cove Lagoon Wine Estate in Hermanus, South Africa.
By then she was already a successful businesswoman having founded the specialist healthcare recruitment company A24 Group in 1996. She had not been deterred by an earlier unsuccessful attempt to launch another recruitment company, the failure of which saw her move with her children into a homeless refuge.
The success of A24 Group stems from being one of the first providers to recognise the demand for staff on an emergency basis 24 hours a day, 365 days a year. The company now operates in the UK and South Africa, employing 350 recruiters and placing 100,000 healthcare professionals a week. Streeter was named Entrepreneur of the Year by the Confederation of British Industry in 2003 and three years later awarded an OBE for services to enterprise.
From recruitment to rosé
The opportunity to buy Benguela Cove came about by chance. "I owned a holiday home on the estate," says Streeter. "The developer of the estate died and his wife could no longer manage the business. It looked like we could lose our investment." Streeter ended up buying the estate and with it came the obligation to develop a winery, restaurant, tasting room and conference facilities.
Over the past nine years, Benguela Cove has been turned into an award-winning operation comprising a 70-hectare vineyard, 400-tonne winery, Moody Lagoon restaurant and art gallery.
"I knew nothing about the wine or hospitality, I simply applied my recruitment business knowledge, which is service- and customer-focused, recruited the very best people in the sector, such as my winemaker Johann Fourie, and took advice from the professionals."
However, one piece of advice she didn't take was when a group of winemakers suggested she sell off her grapes and not bother making wine. "They said it was a real mission to sell the stuff. I did the opposite and put everything into bottles. I then decided that for my sales strategy I needed to go back to the UK as the British make up the largest wine drinking market."
Hence, Streeter began the pursuit for land on which to create an English winery, from which she could tap into the English wine market as well as promote Benguela Cove wines. Her search took her to Mannings Heath Golf Club, which she bought from Exclusive Collective, the owner of nearby South Lodge hotel and Pennyhill Park.
The acquisition of nearby Leonardslee came about unexpectedly the following year. "My son Adam was overseeing the development of Mannings Heath as estate manager and I was visiting him to view a house he was buying. I happened to drive past a sign promoting a country estate for sale. The next minute, I was involved in a sealed bid auction and ended up buying the estate!"
What Streeter bought was a 240-acre Grade-I-listed gardens and mansion, both of which had fallen into a state of disrepair since the previous owner bought the land and property in 2010 from the Loeder family, custodians of the estate for nearly 160 years. The herd of deer and a family of wallabies, which had been in situ since the naturalist Sir Edmund Loder introduced them to the gardens in 1889, were on the verge of being the subject of an animal protection order. "It was so bad that I couldn't view the estate properly, but I had a tingly feeling about this beautiful place."
Bringing Leonardslee back to life
It took more than a year for the renovation of Leonardslee house to be completed , incorporating what is believed to be the largest garden restoration project in Europe. In 2019 Leonardslee Gardens – the wildlife now properly cared for – once again opened to the public for the first time in nearly a decade and the house welcomed its first guests for a gourmet experience at Restaurant Interlude and for afternoon tea. Meanwhile, the planting of vineyards at both Mannings Heath and Leonardslee had also been undertaken.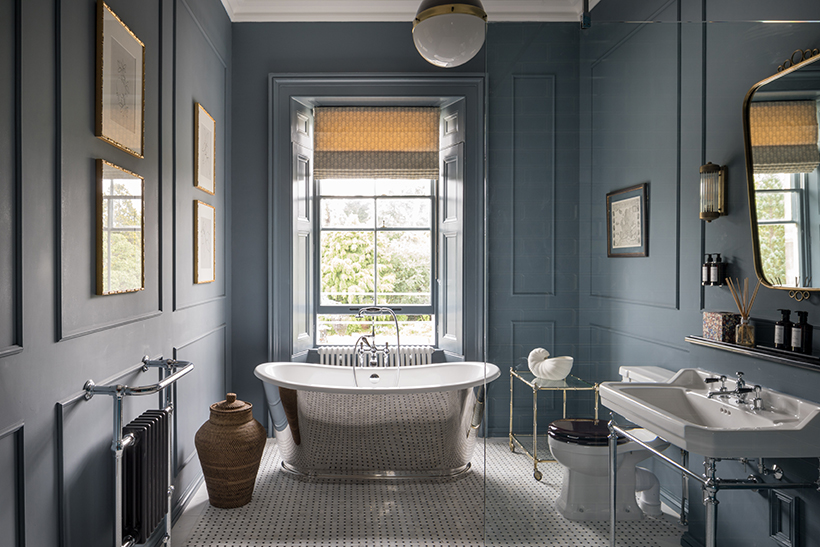 For Streeter, Leonardslee and Mannings Heath – just three miles apart – perfectly complement one another as she works towards creating her exceptional wine experience. "The close connection between the garden, vineyard and restaurant links everything together," she says, highlighting that she knew from when she bought Leonardslee that the food side of the business had to aim high.
To drive Restaurant Interlude at Leonardslee House forward, Streeter appointed Jean Delport as executive chef. Prior to taking up the appointment, Delport was head chef at Bengulea on Main in Somerset West, Cape Town, a restaurant launched by Streeter to promote her wines.
"Jean is an amazing young chef," says Streeter. "He is a consummate professional and takes his job very seriously. He is always looking at how he can improve what he is doing and as a result has created a very special experience for guests".
That special experience involves a 17- to 21-course tasting dinner menu, Thursday to Sunday, at £160 per head. Michelin's attention was captured and a star was awarded in 2019. "It was what we were aiming for and has really put the restaurant on the map," she says.
To complete the experience, 10 bedrooms opened in January. Fiona Parke of Johnston Parke Interiors designed the rooms, which feature fabrics and wallpaper from British design houses such as Lewis & Wood, Nina Campbell and Sanderson, each one providing a link to the flora and fauna outside. "Fiona has done a lovely job," says Streeter. "The idea was to create something sympathetic to the grandeur of the house, rather than being too contemporary."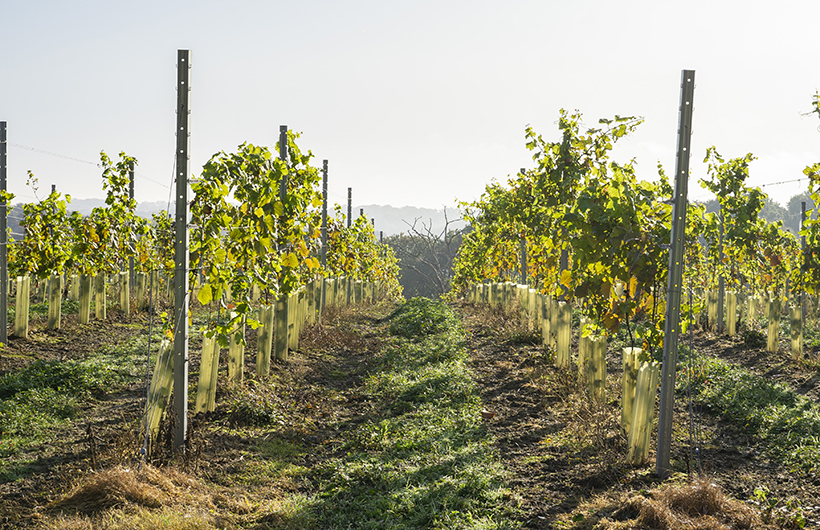 Meanwhile, planning is under way for a winery at Mannings Heath and a visitor centre at Leonardslee, which will encompass a tasting room, retail spaces, a live music venue, art gallery and informal restaurant. It is hoped that both will open in 2024. Steps to make art a significant element of Leonardslee are already underway, with a current exhibition of more than 50 pieces by South African sculptor Anton Smit across the estate. Further down the line,there are plans to add 25 bedrooms in an outlaying building.
Streeter, who intends to travel to England three or four times a year to oversee the development of the project now that restrictions have been lifted, won't reveal the exact investment she has made so far in Mannings Heath and Leonardslee. "It has already been quite a lot – in double figures [millions] – and there is more to come," she concludes.
The food at Restaurant Interlude
An abundance of foraged foods from the extensive Leonardslee gardens combined with Jean Deport's experience of cooking in South Africa, particularly barbecuing, has resulted in a distinctive cooking style. From the outset of his arrival in England with his wife Anya, who oversees the front-of-house at Leonardslee House, Delport knew that he wanted to focus on a tasting menu.
"I enjoy working on the small details and with such interesting ingredients all around us, I wanted to create a joyful experience for guests over three to four hours," he says.
With many of the trees and plants unfamiliar to him, Delport initially spent a considerable amount of time with local foragers who introduced him to wild ingredients that are safe to eat.
While the likes of wild garlic (combined with lobster and used to fill a vetkoek or yeast dough cake) are familiar, the lesser-known birch sap has been a major discovery for Delport. "We tap birch trees in the same way you would tap maple tree and extract over 1,600 litres every year which we reduce to two and half per cent volume to create a savoury-sweet syrup. Siphoning the sap is one of the most rewarding things we do, as well as making use of the tree's bark, inner flesh, leaf and root system." A dessert of chocolate and sweet potato mousse features birch syrup, birch jelly and birch bark ice-cream.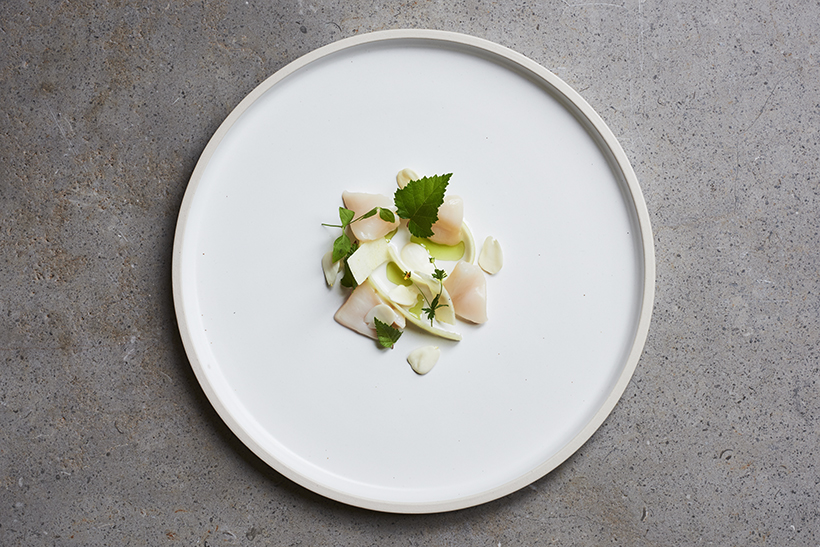 Other highlights of a recent 17-course menu at Restaurant Interlude include rabbit eats carrot (carrot tart lined with coppa ham, confit rabbit, rabbit and carrot mousse and carrot glaze), cod, elderflower, joie de vivre (featuring an elderflower vinegar and sparkling wine from Benguela Cove) and Ryeland lamb and spring greens cooked over charcoal created from the estate's juniper trees.
Deport is believed to be only the second South African chef to achieve a Michelin star, alongside Jan Hendrik van der Westhuizen, who operates restaurants in Nice, France, and Northern Cape, South Africa.
The UK's first Pinotage and English sparkling in the vineyard
Overseeing Penny Streeter's ambitious plans to create one of the UK's foremost vineyards and wineries is Barry Anderson, a winemaker of nearly 30 years' experience. Anderson arrived in the UK in April 2019 having spent his career at two wineries in South Africa's Western Cape – 10 years at Houw Hoek Trust & Wildekrans Wine Estate and then 16 years at Gabriëlskloof Wine Estate, the latter as a director and shareholder.
"I felt that I had one more winery left in me," says Anderson, whose grandparents originally hailed from the UK. "I had already been considering a move to join the wine industry in England as I was interested in the fact that English viticulture was competing so strongly against Champagne when I was approached by Penny. Some may say it was a mid-life crisis, but I regard moving here with my wife and two daughters as a big adventure."
It is certainly an adventure that Anderson has thrown himself into wholeheartedly, with the intention of launching a wine brand under the Leonardslee name comprising, unsurprisingly, a sparkling wine, as well as, more controversially, the UK's first Pinotage wine. He will also be overseeing the introduction into the UK of the wide selection of wines from Streeter's Benguela Cove Lagoon Wine Estate in South Africa.
The vast bulk of the vineyard (37 acres) has been created at Mannings Heath across nine holes of what was previously the 18-hole Kingfisher golf course, which sits alongside the championship 18-hole Waterfall course. Here, the vines are made up of Chardonnay grapes (60%), Pinot Noir (30%) and Pinot Meunier (10%). A further 3.6 acres of land at Leonardslee is made up of the same proportion of vines, while just one-half acreis taken up by the Pinotage grape.
While the quality of English sparkling wines has come on in leaps and bounds in recent years, English Pinotage has no such precedence due to the challenges of growing the grape within such a variable climate. "The concern is whether full ripeness of the grape required for a red wine can be achieved before the autumn," explains Anderson. "However, on the plus side, Pinotage tends to ripen early before the first frost sets in, it has a thick skin which makes it resistant to disease, and it accumulates sugar quickly. The vineyard is located on south-facing slopes with well-drained clay soil, with good frost control."
After being planted in 2018, the first Pinotage grapes were picked in 2020 which, as a result of the hot summer, produced an excellent harvest. Unfortunately, the cooler, damper weather in 2021 did not produce such strong results. The 2020 harvest will be bottled soon, with the wine, which Anderson declares as "delicious", being officially launched in October 2022. "It is not comparable to South African Pinotage; it is more akin to the characteristics of Pinot Noir."
Anderson makes it clear that the focus will be sparkling wine. "We always said the Pinotage would be a trial and we won't hesitate in blending it with the Pinot Noirfor the sparkling wine if the harvest is poor."
The first sparkling wine is expected to be launched in 2024, alongside the new 120-ton winery, which will eventually produce around 75,000 bottles annually. Until then the wine is being made by Wiston Estate Winery within the nearby South Downs National Park.
"I have every confidence that we will produce a beautiful sparkling wine," adds Anderson.
Leonardslee House & Restaurant Interlude
Leonardslee Gardens, Brighton Road, Lower Beeding, Horsham, West Sussex RH13 6PP
0871 8733 363
Owner Penny Streeter
Estate manager Adam Streeter
Executive chef Jean Delport
Bedrooms 10
Room rate From £350 in a Classic room
Food and beverage Restaurant Interlude, tasting menu (17-21 courses), £160
Afternoon tea Classic tea £50; sparkling tea £60
Continue reading
You need to be a premium member to view this. Subscribe from just 99p per week.